It's not easy being green-and-gold in Dallas
11/29/07 04:32 PM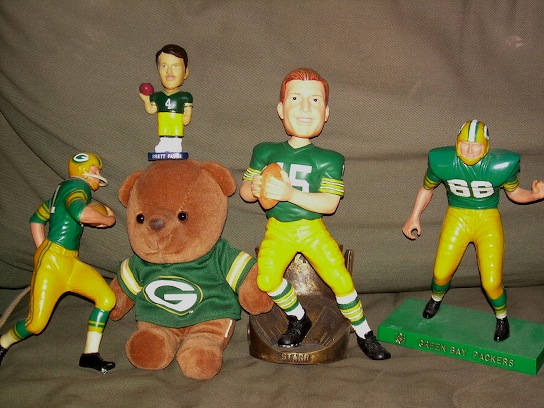 In honor of my lunch bet with CBS11 anchor Tracy Rowlett -- he's still bitter about that 1967 Ice Bowl loss -- I've assembled some of my old Green Bay Packer trinkets as good luck charms.
Left to right, it's running back Jim Taylor, Brett Favre (atop the friendly Packer bear), quarterback Bart Starr and linebacker Ray Nitschke. The Taylor and Nitschke figures are older than fellow Wisconsin native Tony Romo.
This cheesehead's prediction: Packers 24, Cowboys 20. Ratings prediction: Tonight's high-stakes matchup on lil' MY27 will average more than 900,000 homes to become this season's most-watched game -- ahead of the 884,123 that watched the Oct. 14th Cowboys-Patriots game.
Ed Bark