She's goin' to Hollywood: Baylie Brown of Krum ain't exactly no hick
02/06/07 08:37 PM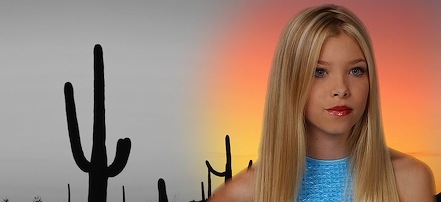 American Idol hopeful Baylie Brown,16, already has a glossy Web site.
By ED BARK
Packaged as a down home baby Britney on Tuesday's
American Idol
auditions from San Antonio, 16-year-old Baylie Brown of Krum isn't quite a Southern-fried neophyte.
Her very polished
Web site
bills her as a "seasoned professional" whose CD,
Big Trouble
, is readily available for purchase. Not that appearances are ever quite what they seem on
Idol
. But the show's so-called "Texas Rose" clearly is more a slickly packaged commodity than a wide-eyed ranch kid/"city girl at heart."
She played the part well, though, and already has a leg up after singing Faith Hill's "Stronger" for the judges. Simon Cowell positively cooed, deducing that Baylie is "probably born to be a pop star . . . You are commercial with a Capital C."
Baylie then asked whether that's a good or a bad thing. The kid's a good actor, and likeable, too. She even said, "Hi, ya'll" in greeting the judges. But don't believe for a second that she's a full-blown rube from "little bitty" Krum, population 1,542. She's goin' to Hollywood with moxie to burn.
Her winning audition was greeted with a prototypical "Yee hah!" from the folks outside closed doors. Then Paula Abdul said, "I want my name to be Baylie."
Twenty-three-year-old Akron Watson of Dallas also made it to the next round, or so he thought. According to a
Pegasus News
story last week, Watson belatedly got disinvited after initially receiving one of
Idol's
coveted gold tickets.
A Fox representative confirmed the story, but said no reason would be given for why Watson suddenly was a no-go. Judges weren't overwhelmed by his initial song choice, Sam Cooke's "A Change is Gonna Come."
"There is just a massive personality/charisma problem here," Cowell said before Watson rebooted and performed Marvin Gaye's "Let's Get It On." That more or less won Cowell over, as
Idol
showed on Tuesday's show. So Watson leapt jubilantly into the arms of his likewise unemployed cousin, William Green, who minutes earlier had been used for comic relief.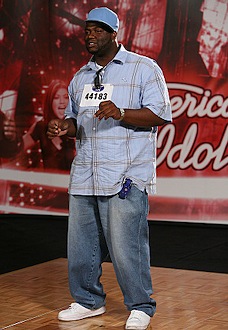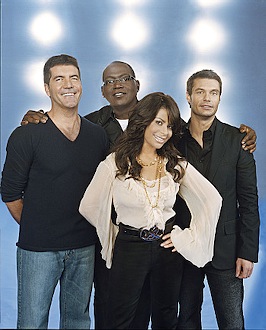 Dallasite William Green's sleepy time baritone didn't quite cut it.
Green performed "Amazing Grace" in a very slowly unfolding bass voice that had the added disadvantage of being off-key. It left judge Randy Jackson convulsed and Cowell repulsed. But the Brit broke up after Green then asked whether it now was time to prototypically trash the judges on his way out the audition room door. Go ahead, they said. So he did while the cameras rolled merrily along.
A total of 22 San Antonio auditioners, now minus Watson, were invited to Hollywood. They include Tuesday's final auditioner, 23-year-old Jimmy McNeal of Waxahachie, who performed another Cooke hit, "Cupid."
"You're like a little fun Ruben (Studdard), aren't you?" Cowell said approvingly.
Wednesday's final pre-Hollywood edition of
Idol's
sixth season will showcase the worst of the worst and best of the best, host Ryan Seacrest said before signing off.
Bet on seeing far more of the former. In the meantime, enjoy the Dallas cousins' decidedly different auditions: