You're darn tootin', still better than Wayne Newton
10/09/07 06:45 AM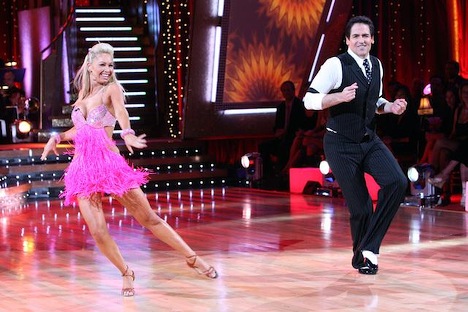 Twistin' the night away? No, it's the jive on Monday's Dancing.
By ED BARK
So which big-time Dallas sports dude had the worst first half Monday night?
On ABC's
Dancing with the Stars
, Mavericks owner Mark Cuban again scored higher than only geriatric Wayne Newton. That's like Shaq saying he dunked on Pee-wee Herman.
Against the lowly Buffalo Bills on ESPN's
Monday Night Football
, Cowboys quarterback Tony Romo threw four interceptions that led to two touchdowns. His impersonation of Chad Hutchison wasn't funny.
Still, Cuban gets to play in his second half Tuesday. Can he dodge another eviction bullet? And Romo rode kicker Nick Folk's deft onside kick and climactic 53-yard field goal to a near-miraculous one-point win over the Bills. Maybe he did a celebratory polka in the locker room.
Cuban's jive sorely tested his surgically replaced left hip. His pre-game
blog
lowered his bar, with Cuban telling the faithful, "The mind was strong, but the body was weak. There were steps, or more precisely, techniques of steps that I was just not able to do . . . I don't want to sound like I'm complaining, but I guess I am. But hey, if I'm going to blog, I might as well talk about it all."
That's the spirit. On the show he danced third, following a 27 score by "Cheetah Girl" Sabrina Bryan and a 23 from soap star Cameron Mathison. Fan voting had kept Cuban out of
Dancing
's dreaded Bottom Two the previous week, and he felt giddy, oh so giddy.
"It feels great to escape the curse of the Bottom Two," he said in a pre-dance taped segment. "I spit on you, Curse!"
But Cuban hit the floor during rehearsal, grasping his leg in pain. Beauteous, gorgeous, magnificent pro partner Kym Johnson fretted on cue. "Your surgeon will be fuh-reakin' out this week."
Her Galahad licked his wounds and pledged to carry on: "I don't want people to feel sorry for me. I knew exactly what I was getting into."
(Celebrity male favorite Helio Castroneves, the two-time Indy 500 champ, later tweaked his ankle in retaliation during rehearsals. And in his live jive, he ripped a hole in the knee of his dress pants before limping over to the judges' stand. The guy knows how to milk it.)
Cuban's jive, danced to Paolo Nutini's "New Shoes," got a grudging 20 score from the judges, four points lower than Castroneves' rendition.
Excitable Bruno Tonioli pronounced him "more in control," but urged him to "try to be a bit lighter on your feet."
Carrie Ann Inaba said he sometimes seemed to be imitating someone else dancing. "I gotta call what I see . . . You're still a little awkward."
Old school Len Goodman divined some "development" over last week. "As always, Mark, you come out and you entertain," he said. "And that's one of the keys to the jive."
Later came Newton, who looked like a dink in a fake mustache and ponytail. Audience response to his tango was tepid at best. And no one booed when Goodman opined, "You spent so much time on the character, the dance somehow disappeared."
Newton's score of 18 again set him up for a fall Tuesday night. A male is almost certain to go, it seems. None of the five remaining female celebs scored lower than 26. None of the men scored higher than 24.
Cuban could be hurt by the competing Cowboys game, meaning that many Dallasites were otherwise occupied. Then again, he got to dance during the pre-game show. And with
Dancing
's oddball rules, viewers can vote at any time during the show without having to see anyone hit the floor first. That's not the way
American Idol
does it, and
Dancing
should change its stripes accordingly.
Cuban knows the score. His blog urged viewers to "take a break from the game" to vote, "or for that matter, just call while you are watching the game."
Damn, Romo just threw another interception. But who's counting. All's well that ends well.