Megan has A Moment
03/16/11 01:05 PM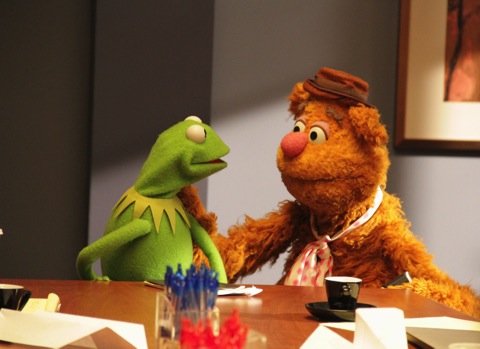 Kermit the Frog and Fozzie Bear re-team in The Muppets.
By ED BARK
@unclebarkycom on Twitter
ABC has a throwback-flavored fall season coming, with the returns of The Muppets and Don Johnson plus a new biblical series.
The network also will dust off
Uncle Buck
for midseason after its previous go-arounds as a successful feature film and a failed 1990 CBS sitcom.
Five newcomers are due in the fall, with two apiece set for Tuesdays and Sundays. Thursdays again will house the Shonda Rhimes-produced trio of
Grey's Anatomy, Scandal
and
How to Get Away with the Murder
. Mondays and Wednesdays also stay the same.
ABC's cancellation corral isn't nearly as crowded this time. Here's the relatively brief roll call:
Cristela, Forever, Selfie, Resurrection, Revenge, Manhattan Love Story
and
The Taste
. First-year series getting sophomore seasons are
Fresh Off the Boat, black-ish, Beyond the Tank, Marvel's Agent Carter, How to Get Away with Murder, American Crime, Secrets and Lies
and the surprise returnee,
Galavant
. If you're counting, that's eight renewals and just seven cancellations, even though some of the freshman series getting reprieves are hardly blockbusters -- or even peripheral hits.
Another series announced last fall,
The Whispers
, is getting a Monday, June 1st premiere.
Here are ABC's five new fall series.
The Muppets
(comedy) -- They're back with what ABC calls a more adult, "contemporary, documentary-style show," with the fuzzy wuzzys' personal lives uncovered.
Dr. Ken
(comedy) -- Former
Community
co-star Ken Jeong tops the cast as a brilliant doctor without much tact. He's also married with two kids.
Oil
(drama) -- Don Johnson, 31 years removed from the premiere of
Miami Vice
, has another go as a "ruthless tycoon" named Hap. He's bent on bedeviling young 'uns Bill and Cody Lefever (Chace Crawford, Rebecca Rittenhouse), who have come to North Dakota to strike it rich in "The Bakken," site of the "biggest oil discovery in American history."
Of Kings and Prophets
(drama) -- King Saul (Ray Winstone) presides over an "epic biblical saga of faith, ambition and betrayal."
Quantico
(drama) -- Only the best and brightest recruits are invited to train at the FBI's Quantico base. But could it be that one of them masterminded the biggest attack on New York City since 9/11?
Here is ABC's night-by-night fall prime-time lineup.
MONDAY
Dancing with the Stars
Castle
TUESDAY
The Muppets
Fresh Off the Boat
Marvel's Agents of S.H.I.E.L.D.
Quantico
WEDNESDAY
The Middle
The Goldbergs
Modern Family
black-ish
Nashville
THURSDAY
Grey's Anatomy
Scandal
How to Get Away with Murder
FRIDAY
Last Man Standing
Dr. Ken
Shark Tank
20/20
Saturday
College football
SUNDAY
America's Funniest Home Videos
Once Upon a Time
Oil
Of Kings and Prophets
ABC also has five new series awaiting midseason berths. Here they are.
Uncle Buck
(comedy) -- It's an African-American cast this time, headed by Mike Epps in the title role.
The Real O'Neals
(comedy) -- Surprising truths unfold within a "seemingly perfect Catholic family." Martha Plimpton (
Raising Hope
) heads the cast.
The Catch
(drama) -- It's Shonda Rhimes to the rescue again, with a thriller about a fraud investigator (Mireille Enos as Alice Martin) who's about to be a fraud victim of her fiancé.
The Family
(drama) -- A prominent politician's young son was presumed dead for more than a decade. But he isn't. Or is he? Joan Allen stars.
Wicked City
(drama) -- A 1982 L.A. murder case is dissected. The cast is made up of mostly unknowns, although Erika Christensen (
Traffic
) might ring a bell with some.
Email comments or questions to:
unclebarky@verizon.net