WFAA8's Good Morning Texas quickly reverts back to a twosome
05/14/09 03:07 PM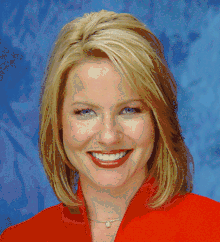 By ED BARK
Easy come, easy go.
Kristin Mitchell, who joined Dallas-based WFAA8's
Good Morning Texas
in early March as a replacement for Brenda Teele, is no longer in the picture.
"She decided to leave the show, and her last day was a week ago," the program's executive producer, Dave Muscari, confirmed in an email Thursday. "We wish her well."
That leaves Gary Cogill and Amy Vanderoef as a duo again. There are no immediate plans to add a third host.
"For now we will stay with current staff," Muscari said.
Mitchell arrived from KMOV-TV in St. Louis, where she was a morning news co-anchor and also had co-hosted the weekly
At the Zoo
program. Both WFAA8 and KMOV are owned by Dallas-based Belo Corp.
GMT
airs at 9 a.m. weekdays. Teele left the show last December to spend more time at her husband's Dallas-based law firm.