Sundance TV's The Honorable Woman gives viewers another prime chance to challenge themselves
07/30/14 01:43 PM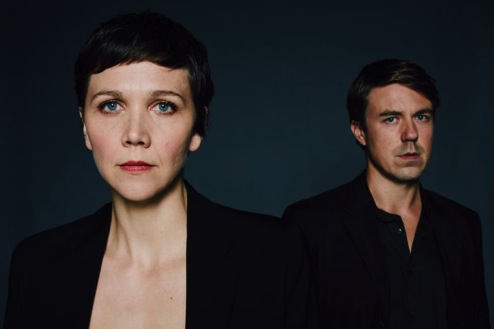 Maggie Gyllenhaal and Andrew Buchan play a powerful, well-heeled sister and brother team in The Honorable Woman. Sundance TV photo
Premiering:
Thursday, July 31st at 9 p.m. (central) and running for 8 consecutive weeks on Sundance TV
Starring:
Maggie Gyllenhaal, Andrew Buchan, Stephen Rea, Janet McTeer, Lubna Azabal, Katherine Parkinson, Yigal Naor, Eve Best, Tobias Menzies, Genevieve O'Reilly, Lindsay Duncan
Produced, directed and written by:
Hugo Blick
By ED BARK
@unclebarkycom on Twitter
Complex. Controversial. Superbly acted. Unfolds slowly. Requires rapt attention.
None of the above apply to the likes of SyFy's
Sharknado 2: The Second One
. All apply to
The Honorable Woman
, a many-layered, eight-part series that's the anti-thesis of summertime escapist fare. Largely set in the Middle East, it's certainly no breeze to watch. But the pieces come together in time, making
Honorable Woman
an accessible jigsaw with many a puzzled/puzzling character. Principal among them is a baroness/philanthropist played by Maggie Gyllenhaal (
The Dark Knight
), whose first major foray into television is a knockout from start to finish.
Launched July 3rd on the BBC -- with a proper "u" in the
Honorable
-- it starts an eight-week Sundance TV run on Thursday, July 31st. Who to trust? What secrets are worth keeping at all costs? And does idealism apply in the least to the seemingly intractable Israeli-Palestininan conflict, which has erupted anew in Gaza.
"It's a wonder we trust anyone at all" are the overriding watchwords of
Honorable Woman
. They're spoken narratively at the start of each chapter by Gyllenhaal's Nessa Stein, whose mother died giving birth to her. Later, as a little girl, she witnessed the assassination of her father, a prominent Israeli arms magnate. He took a knife to the neck at a ceremonial dinner.
Nessa's brother, Ephra (Andrew Buchan), likewise saw the murder first-hand.
Honorable Woman
begins with this deeply traumatic event before fast-forwarding to 29 years later. Together Nessa and Ephra now run the Stein Group, which is in the third phase of a grand gesture to promote equality of opportunity via a tele-communications network linking Stein-sponsored universities in both Israel and the West Bank.
"All this technology. All this fiber optics . . . What it's all really about is very, very simple," Nessa says in Episode 7. "It's about our need to communicate with each other." Well, it's the thought that counts.
Both Nessa and her brother otherwise are burdened by dark secrets that in essence have put them on irrevocable paths. Their predicaments are manipulated by lethal forces on both the Israeli and Palestinian sides. All eight hours of
Honorable Woman
were made available for review. It became impossible, for me at least, to stop watching. Not only for the mostly deftly handled twists and turns, but for the performances by Gyllenhaal, Buchan and two European vets with ample tread on their tires but no loss of traction.
Two-time Oscar nominee Janet McTeer plays steely Dame Julia Walsh, head of the MI6 intelligence agency. She has a delicious kiss-off line in Episode 8 that won't be spoiled here. It might prompt many a viewer to stand up and cheer.
Stephen Rea, best known as the Oscar-nominated star of
The Crying Game
, is the sardonic Sir Hugh Hayden-Hoyle, whose affair with Dame Julia has wrecked his marriage. He's otherwise the soon to be retired head of MI6's Middle East desk. But before that time comes, Sir Hugh has one more big investigation left in him. Rea's performance is brilliant, particularly during his lengthy grillings of characters with major duplicities in their pasts.
At issue throughout is who's working for whom -- and why. And how. But the pivotal secret is the paternity of little Kasim Halabi (Oliver Bodur), who initially lives with Ephra, his wife, Rachel (Katherine Parkinson), their two young children and nanny Atika Halibi (Lubna Azbal).
The current volatile situation in the Middle East likely will prompt an even closer look at the overall fairness of
Honorable Woman
. Are the Palestinian operatives portrayed in more sinister fashion than their Israeli counterparts? Or vice-versa? Simply put, neither side emerges unscathed. But hard-core partisans will read into this what they will. From this perspective, though,
Honorable Woman
succeeds in being meticulously fair in its tackling of a very challenging subject. And in the realm of Middle East-centric television dramas, it makes both Showtime's
Homeland
and FX's new
Tyrant
seem almost like kids' stuff.
Honorable Woman
sometimes might benefit from a quicker pace. But it also thrives on the many scenes that play out at length. Sir Hugh's precise interrogations could fill an entire hour without ever being boring. And the prolonged, pent-up tension in Episode 2, for instance, is enough to make one grip a strong cocktail for dear life.
Keeping track of the particulars from week to week can be a formidable challenge, though. In that respect,
Honorable Woman
might be better watched in recorded groupings of two or three episodes at a time. Binge-watching it all at once -- or over a weekend -- also might be a better way to go. But then you'd have to wait until the end of September before starting the engine.
Whatever your viewing regimen,
Honorable Woman
is highly recommended for its distinctive approach, bravura performances, overall digestibility and, yes, degree of difficulty. Nothing ventured, nothing gained. And nothing like jumping into the deep end every now and then.
GRADE:
A
Email comments or questions to:
unclebarky@verizon.net