11/16/18 09:19 AM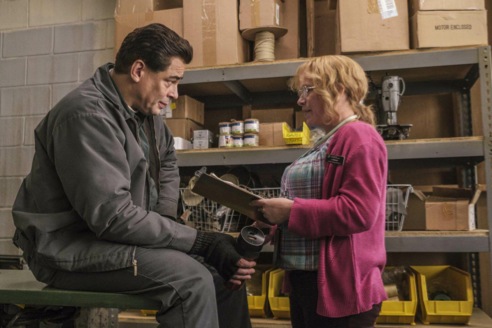 Benicio Del Toro and Patricia Arquette play co-conspirators in Escape At Dannemora, based on a 2015 New York State prison break.
Showtime photo
Premiering:
Sunday, Nov. 18th at 9 p.m. (central) on Showtime
Starring:
Benicio Del Toro, Patricia Arquette, Paul Dano, Eric Lange, Bonnie Hunt, David Morse
Directed by:
Ben Stiller
Produced by: Ben Stiller, Brett Johnson, Michael Tolkin, Michael De Luca, Bryan Zuriff, Nicholas Weinstock, Bill Carraro
By ED BARK
@unclebarkycom on Twitter
There's nothing at all comedic, or even serio-comic about Showtime's
Escape At Dannemora
, which makes it all the more surprising to see Ben Stiller's named attached as the director and principal executive producer of all seven episodes.
His previous directorial effort, 2016's
Zoolander 2
, in which Stiller also co-starred, makes this quite a segue for the erstwhile madcap son of comedians Jerry Stiller and the late Anne Meara. But here we are, and Ben Stiller for the most part has pulled this off.
Showtime made the entire limited series available for review, and it could benefit from a quickened pace and shorter length.
Dannemora
at times can seem like a life sentence for viewers, although its grit, realism and performances (particularly by Patricia Arquette and Eric Lange) are major selling points throughout. Almost all of the filming was done on location in a concerted effort to "tell a true story in as real a way as possible," according to network publicity materials.
Based on a real-life 2015 escape from the maximum security Clinton Correctional Facility in upstate Dannemora, NY, the events within take up far more space than what happens beyond the walls. It's not until the end of Episode 5 that convicted murderers Richard "Hacksaw" Matt (Benicio Del Toro) and David Sweat (Paul Dano) pull off the first getaway in the prison's 170-year history. Episode 6 then executes quite a twist before the expanded 1 hour, 39 minute finale details what became of Matt and Sweat. (Come to think of it, that kind of sounds like a comedy team.)
Del Toro and Dano are both solidly believable, but the bravura performances in
Dannemora
come from Arquette and Lange as prison employees who get to taste freedom daily, even if it mostly tastes pretty sour.
Arquette, who won an Emmy for her starring role in NBC's
Medium
and an Oscar for her acting in 2014's
Boyhood
, is barely recognizable as plain, lumpy Joyce "Tilly" Mitchell. She fully inhabits the role of a prison tailor shop supervisor who succumbs to the sexual seductions and promises of both Sweat and Matt. In return, Tilly smuggles in some of the means for their eventual escape with help from enabling guard Gene Palmer (David Morse), who's become close with Matt and cherishes the sketches and portraits drawn for him to take home.
Tilly's husband, Lyle (Lange), is a well-meaning slug who yearns to make his wife happy and appreciative while she increasingly spurns him. Together they're both pathetic and (very) oddly endearing, making ends barely meet in their hovel of a home. A big night out is dinner at a nearby Chinese restaurant followed by Blizzards at Dairy Queen. Both Arquette and Lange craft these roles beautifully. And at the end of Episode 6, the lingering closeup of her satisfied (for now) countenance is one of the best such shots in TV history.
Meanwhile, the planned escape proceeds at a sub-snail's pace, with Sweat doing all of the dirty, arduous digging and tunnel-crawling in claustrophobic spaces that eventually will lead somewhere. Matt strives to keep him motivated. "For once in our lives, we're winning," he exudes.
Episode 5 begins with a meticulously crafted practice run set to a bongo beat. It's a
tour de force
from a filmmaking standpoint, taking roughly nine minutes to complete from start to finish. Whether some viewers might grow antsy is another matter. Be assured, though, that you'll be seeing something quite unique.
Prison dramas have made strong and enduring impressions over the years, including HBO's
Oz
and the feature films
Cool Hand Luke, The Shawshank Redemption, Birdman of Alcatraz, The Longest Yard
and
Dead Man Walking
.
Escape At Dannemora
doesn't rise to the top of this formidable list, but may someday belong in the discussion. Stiller, for his part, has freed himself from the shackles of comedy and proven that he may well be able to do just about anything.
GRADE:
B+
Email comments or questions to:
unclebarky@verizon.net