08/29/08 01:21 PM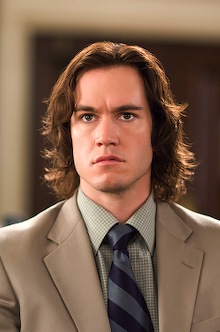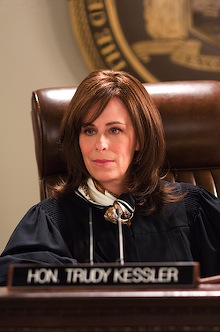 Mark-Paul Gosselaar and Jane Kaczmarek clash in Raising the Bar.
Premiering:
Monday, Sept. 1st at 9 p.m. (central) on TNT
Starring:
Mark-Paul Gosselaar, Jane Kaczmarek, Gloria Reuben, Currie Graham, Melissa Sagemiller, Jonathan Scarfe, Teddy Sears, J. August Richards, Natalia Cigluiti
Created by:
Steven Bochco, David Feige
By ED BARK
"Perfectly ordinary." "Brought to you in living color." "Familiar faces go through their paces."
It's tough to muster much more enthusiasm than that for TNT's
Raising the Bar
, whose father figure, Steven Bochco, previously has crafted the likes of
Hill Street Blues, L.A. Law, NYPD Blue
and
Doogie Howser, M.D.
Nearing 65 as one of television's most decorated veterans, Bochco also has been capable of clinkers such as
Blind Justice, Total Security, Public Morals
and
Capitol Critters
. His storied
Cop Rock
also fired blanks, but at least it was a ballsy try. And Bochco's recent, ambitious Iraq war series,
Over There
, lasted just a single season on FX.
Raising the Bar
plays like something Bochco left in the freezer for five years and now is thawing out in hopes it'll still retain a little flavor. He's enlisted former
NYPD Blue
star Mark-Paul Gosselaar as the show's principal antagonist.
Long of hair and short of fuse, Gosselaar plays public defender Jerry Kellerman with all the texture of a one-year-old encountering his first birthday cake. He alternately broods, mists over and clashes angrily with judge Trudy Kessler (Jane Kaczmarek from
Malcolm In the Middle
), who treats him as Judge Judy would a deadbeat dad.
"What happened to you? How did you go from being a judge to a petty, spiteful tyrant?" Jerry asks before Trudy throws him back in the clink for contempt.
Premiering on Labor Day, the series otherwise strives to intertwine the lives of defenders and prosecutors, whose clashes by day don't keep them from mixing and mingling nightly at their favorite bar.
Jerry and assistant district attorney Michelle Ernhardt (Melissa Sagemiller) also have been coupling in the sack. But it's clear from the second episode that he'll be making a move for incoming public defender Roberta "Bobbi" Gilardi (Natalia Cigluiti), who's married at least for the moment.
Defendants, all of them minorities, include a black man wrongfully accused of rape and a Hispanic man wrongfully accused of murder. Attendant developments for the most part are telegraphed. If
Boston Legal
is over the top,
Raising the Bar
seems over the hill, at least in terms of Bochco's creative juices.
Also in the mix are
ER
alum Gloria Reuben as Jerry's boss, Rosalind "Roz" Whitman, and Currie Graham in the role of Michelle's sneering taskmaster, D.A. Nick Balco. There's also Judge Trudy's ambitious young law clerk, Charlie Sagansky (Jonathan Scarfe), who deftly sexes her up for his own purposes while otherwise secreting gay bars.
Monday's curtain raiser also finds Balco coming on to his principal underling, only to see him plead for a rain check after she advances on him like Madonna in an NBA All-Star dressing room.
"Don't ever let your great big head make promises your little bitty head can't keep," she instructs him. Thud.
None of the performances resonate, at least in the tone-setting first two episodes. The scripts mostly limp along, too, afflicting viewers with lines like, "Process creates truth" or "We all know Jerry Kellerman has a Don Quixote complex."
Your honor, frankly, we're kinda bored.
Raising the Bar
provides way too much evidence of a once topflight TV
auteur
now running on fumes.
Grade:
C