08/31/17 10:55 AM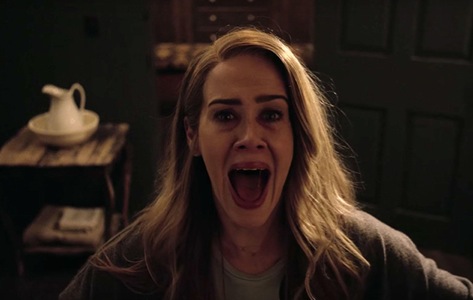 Expect this a lot -- an awful lot -- from Sarah Paulson in new AHS.
FX photo
Premiering:
Tuesday, Sept. 5th at 9 p.m. (central) on FX
Starring:
Sarah Paulson, Evan Peters, Alison Pill, Billie Lourd, Cheyenne Jackson, Colton Haynes, Billy Eichner, Leslie Grossman, Adina Porter Emma Roberts, Lena Dunham, Frances Conroy, Mare Winningham, Chaz Bono
Produced by:
Ryan Murphy, Brad Falchuk
By ED BARK
@unclebarkycom on Twitter
Donald Trump's election is the super-scary, aggressively unsubtle tipping point in FX's seventh incarnation of
American Horror Story
.
One principal character is revisited by paralyzing anxieties while another is emboldened to use Trump's impending presidency to his own grisly advantage against a backdrop of Charles Manson-esque murders in a smallish Michigan city.
Oh Hollywood, you've done it again with
American Horror Story: Cult
. Trump's "base" is invited to take offense and the Tweeter-In-Chief might well lead the RSVPs. This is so even though a previous president's famously timeless warning seems more to the point. "The only thing we have to fear is fear itself," said Franklin Delano Roosevelt. That cuts to the real core of
AHS: Cult
, of which the first three episodes have been made available for review. There will be 11 in all.
Two prominent
AHS
regulars, Jessica Lange and Kathy Bates, are missing this time out. But Sarah Paulson and Evan Peters have gone the distance, and both are back again as antagonists who seem fated to form an unholy alliance at some point.
Paulson plays Ally Mayfair-Richards, who has an easily disturbed young son named Ozzy via her marriage to Ivy Mayfair-Richards (Alison Pill). On election night, where
AHS: Cult
begins, the big Trump upset sends Ally cartwheeling back to her old phobias, which namely are constant visions of killer clowns. They had been held at bay during Barack Obama's presidency, when it was "as if the universe righted itself" in Ally's view. She's also made to feel guilty about what turned about to be her basically wasted vote for Dr. Jill Stein.
Meanwhile, Kai Anderson (Peters) is celebrating Trump's victory in solitude. While Ally weeps loudly, he shouts "USA!" in demonic fashion before creepily painting his face. Then come the opening credits, which include plastic masks of Trump and Hillary Clinton in addition to a lot of blood.
After being rebuked by the City Council -- Kai wants to leave all churches unprotected -- he warns there's "nothing more dangerous in the world than a humiliated man." Let the fear-mongering begin, with Hispanics serving as Kai's first easy target before he runs for a suddenly vacant City Council seat.
Principal
AHS
maestro Ryan Murphy has shown restraint when depicting real-life events in two recent and exemplary FX miniseries,
American Crime Story: The People v. O. J. Simpson
and
Feud: Bette and Joan
. But as he's demonstrated repeatedly, Murphy's excesses can spill over in his mostly fictional projects, whether it's
Nip/Tuck, Scream Queens
or the likes of
AHS: Hotel
, which was horrific in the worst sense of that word.
In
AHS: Cult
, Paulson's Ally is constantly traumatized -- to the point where her frights become almost comedic. A borderline creepy shrink, Dr. Rudy Vincent (Cheyenne Jackson), keeps trying to calm her while spouse Ivy repeatedly wonders how much more she can take. In the midst of all this, they hire a spooky new babysitter named Winter Anderson (Billie Lourd), with whom Ally and Ivy almost immediately find fault. But whatever Winter's transgressions -- which mostly involve putting little Ozzy in danger -- they keep bringing her back. Which is more than a little ridiculous.
During a recent
AHS: Cult
press conference held by FX, Murphy said he's trying to "make a point, but not take it too seriously. And I think that's evident in the first episode where Sarah Paulson chases clowns with (a bottle of) rose (wine)."
But the overall stakes during these first three episodes are otherwise deadly serious, with Peters' Kai tightening the tension, panic and paranoia with a demonic master plan. By Episode 3, an ironically named TV newswoman ends her live report with, "Coming to you from a neighborhood gripped in fear, this is Beverly Hope reporting."
It's all reminiscent of
The Twilight Zone
at its best, save for the tonal missteps that keep kicking in after Ally's latest freakout. "I think there might be something wrong with me," she deduces in Episode 2 after a seemingly never-ending series of mental breakdowns. Ya think?
AHS: Cult
also will include upcoming appearances by previous participants Frances Conroy, Mare Winningham and Chaz Bono. There's also first-timer Lena Dunham, whose name is dropped by babysitter Winter in the Sept. 5th premiere. Dunham otherwise won't be factored in until a flash-backing Episode 7, in which she plays real-life radical feminist Valerie Solanas. Her "The SCUM Manifesto" called for eliminating the male sex and spurred Solanas' failed 1968 assassination attempt on Andy Warhol.
This seventh edition of the series also marks the return of Twisty the Clown, a key and very sadistic component of
AHS: Freak Show
. And Billy Eichner (from
Billy on the Street
) makes his first
AHS
appearance as off-center Harrison Wilton, one of the Richards' new next door neighbors.
Through it all, Peters again excels -- performance-wise, at least -- as a Trump acolyte whose fires burn white hot from election night on. His full investments in deranged characters remain a wonder to behold.
But as Kai's manipulations thicken, so do
AHS: Cult
's overall misfires and excesses. There's no killer bulldozer yet, but that seems to be the basic thematic approach. Trump is a tough nut to tackle -- and you can take that literally if you'd like. Even so, this is a big, bloody hunk of red meat for his remaining defenders, many of whom already see Hollywood in the worst ways imaginable. In that respect,
AHS: Sledgehammer
might be a more fitting title. You want subtlety? Try
Texas Chainsaw Massacre
.
GRADE:
C+
Email comments or questions to:
unclebarky@verizon.net