09/30/16 11:46 AM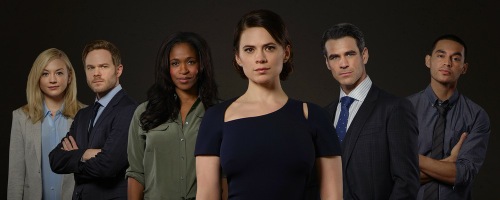 New show, same network: Hayley Atwell fronts Conviction. ABC photo
Premiering:
Monday, Oct. 3rd at 9 p.m. (central) on ABC
Starring:
Hayley Atwell, Eddie Cahill, Shawn Ashmore, Merrin Dungey, Emily Kinney, Manny Montana, Daniel Franzese
Produced by:
Mark Gordon, Liz Friedlander, Liz Friedman, Nick Pepper
By ED BARK
@unclebarkycom on Twitter
Hayley Atwell has washed that Marvel right out of her hair, quickly rebounding from ABC's failed
Agent Carter
to the network's new
Conviction
.
But she'll still be up against it Monday night opposite the premiere of NBC's spirited
Timeless
, which has the added advantage of an industrial strength lead-in from
The Voice
. Add the competing Season 3 premiere of CBS' still formidable
Scorpion
and things are not looking up.
Conviction
is marginally better than ABC's noxious new
Notorious
, which already is on ratings fumes. Even so, it's hard to imagine it lighting anyone's fire.
This time out, Atwell plays problematic former First Daughter Hayes Morrison, who's first shown jailed on a coke-bust. New York City district attorney Conner Wallace (Eddie Cahill), with whom she's apparently spent some time in the sack, has since fallen out of favor with Hayes. Still, his offer is hard to resist. Head up a new Conviction Integrity Unit and he'll make her arrest go away.
"This isn't about justice. This is about selling yourself," she sneers before of course taking the deal.
Conner has already hand-picked Hayes' team, touching all the ethnically diverse bases in doing so.
There's festering Sam Spencer (Shawn Ashmore), a white dude who thought he was going to be heading the unit.
Former cop Maxine Bohen (Merrin Dungey) is a no-nonsense African-American justice-seeker while Franklin "Frankie" Cruz (Manny Montana) is a Hispanic ex-con whose male lover remains in prison. There's also Tess Larson (Emily Kinney), a young, guilt-ridden white woman who otherwise is quite good at putting two and two together. Hayes's portly, bearded brother Jackson (Daniel Franzese) drops in on occasion to lift her spirits.
DA Conner, for budgetary and artificial TV drama purposes, has given the CIU team just five days per case to determine whether a convicted criminal in fact has been wrongly incarcerated. This prompts a countdown sign -- "Three Days Remaining . . . Two Days Remaining" -- after each commercial break. Not so amazingly, everything is resolved with next to no time to spare.
ABC made the first two episodes available for review. Monday's premiere spotlights a former black football star convicted eight years ago of murdering his girlfriend. But an all-white jury did the convicting. Hmm. Episode 2 hits closer to home by re-examining one of DA Conner's prize convictions. Are three white teens, all of them seemingly jerks at the time, really guilty as charged of assaulting and raping a black woman? It's Hayes' attempt to embarrass the DA, who instead just rolls with it.
The most interesting scenes in
Conviction
so far have nothing to do with the sleuthing. Things instead perk up whenever Hayes' mom and former First Lady Harper Morrison (very nicely played by Bess Armstrong) pops in to meddle. The two don't get along, but mom's now running for the U.S. Senate. So she has a vested interest in keeping her daughter from imploding again. Their pointed scenes together allow Atwell to emote to good effect while old pro Armstrong (
The Four Seasons, My So-Called Life
) deftly stirs the pot.
The first case is resolved via the novel use of a split-in-two pig carcass while Episode 2 ends with ramifications beyond justice being served. Atwell's performance is solid enough, particularly when Armstrong is around for badgering purposes. But the weekly skirmishes with "The System" end in ways that at best strain credulity. If only it were even remotely this easy -- and all with the added pressure of a weekly made-for-TV countdown.
GRADE:
C
Email comments or questions to:
unclebarky@verizon.net