Timeless puts NBC back into past tense
09/29/16 03:02 PM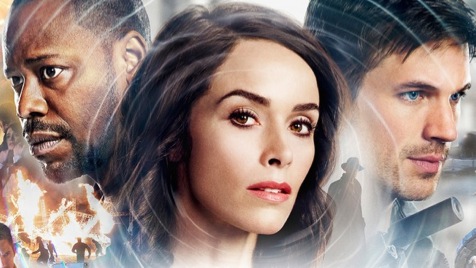 The Timeless trio of Malcolm Barrett, Abigail Spencer, Matt Lanter.
NBC photo
Premiering:
Monday, Oct. 3rd at 9 p.m. (central) on NBC
Starring:
Abigail Spencer, Matt Lanter, Malcolm Bennett, Goran Visnjic, Sakina Jaffrey, Paterson Joseph, Claudia Doumit
Produced by:
Eric Kripke, Shawn Ryan, John Davis, John Fox, Marney Hochman, Neil Marshall
By ED BARK
@unclebarkycom on Twitter
TV's latest time-travel series begins its limited present-day activities with a whopper. Only it's completely true, according to latter day accounts.
College teacher Lucy Preston (Abigail Spencer from
Rectify
) is bringing history alive with the tale of how President Lyndon Johnson "whipped out his genitalia" when asked why the U.S. was in Vietnam. "This is why," he reportedly replied. Lucy adds that LBJ proudly referred to his oft-displayed member only club as "Jumbo." Hey, kids, you'll be tested on this.
From the network that brought you
Quantum Leap
, it's NBC's
Timeless
, which can be far-fetched even for a show of this genre. But it's also agreeably fast-paced and a good deal of fun before jumping through another hoop at the end that might make the present an almost equally wild mini-ride.
The story begins on May 6, 1937 with the Hindenburg dirigible disaster in New Jersey. It serves to set the time and place where Lucy and her two colleagues will journey in an effort to stop Garcia Flynn (Goran Visnjic) from nefariously altering history after allegedly killing his wife and child. Flynn has just stolen a secret state-of-the-art time travel device from Mason Industries. But there just happens to be an older prototype junker in mothballs. So Lucy, jaunty, wisecracking Master Sergeant Wyatt Logan (Matt Lanter) and Mason employee Rufus Carlin (Malcolm Barrett) are soon off in the rickety thing to find and apprehend a bad guy who otherwise might turn history on its ears.
"Don't be noticed. Don't change anything. Understand?" they're ordered by Homeland Security taskmaster Denise Christopher (Sakina Jaffrey). But none of that stuff ever works according to plan.
Once back on the ground, Wyatt becomes smitten with a blonde, derring-do journalist. He's not supposed to save her from dying on that tragic spring day in 1937. But if LBJ couldn't keep his pecker in his pants . . . well, you can't expect a hunky man of action to just stand by and do nothing.
It's OK, however, to stop Garcia from whatever he's doing and then return him to the present. During the course of trying to do so, Lucy gets off a nice riff by telling a gruff military guy, "This is Dr. Dre, I'm Nurse Jackie. We're from General Hospital."
As a black man in a strange land, Rufus encounters racism and eventually has a signature scene in that vein that helps to free the trio from their latest predicament. A protesting Rufus has set that table earlier with one of the premiere episode's better lines: "There's literally no place in American history that would be awesome for me."
Also look for a
MacGyver
-like ploy by Wyatt after he instructs Lucy to "take off your bra. Your modern bra."
It would be giving away too much to detail the ease in which Lucy, Wyatt and Rufus return to the scene of an impending crime.
Timeless
tends to have plot holes the size of pot holes. But if you're watching a time-travel series, you're likely not expecting an abundance of attendant believability.
Future episodes include real-life characters such as John F. Kennedy, Jim Bowie, Richard Nixon and Sammy Davis Jr. And as the time travels keep adding up, so will the ramifications and deceptions. All in all, it doesn't look like a bad way to spend an hour of your day. Or only about 45 minutes if you DVR
Timeless
and then time travel in reverse through all the commercials.
GRADE:
B-minus
Email comments or questions to:
unclebarky@verizon.net