02/28/18 01:12 PM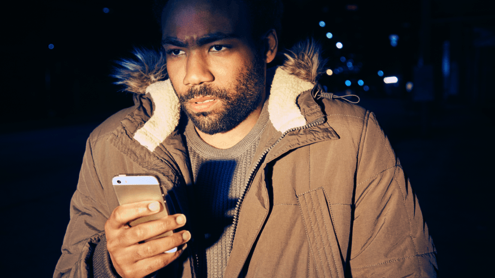 Donald Glover's Earn Marks still hopes to figure it all out. FX photo
By ED BARK
@unclebarkycom on Twitter
FX at least still has Donald Glover in the house.
The architect of its most distinctive series,
Atlanta
, has yet to sign an exclusive deal with Netflix (as Ryan Murphy recently did) or be banished outright (as Louis C.K. was late last year for sexual misconduct).
Glover has been much in demand, though, with Season Two of
Atlanta
a late arrival (
Thursday, March 1st at 9 p.m. central
) after the last of Season One's 10 episodes aired back on Nov. 1, 2016. The former co-star of NBC's
Community
put
Atlanta
aside for a while to play Lando Calrissian in
Solo: A Star Wars Story
, due to be released on May 25th. Glover and his off-camera collaborator/brother Stephen also are working on an animated version of
Deadpool
for FX's sister network, FXX.
Meanwhile, the long-awaited second coming of
Atlanta
, subtitled "Robbin' Season," finds Earnest "Earns" Marks (Glover) still in a soft-spoken earnest mode. He's also feeling even more adrift and insecure as the erstwhile manager of cousin Alfred "Paper Boi" Miles' (Brian Tyree Henry) ascendant rap career.
In the second of three episodes made available for review, Earn puts it right out there. "I
am
scared about Al leavin' me," he says. "He don't need me anymore like that. He's kind of a big deal."
The "Robbin' Season" tag is a reference to the holiday period's increased demands on pocketbooks. "Christmas approaches and everybody gotta eat," says Paper Boi's wingman and self-pronounced visionary Darius (Lakeith Stanfield).
Paper Boi and Darius lately have taken on another roomie, the cackling Tracy (Khris Davis). He's just out of jail and well-schooled in the art of easy ways to steal and illicitly make money.
Earn, who's been precariously living in a storage unit when not crashing elsewhere, wonders whether this might make him expendable sooner rather than later. For now, he's still getting a five percent cut from Paper Boi's burgeoning earnings, but willingly gives a big chunk of it to off-and-on girlfriend Vanessa "Van" Keefer (Zazie Beetz), with whom he shares a little daughter.
Season Two's opening episodes include a would-be fast food joint robbery that's foiled by a black owner with an automatic assault rifle and a far more congenial heist of Paper Boi's cash by his usual drug dealer, who's also a relative. "Hey man, I'm sorry about this shit. I'm gonna pay you back, man," the robber says before driving off.
In Episode 3, Earn learns that even when he's flush, his $100 bills are suspect. A young black man with that much money just can't be legit.
There's also Earn's crazy Uncle Willie (guest star Katt Williams) and his menacing alligator, which can be of particularly good use when the cops come calling.
The comedy, such as it is, could be fighting a too-close-to-call battle this season with an overall sense of foreboding and desperation.
Atlanta
is by no means a downer, though -- at least not yet. And there's no telling where the Glovers may be taking it in the seven episodes yet to be seen.
Be assured there's still nothing like it -- on FX or anywhere else.
Atlanta
depicts "The Black Experience" without preachments, but with pride of authorship. Donald Glover is his own young black man, and viewers are welcome to see things his way if they choose. If not, that's cool. You go your way, he'll go his.
GRADE:
A
Email comments or questions to:
unclebarky@verizon.net