Some juvenile highs in NBC's A.P. Bio
02/01/18 11:41 AM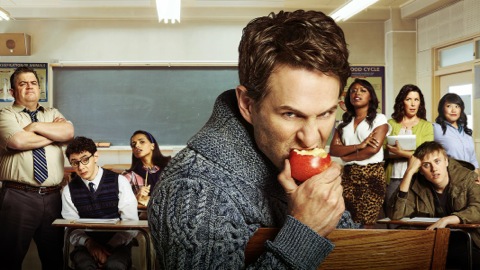 An apple gets you nowhere with this particular teacher. NBC photo
Premiering:
Thurs., Feb. 1st at 8:30 p.m. (central) before returning on Sun., Feb. 25th and then to Thursdays on March 1st
Starring:
Glenn Howerton, Patton Oswalt, Lyric Lewis, Mary Sohn, Jean Villepique, Aparna Brielle, Jacob McCarthy, Nick Peine, Tucker Abrizzi, Allisyn Ashley-Arm, Tom Bennett
Produced by:
Lorne Michaels, Seth Meyers, Mike O'Brien,Andrew Singer, Mike Shoemaker
By ED BARK
@unclebarkycom on Twitter
NBC is hot for this teacher, even if the title doesn't readily suggest it's a school house sitcom.
A.P. Bio
(not a virus) is centered on another teacher who doesn't teach the children well. It gets a special preview on Thursday, Feb. 1st (following
Will & Grace
) before returning on Sunday, Feb. 25th in another showcase slot immediately after the closing ceremonies of the Winter Olympics. After that, it's back to Thursdays, starting March 1st. In the interim, the first three episodes will be available online via nbc.com, Hulu and the network's owned-and-operated stations.
Why such special treatment for a show that's better than a failing grade but won't go to the head of any class? Simply put, it pays to be deferential to a new series whose executive producers include
Saturday Night Live
founder Lorne Michaels and one of his star proteges, Seth Meyers. Duh, buttering them up is a no-brainer.
NBC made the first four episodes available for review. Jack Griffin (Glenn Howerton from
It's Always Sunny in Philadelphia
) struts through all of them as a disaffected Harvard grad and alum of Toledo's Whitlock High School whose agenda includes "firm plans to bang my high school ex- as hard as I can."
He's otherwise non-teaching a classroom of nerdish Advanced Placement Biology students after failing in his grand plan to become head of the Stanford University philosophy department. Jack somehow envisions getting back at his "nemesis" -- the guy who got the job -- by using the students as go-betweens. This makes a bit more sense than the decision to hire him in the first place. Only a principal as ineffectual and befuddled as Ralph Durbin (Patton Oswalt) would make such a personnel move. Check that box. Classroom comedies demand principals majoring in idiocy.
Jack's students are greeted daily with his indifference and opening dictum that everybody "begin to shut up." These kids are actually eager to learn (also a preposterous premise?) rather than do nothing or participate in their new teacher's revenge plots. Some of them stand out, including the very serious-minded Sarika (Aparna Brielle), student body president Marcus (Nick Peine), awkwardly rebellious Heather (Allisyn Ashley Arm) and the mostly clueless Colin (Tucker Abrizzi), who also plays the sax and whose mother is hot (the spotlight storyline of Episode 3).
Three incumbent Whitlock High teachers complete the ensemble. The alpha female among them is Stef (Lyric Lewis), a cosmetics peddler on the side whose sales pitches prey on the more pliant Mary (Mary Sohn) and Michelle (Jean Villepique).
The always welcome Niecy Nash flashily guest stars in Episode 2 as a teachers union rep who goes to bat for Jack and dismisses principal Durbin as "an incompetent little weiner." Episode 4, subtitled "Student Council," pits Jack against Marcus in a battle to keep teech's craved salt and vinegar chips in the school's vending machines. It's marginally the best of the bunch, with repressed Heather delivering a prize creep-out line after Jack commands the students to reveal any skeletons in their closets. "I shoplift magazines to feel alive," she declares. Getting caught is the fun part."
CBS offered a better sitcom in this realm with 2014's
Bad Teacher
, a spinoff of the same-named Cameron Diaz feature film. But it lasted just three episodes, and probably wasn't the right fit anyway on a network with a decidedly older and "traditional" core audience than its three major broadcast network rivals.
NBC is a more compatible venue, and
A.P. Bio
is getting some optimum chances to make the grade. Howerton makes the most of his central ribald rogue role while Oswalt seemingly was built to be a bumbler. Neither character is believably employed -- if that really matters. Beyond that,
A.P. Bio
suffices as a teacher-student comedy in which Jack gets away with writing "Who Will Jack Bang?" on the chalkboard before turning around to learn it's parent-teacher day. OMG. But this, too, shall pass.
Grade:
B-minus
Email comments or questions to:
unclebarky@verizon.net