07/21/11 10:33 AM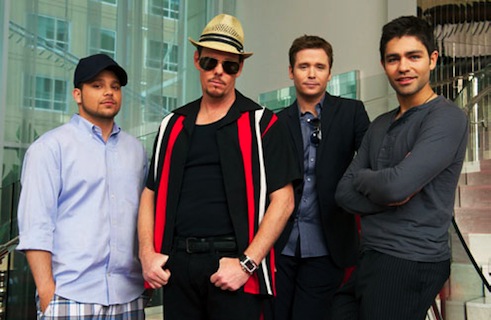 Last call for the main men of Entourage. HBO photo
By ED BARK
It's a time of breakups for HBO, which earlier this year said goodbye to
Big Love
and on Sunday presents the beginning of the end for its long-running
Entourage
.
An eight-episode Season 8 will bring the grand total to 96 up-and-down half-hours.
Entourage
has slumped creatively in some of those seasons, but this looks to be a strong final push toward a satisfying Hollywood ending for four guys and a high-strung, vindictive agent with a heart of Ari Gold.
New Yorkers Vincent Chase (Adrian Grenier), his brother "Drama" (Kevin Dillon) and their friends Eric Murphy (Kevin Connolly) and Salvatore "Turtle" Assante (Jerry Ferrara) first headed West in 2004 with wide-eyed virginal dreams of climbing high and living large.
Volatile Ari (Jeremy Piven) rode thoroughbred Vince hard and sometimes into the ground while Eric repeatedly pushed back and sometimes got pushed aside. C-lister Drama and and the industrious but inept Turtle mostly had delusions of Hollywood grandeur while enjoying the ride with meal-ticket Vince. But his deepening drug addiction finally prompted a failed intervention in Season 7.
That season ended with a beaten-up Vince in a hospital, where police found a bag of coke in his possession. Season 8 finds him winding up a three-month stint in rehab, where admission has led to this essential admission: "Hello, my name is Vince, and I'm an addict."
Vince's firm breakup with drugs -- at least through the first three episodes sent for review -- is joined by other separation anxieties as
Encourage
and HBO prepare to cut the cord.
Eric's intended marriage to Sloan (Emmanuelle Chriqui) instead has gone thoroughly on the rocks.
Ari and "Mrs. Ari" (Perrey Reeves as the wife with no name) are living apart, leaving him initially stunned and speechless upon learning she's seeing someone else as part of finding herself.
Turtle's girlfriend, Alex (Dania Ramirez), is the face of the Avion Tequila he's helped promote with help from investor Mark Cuban, who plays himself. But Alex has been touring on Avion's behalf and Turtle hasn't heard from her lately. Which isn't good.
Drama finally seems to have caught a break as one of the principal voices of a planned new cartoon series called
Johnny's Bananas
. But co-star Andrew Dice Clay (also as himself) is belligerent as ever with his mantra of "Nobody f **ks with Dice. Does does the f ***ing." So that partnership also is on the skids, with Clay a hilariously profane scene-stealer in the third episode.
Entourage
navigates Vince's new-found sobriety in a solid season opener (
Sunday, July 24th, 9:30 p.m. central
) in which Drama fastidiously scrubs their Hollywood home clean of all drugs and alcohol with some half-assed help from Turtle. But has Vince become too blissed out with his idea of a movie about an overseas mining disaster and a heroic Labrador rescue dog? And can he even be around a drug or a drink anymore, even at a welcome home party in which a bevy of pre-screened clean and sober beauties arrives on a bus (perhaps en route to the next season of
The Bachelorette
)?
Entourage
gets even more sobering in Episode 3, which ends with a very serious jolt. It's the same episode in which Cuban has a cameo in connection with Turtle's sudden travails with Avion.
Kevin Dillon already has a new comedy role lined up as a similarly loutish gym owner in this fall's
How to Be a Gentleman
on CBS. And Scott Caan, who reprises his significant role as Eric's bawdy business partner, Scott Lavin, will soon be in his second season as the co-star of CBS'
Hawaii Five-0
.
Both still give their all for
Entourage
, though. And these questions persist. Will Vince ever get around to making that big
Air-Walker
movie? Can Drama find fulfillment as a cartoon monkey? Might Eric eventually reconcile with Sloan after she informs him of her impending whereabouts? Will Turtle finally be able to wax eloquent about a business venture that pans out and also makes him happy?
Entourage
looks as though it still has enough juice -- comedy, drama and Drama-wise -- to make its last season a keeper. HBO's guys night out has never hit a
Sex and the City
stratosphere in terms of buzz, anticipation and fashion accessories. But at the very least it's been the next best thing to
Two and a Half Men
-- and without all that other drama.
GRADE:
B+