03/29/13 12:12 PM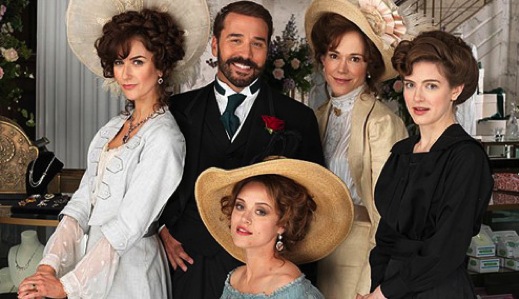 Jeremy Piven gets lucky in the 8-part, 10 hour Mr. Selfridge. PBS photo
By ED BARK
@unclebarkycom
I'm not among the men who positively hate to go shopping. Nonetheless, the come-on for PBS' 10-hour
Mr. Selfridge
doesn't seem to be much to hang one's hat on.
"Jeremy Piven stars as a wheeling-dealing American who shows early 1900s Londoners how to shop," it says on the review DVD containing the first five hours. Wow, sounds about as enticing as a two-hour QVC necklace segment.
Instead it's terrific fun as well as involving drama.
Mr. Selfridge
, premiering
Sunday, March 31st at 8 p.m. central
with a two-hour chapter, may not provoke the full-blown tizzy that
Downton Abbey
has for the
Masterpiece Classic
franchise. Still, it very much works its own charms, with Piven gradually getting a firm grip on his real-life title character while four very estimable women exert varying pulling powers on him.
This is Piven's first TV role since his career-changing, very showy turn as agent Ari Gold on HBO's
Entourage
. And he has lots to do over the course of a splendid tale airing on consecutive Sundays from March 31st through May 19th. (Two-hour installments book-end the one-hour episodes on April 7, 14, 21 and 28, and May 5 and 12.)
Piven's Harry Gordon Selfridge already is in full bloom as the story begins. He has transformed Chicago's Marshall Field's into a department store powerhouse and now intends to do the same in his own name in stuffy 1908 London town.
On a rainy day that hardly befits his ebullient temperament, he drops into the Gamages emporium and asks to see an array of gloves. But the store clerk, young Agnes Towler (Aisling Loftus), says it's not done that way. Customers are supposed to know what they want without picking over the goods.
"What if I said I was just looking?" Harry asks.
"This is a shop, sir. Not an exhibition," he's told by an officious manager who then fires Agnes for giving Harry a closer look. She winds up in this American dreamer's employ as the drama's principal embodiment of lower class trials and tribulations.
The grand and imposing multi-storied Selfridge store hasn't been built yet. But its Oxford Street site has been selected and financial backing assured until Harry's business partner suddenly backs out. He eventually cuts a clandestine deal with the very well-connected Lady Mae Loxley (Katherine Kelly), who will expect some favors in return.
"We are going to show the world how to make shopping thrilling!" Harry proclaims.
Piven's performance initially seems to be too pronouncement-prone while the performances around him are appreciably less stagey. But he grows into the role, convincingly selling Harry as a grand and sometimes endearing entrepreneur who always enjoys making entrances.
Harry is also an addicted philanderer, but earns his employees' single-minded devotion by treating them fairly and rallying them to the cause. Which basically is showmanship, teamwork, service with a smile and the accrued profits that go hand in hand.
The other women in Harry's life are his dutiful but discontented wife Rose (Frances O'Connor) and a sexy, singing showgirl named Ellen Love (Zoe Tapper). Both are strong characters, giving
Mr. Selfridge
a quartet of intriguing women whose sub-stories keep things consistently interesting.
Some of the supporting male characters have their moments, too, with Henri Leclair (Gregory Fitoussi) most prominent among them as the dashing "best window display man in the world." He's fond of clerk Agnes Towler's helpful suggestions while striving in-store restaurant waiter Victor Colleano (Trystan Gravelle) is intent on courting her and someday opening his own eatery.
There's also strapping Roderick "Roddy" Temple (Oliver Jackson-Cohen), an aspiring young painter whose involvement with Rose kicks in after a chance meeting at an art museum.
As in
Downton Abbey
, the men invariably are formally dressed and the women be-gowned and bejeweled unless they're "the help." The Brits and
Masterpiece Classic
have a hammerlock on sumptuous period pieces. And
Mr. Selfridge
doesn't disappoint. It's breezy, but with substance. Soapy but not too sudsy. So enjoy the drama, the fashion and the pure joy in Harry's voice when he commands, "Back to your posts with vim and vigor!"
One and all no doubt would run through a battalion of mannequins for him.
GRADE:
A-minus
Email comments or questions to
unclebarky@verizon.net