01/28/16 01:04 PM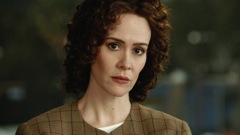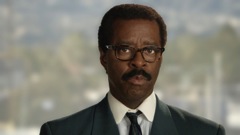 Sarah Paulson, Courtney B. Vance play Marcia Clark, Johnnie Cochran in The People v. O. J. Simpson: American Crime Story. FX photo
Premiering:
Tuesday, Feb. 2nd at 9 p.m. (central) on FX
Starring:
Sarah Paulson, Courtney B. Vance, John Travolta, Cuba Gooding, Jr, David Schwimmer, Sterling K. Brown, Nathan Lane, Kenneth Choi, Bruce Greenwood, Connie Britton, Evan Handler, Steven Pasquale, Robert Morse, Rob Morrow, Billy Magnussen
Produced by:
Ryan Murphy, Nina Jacobson, Brad Simpson, Scott Alexander, Larry Karaszewski, Brad Falchuk, Anthony M. Hemingway, D.V. DeVincentis, John Travolta
By ED BARK
@unclebarkycom on Twitter
What's a hotter TV commodity than even the presidential candidate debates? That would be true crime, whether scripted or otherwise.
Not that it ever really went away. But the news made and the "social media" firestorms generated by HBO"s
The Jinx: The Life and Deaths of Robert Durst
and then Netflix's
Making a Murderer
have taken the genre to another level in recent months. FX's 10-episode
The People v. O. J. Simpson
, the first entry in its
American Crime Story
anthology series, is now ready to emerge as the new leader of this pack.
Thoroughly absorbing through the first six episodes made available for review, it fully lives up to the FX come-on: "You Don't Know the Half of It." This is true even for those who think they do. Drawn from Jeffrey Toobin's 1996 book
The Run of His Life: The People v. O. J. Simpson
, this behind-the-scenes look at the hows and whys of Simpson's eventual acquittal represents executive producer Ryan Murphy's finest TV work in a career that also encompasses
Nip/Tuck, Glee, American Horror Story
and
Scream Queens
.
All of those series are or were marked by Murphy's can't-help-himself, gratuitous excesses.
People v. O. J.
, his first fact-based effort, stays on the rails throughout the first half and beyond. There are juicy scenes to be sure. But they all fit within the full-out, saturation-covered power struggle to convict or absolve Simpson of the shocking 1994 stabbing murders of his ex-wife, Nicole Brown Simpson, and waiter Ron Goldman.
John Travolta, who's also a co-producer, gets top billing as Simpson's initial lead defense attorney, vainglorious Robert Shapiro. He's effective in the role, and there really isn't a bad performance by anyone. But the standouts are Sarah Paulson and Sterling K. Brown as prosecutors Marcia Clark and Christopher Darden, and Courtney B. Vance as Johnnie "If it doesn't fit, you must acquit" Cochran.
The under-appreciated Paulson, who's taking a break from her disparate roles in
American Horror Story
, has four previous Emmy nominations, but no wins. She should be a lock here as the hard-driving deputy district attorney whose personal life and courtroom appearance were mercilessly dissected during the course of the trial. Paulson conveys both Clark's steely resolve and her increasing vulnerability in the face of detractors and gossip-mongers. Exhaling cigarette smoke oftentimes seems to be her only release valve. But she has both a friend and a courtroom colleague in Darden, who himself is trying to withstand Cochran's calculated portrayal of him as a house n-word.
People v O. J.
sets the stage with news footage of the 1991 police beating of Rodney King and rioting the following year after four officers were acquitted of assault charges. Two years later, a man walking his dog through L.A.'s pricey Brentwood neighborhood discovered the dead bodies of Brown Simpson and Goldman. Traces of blood at O. J. Simpson's nearby home quickly implicated the former college and NFL star in their deaths. The now legendary White Bronco chase, with Simpson holding a gun to his head while pal A. C. Cowlings (Malcolm-Jamal-Warner) drove on various freeways, consumes the entirety of Episode 2.
Cuba Gooding, Jr. plays Simpson as a weepy, high-strung, demanding fugitive/inmate while David Schwimmer is cast as his true-blue best friend and apologist, Robert Kardashian, who's already divorced from Kris Jenner (Selma Blair).
The father of Kim, Khloe and Kourtney, all pre-teens at the time, is very busy in the early episodes. Near the end of the opening hour, he frantically talks a crazed Simpson out of committing suicide before "The Juice" flees with Cowlings. At the start of Episode 2, Kardashian can't help but say, "Jesus Christ. Who the hell signs a suicide note with a happy face?" And in Episode 3, Murphy couldn't resist including a scene in which the increasingly famous Kardashian takes his highly impressed kids to a Father's Day brunch at La Scala.
"Your Uncle Juice is a good man," he tells them. "Fame is fleeting. It's hollow. It means nothing at all without a virtuous heart."
Well, there's a lesson that didn't take.
In another delicious scene, rich, name-dropping courtroom chronicler Dominick Dunne (Robert Morse) hosts a formal
Downton Abbey
-style dinner for his friends while regaling them with gossip from the trial. But the conversation goes silent while the hired minority help serves dessert.
Dunne, Robert Kardashian and Cochran are now deceased, but several other members of O. J.'s "Dream Team" have survived to see this dramatization. Besides Shapiro (who's not likely to be thrilled by Travolta's depiction of him as a strutting peacock), they include F. Lee Bailey (Nathan Lane), Alan Dershowitz (Evan Handler) and Barry Scheck (Rob Morrow). In Episode 4, Clark derisively refers to O. J.'s defenders as "a dozen alpha dogs in a cage match." Which in fact is dead-on.
Connie Britton, who co-starred in the first season of Murphy's
American Horror Story
between roles on
Friday Night Lights
and
Nashville
, does a brief but showy turn as Faye Resnick, a cocaine-addled close friend of Brown Simpson. In Episode 4, she wows prospective publishers with her tale of their exploits together before authoring a cheesy, tell-all quickie book.
People v. O. J.
is more concerned, though, with the divisive racial dynamics of the case. Cochran, in a signature moment from Episode 5, tells his "Dream Team" colleagues, "Evidence doesn't win the day. Jurors go with the narrative that makes sense. We're here to tell a story."
That same episode, subtitled "The Race Card," begins with a flashback to 1982, when Cochran and his two young daughters were pulled over by a white cop while heading to dinner at Hamburger Hamlet. The pretense is that Cochran changed lanes without signaling. But by now, Cochran knows the real deal. He's been stopped because he's a black man driving an expensive car in an upscale neighborhood. Handcuffed when he protests, Cochran is quickly freed when the cop learns he's an assistant district attorney.
The scene informs viewers of his mindset during the O. J. trial. And of Cochran's determination to free his client based on a defense that bigoted cops railroaded him. O. J. is resistant at first -- "I'm not black, I'm O. J.!" -- but later buys in. Seeing that his jury will be very predominantly black, he tells Cochran in a low voice, "If these people convict me, maybe I did do it." Both men chortle.
In that context, the racially charged clashes between Cochran and Darden can be searing. Clark's eventual co-prosecutor is a soft-spoken man reminiscent of Republican presidential candidate Ben Carson. But a fire smolders within him, and Sterling K. Brown's performance brings it out. His heart-to-heart after-hours talks with Clark, whether she's cocksure or falling apart, also provide some of the dramatic high points in
People v. O. J.
A great majority of viewers are fully aware of what happened at the end of the most famous trial in modern-day history. But the thrill is in the details of how a seemingly airtight case began unspooling. Clark, Darden and their taciturn boss, Gil Garcetti (Bruce Greenwood), are up against the best defense money can buy. But the defense is restive, too, with over-sized egos banging heads on a daily basis. It's all recaptured in riveting fashion 21 years after the divisive verdict came down.
O. J. Simpson, now 68, remains incarcerated in a Nevada prison after being convicted in 2008 of armed robbery and kidnapping in connection with breaking into a secured room in a Las Vegas casino to reclaim memorabilia that he claimed was his. He's eligible for parole in 2017. The "real killers," as he once put it, have never officially been caught.
GRADE:
A
Email comments or questions to:
unclebarky@verizon.net