09/18/17 11:46 AM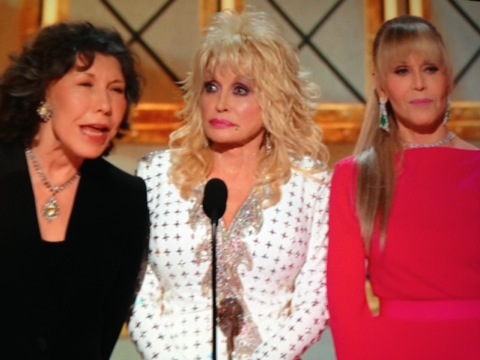 Dolly Parton notably declined to go with the flow when co-presenters Lily Tomlin and Jane Fonda tore into Donald Trump at Sunday night's 69th annual Prime-Time Emmy Awards. Photos: Ed Bark
By ED BARK
@unclebarkycom on Twitter
Let's first dispense with the night's biggest winners before turning to the real headline-maker from Sunday's 69th annual Prime-Time Emmy Awards on CBS.
Hulu's
The Handmaid's Tale
and HBO's
Big Little Liars
were the top trophy-takers with five each, including respective nods as best drama and best limited series. NBC's
Saturday Night Live
finished close behind with four Emmys while HBO's
Veep
and its star, Julia Louis-Dreyfus, continued their winning streaks.
Dreyfus was voted best actress in a comedy series for the sixth straight year, making her the all-time Emmy winner for playing a single role, in this case vainglorious vice president/president/ex-president Selina Meyer. Candice Bergen won five Emmys as the star of CBS'
Murphy Brown
.
Veep
also three-peated as best comedy series.
Little of this is likely to resonate above and beyond Sunday night. That's because the three-hour ceremony, hosted by Stephen Colbert, will be better remembered as a night-long demolition of Donald Trump, who so far has declined Colbert's opening invitation to tweet any response. It was the most politically charged Emmy telecast since the 1992 ceremony, when Vice President Dan Quayle took a verbal beating for his pointed criticisms of
Murphy Brown
after its lead character had a baby out of wedlock.
"Boy, Quayle is just getting stomped here," co-host Dennis Miller said near the end of that year's Emmys, which also took some sharp jabs at President George H.W. Bush and the problematic Reagan family dynamics of those days. But these were love taps compared to Sunday's Trump-athon.
Louis-Dreyfus happily joined in the festivities after first promising an eventful and funny final season of
Veep
. "We did have a whole story line about impeachment," she said, "but we abandoned that because we were worried that someone else might get to it first." The audience whooped loudly in approval.
Earlier in the night, Jane Fonda and Lily Tomlin went political as no presenters ever have during their "reunion" with Dolly Parton 37 years after they made the feature film
9 to 5
together.
In 1980, "we refused to be controlled by a sexist, egotistical, lying, hypocritical bigot," Fonda began, referring to the tyrannical office boss played by Dabney Coleman.
"And in 2017, we still refuse to be controlled by a sexist, egotistical, lying, hypocritical bigot," Tomlin added to cheers and applause.
Caught in the middle, a stunned-looking (see above photo) Parton wanted no part of this, instead falling back on a couple of trademark jokes about her breasts.
Colbert began tamely with a song and dance number featuring the refrain, "Everything is better on TV." After a traditional host jab at the assembled Hollywood swells -- "Us celebrating us. Tonight we binge ourselves" -- Colbert at first gently waded into Trump by noting there's way too much television to be watched by any single person -- except the President, apparently.
Like it or not, Trump is the biggest star of the year -- "and Alec Baldwin, obviously," Colbert said of the actor who later won an Emmy for his numerous
SNL
send-ups of the President. "You guys are neck and neck. And Alec, you're up against a lot of neck."
"You can't deny," the host added, "that every show was influenced by Donald Trump in some way." But he named only two --
House of Cards
and
American Horror Story: Cult
-- before citing "next year's Latin Grammys, hosted by
Sheriff Joe Arpaio
," whom Trump recently pardoned.
Trump's former NBC "reality-competition" series,
The Apprentice
, was twice nominated for Emmys, but never won, Colbert noted.
"Why didn't you give him an Emmy?" the host wondered. "I tell you this, if he had won an Emmy I bet he wouldn't have run for President. So in a way, this is all your fault. I thought you people loved morally compromised anti-heroes" (such as
Breaking Bad's
Walter White). "He's just Walter much whiter."
Trump has never forgiven the Academy for this snub, Colbert said, offering stunning real-life proof in a clip from one of his debates with Hillary Clinton. When she upbraided him for contending that even Emmy voting was rigged against him, Trump said," I shoulda gotten it."
"But he didn't," Colbert said, building to a big finish. "Because unlike the presidency, Emmys go to the winners of the popular vote."
This predictably received one of the night's bigger roars of approval, promoting Colbert to seemingly ad lib, "Where do I find the courage to tell that joke in this room?"
It had been a very long monologue that also included a game assist after Colbert displayed a 2014 Trump tweet in which he said Seth Meyers would be a "total joke" as that year's Emmy host because "he is very awkward with almost no talent. Marbles in his mouth!"
Did Meyers have a response? Seated in the audience, he let a mouthful of marbles spill out. It would have been the sight gag of the night, save for what quickly followed when Colbert asked no one in particular, "Is there anyone who can say how big the (Emmy) audience is?"
Out came deposed White House press secretary Sean Spicer and a podium on wheels. "This will be the largest audience to witness the Emmys -- period," he said, lampooning his grandiose estimates of the crowd for Trump's inauguration address. "Both in person and around the world."
The camera then caught Melissa McCarthy, who last week won a guest comedy actress Emmy as "Spicy" on
SNL
. She seemed hesitant to applaud, but grudgingly did so. A bit later in Sunday's ceremony, Colbert referred to HBO's
The Wizard of Lies
as "The Sean Spicer Story" after noting that its nominated star, Robert De Niro, was in the audience. For the record, De Niro played ponzi scheme crook Bernie Madoff, but didn't win. The Emmy instead went to Riz Ahmed for
The Night Of
on a night when diversity and television's surge in quality roles for women were celebrated during those times when Trump wasn't being filleted.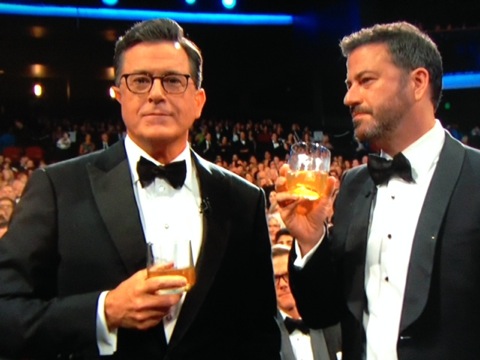 Loss leaders: Host Colbert & rival Jimmy Kimmel both came up empty in the late night Emmy competitions, with HBO's Last Week Tonight with John Oliver emerging as the big winner. Only NBC won among the Big Four broadcast networks. CBS, ABC and Fox were shut out.
Colbert's CBS
Late Show
joined De Niro and many others in the losers' circle while HBO's
Last Week Tonight with John Oliver
won two Emmys.
The host and Jimmy Kimmel, also a nominee, commiserated by drinking Emmy's
faux
signature cocktail, "The Last Week Tonight."
"It's so high quality, apparently they can only make one a week," Colbert said tartly.
"Mine has extra bitters in it," Kimmel added.
Colbert's CBS
Late Show
rose to No. 1 in the after-hours total viewer ratings after he began devoting almost all of his opening monologues to ridiculing Trump. But this rather surprisingly didn't pay off on Emmy night, even though Oliver's triumphant
Last Week Tonight
also is anything but shy about ripping Trump in its weekly half-hours.
Donald Glover, creator and star of FX's
Atlanta
, notably took home two Emmys for acting and directing. After winning for acting, Glover credited the President with an assist: "I want to thank Trump for making black people number one on the most oppressed list. He's the reason I'm probably up here."
He also was the primary reason for
SNL
's big haul, which included acting Emmys for Baldwin and Kate McKinnon plus a statue for best variety/sketch series.
"I suppose I should say, 'At last long last, Mr. President, here is your Emmy,' " Baldwin jabbed before somewhat joking that wearing an orange wig as Trump seemed to be the equivalent of birth control. In his particular case, it stopped a streak of Baldwin and his wife having three children in three years, he said.
Trump supporters can and no doubt will use the latest Emmys as proof positive that Hollywood is out of touch with "the real world" -- or whatever it's called these days in our super-polarized times. From this view, the Trump beat-down was predictable, but maybe not to this extent. And it ate away at the value of the awards themselves, which are
not
what people will be talking about on a night when Colbert also chipped in with a brief filmed interrogation by
Westworld
co-star Jeffrey Wright.
"Have you ever questioned the nature of your reality?" a bow-tied but otherwise "naked" Colbert was asked.
"Every day since November 8th," he replied.
Mopping up, here are a few non-Trump developments from "television's biggest night."
***
Host network CBS and two of the other Big Four broadcast networks, ABC and Fox, went away empty-handed. But NBC ran second overall with six Emmys while HBO led with 10. Besides the four nods to
SNL
, the Peacock's
The Voice
won as best "reality-competition" series while Sterling K. Brown received a best lead actor in a drama series Emmy for
This Is Us
.
***
Hulu, part-owned by NBC Universal, won its first major Emmys ever, all five of them for
The Handmaid's Tale
. Besides the best drama series trophy, star Elisabeth Moss got to the winner's circle for the first time in nine tries.
***
HBO's
Big Little Lies
was its biggest winner while the premium cable network's
Westworld
(which tied
SNL
for the most overall Emmy nominations with 22), went without any major wins. FX's
Feud: Bette and Joan
and Netflix's
Stranger Things
, both with 18 nominations, also were shut out in terms of the 27 major Emmys distributed Sunday night.
***
Just five networks -- HBO, NBC, Hulu, Netflix and FX -- collected all of the Emmy hardware during the Academy's main event.
A complete list of Sunday night's major winners can be
found here
.
Email comments or questions to:
unclebarky@verizon.net