08/28/14 09:41 AM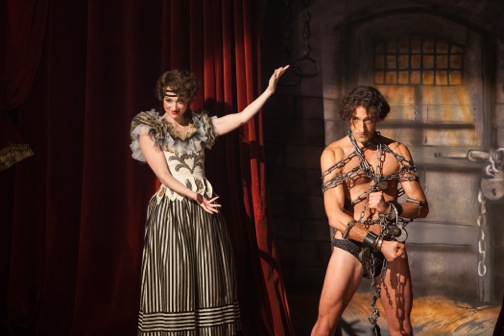 Adrien Brody and Kristen Connolly co-star as a well-sculpted Harry Houdini and his unfulfilled stage wife, Bess. History Channel photo
Premiering:
Monday, Sept. 1st at 8 p.m. (central) on History Channel, with Part 2 at the same hour on Sept. 2nd.
Starring:
Adrien Brody, Kristen Connolly, Evan Jones, Eszter Onodi, David Calder, Tom Benedict Knight, Louis Mertens
Produced by:
Andras Hamon, Gerald W. Abrams
By ED BARK
@unclebarkycom on Twitter
Like any world class trickster, Harry "The Great" Houdini often used sleight of hand to great effect in fooling all of the public all of the time.
History Channel's two-part depiction of his life and times, starring Adrien Brody, contrastingly uses a heavy hand throughout.
Houdini
suffers from an over-abundance of narration -- too much of it ridiculously written -- and recurring, clunky symbolism built around Houdini's famed ability to take hard punches to the stomach. Viewers in turn get too many blows to the head, although there's some fun to be had in seeing the secrets behind some of those daring escapes and illusions.
Born in 1874 as Erik Weisz of Budapest, the future Harry Houdini spent most of his formative years in Appleton, Wisconsin, where his mother bathed him in affection while his rabbi father kept stifling his hopes and dreams. History's three-and-a-half-hour
Houdini
repeatedly revisits Harry's veneration of his mother and distaste for a "nobody" father. Young Harry wanted to be somebody, ya see. Director Uli Edel and scriptwriter Nicholas Meyer keep pounding this home with all the subtlety of a pro wrestling body slam.
Monday's Part One begins with a shackled Houdini poised to jump off a bridge into a small hole cut through an ice-encased river. From a distance, the "ice" looks very fake, but perhaps can still be touched up in post-production. Brody's narrative voice -- get used to it -- informs viewers that "one way or another we all want to escape." Except that "unlike other people, I don't escape life. I escape death." Although "the one thing I can't seem to escape from is me."
Houdini
then flashes back 17 years to Ohio, where Harry is performing in a brothel. And then another decade to 1886 Appleton, where a young Harry (Louis Mertens) and his brother are captivated by a traveling magician who's bloodily dismembering a woman before sawing her in half. Harry's immediately got the bug while Brody keeps narrating the obvious before further intoning, "My greatest escape was leaving Appleton, Wisconsin."
Brody, in one of Houdini's early incarnations as "The Wild Man From Borneo," has thrown himself into this role from a physical standpoint. His physique is chiseled to Tarzan-readiness -- and it appears to be all his. But the film is too full of flab and laughable voiceovers such as "The only thing more devastating than a punch to the gut is an arrow through the heart. I never even saw it coming."
In this case, he's talking about his first gaze at future wife Bess (Kristen Connolly), who's a chorus line dancer. She very quickly becomes Houdini's wife and onstage co-star before a prop whiz named Jim Collins (Evan Jones) becomes their indispensable third wheel. It's Collins who's the brains behind Houdini's most famous escapes. And they hit the jackpot with the Chinese Water Torture Cell, into which a chained Houdini is lowered head first.
Houdini also became renowned for catching fired bullets in his teeth and for befuddling local cops who unsuccessfully sought to imprison him. The methods used are revealed in both instances. They in part reward a viewer's patience for slogging through lines such as:
***
"The only way to beat death is to put your life on the line. But why was I so compelled to beat death? What was I trying to escape?"
***
"The bullets I pretended to catch in my teeth now struck young men throughout the world (at the outset of World War I)."
***
"My mother's death was a sucker punch that I wasn't near ready for."
Houdini
is relentlessly determined to leave no doubt that Houdini loved his mama Cecilia (Eszter Onodi) with an intensity that perhaps even Liberace, Van Cliburn and Elvis couldn't match. Wife Bess just couldn't keep pace, although they remained together through the rough patches.
"You may not be afraid of death but you're afraid of life! Real life!" Bess blares in Tuesday's Part 2.
"This is what you signed up for honey!" he retorts.
But Houdini eventually relents after upbraiding Bess for her opposition to his death-defying stunts.
"You put me in a box!" he rages. Oh yeah? "You're only happy in a box! What's next? A coffin?"
So Houdini grudgingly resorts to making elephants disappear and walking through brick walls. After the latter trick he meets Sir Arthur Conan Doyle (David Calder), the Sherlock Holmes creator who believes that both his wife and Houdini have spiritual powers.
"It's a trick," Harry keeps trying to tell him. They later clash over Houdini's latter day quest to expose fake mediums by disrupting their seances. The film also presents as fact the still unproven claims that Houdini was recruited as a European spy for the U.S. Secret Service. It makes for some cloak-and-dagger meetings on foggy nights.
History Channel's
Houdini
, flawed as it is, can't help but be superior to the same-named, very broadly drawn
1953 film starring Tony Curtis
. In that one, the cause of Houdini's death was fabricated. The new version sticks to the actual facts, although Harry's near-death exchange with an admiring doctor is mighty hokey.
Brody's performance is borderline capable within the constraints of an at best mediocre combination of writing and story construction. But Harry Houdini's incredible story still awaits a master re-telling. And this one doesn't even come close.
GRADE:
C-minus
Email comments or questions to:
unclebarky@verizon.net