02/28/17 12:06 PM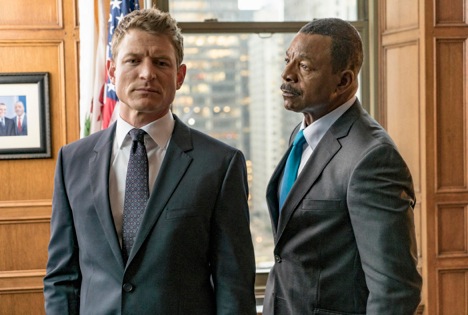 Philip Winchester, Carl Weathers play a pair of prosecutors. NBC photo
Premiering:
Wednesday, March 1st at 9 p.m. (central) before moving to regular Sunday, 9 p.m. slot on March 5th
Starring:
Philip Winchester, Carl Weathers, Monica Barbaro, Jon Seda, Joelle Carter
Produced by:
Dick Wolf, Michael S. Chernuchin, Matt Olmstead, Derek Haas, Michael Brandt, Arthur Forney, Peter Jankowski
By ED BARK
@unclebarkycom on Twitter
Dick Wolf's
Chicago
carousel is starting to make even his old
Law & Order
franchise a little dizzy.
The most resilient producer in TV history has only
Law & Order: SVU
remaining from his original churn 'em out cash cow. But at the height of its powers,
Law & Order
didn't have four incarnations on the air all at once. After being presumed dead as a big prime-time powerhouse, the 70-year-old Wolf has re-emerged more prolific than ever on the same network (NBC) that birthed the original
Law & Order
back in 1990.
He began rebuilding his empire in 2012 with
Chicago Fire
, which rather unexpectedly became a decent-sized hit. Then came
Chicago P.D., Chicago Med
and now,
Chicago Justice
. The city's sanitation workers might be hopeful, too, at this point.
Chicago Garbage
may not have a lot of life and death jeopardy. Still, a person's trash can tell you a lot about them and lead in all kinds of directions.
Justice
gets a big springboard on Wednesday, March 1st as the third tier of a "crossover event" that also involves
Fire
and
P.D.
. After this "preview," which NBC inexplicably didn't make available for review, the newcomer moves to Sundays at 9 p.m. (central), starting on March 5th. This episode, subtitled "Uncertainty Principle," is the one that was sent to TV critics.
The basic Wolf boiler plate again applies. Rip a little something from the headlines whenever possible. Illustrate with a workmanlike script and act it out with a capable ensemble cast. Be sure to swell the music to hammer home dramatic tension. There's nothing exceptional to see here, but you could do far worse.
Justice
also has a
Law & Order
gene in play. The overall star of the show, assistant state's attorney/deputy chief of special prosecutions Peter Stone (Philip Winchester), is the son of New York City district attorney Ben Stone, who was played by Michael Moriarty in the first four seasons of
Law & Order
. The character might have lasted much longer had Moriarty not had a very public spat with Wolf. There are two basic taboos on Wolf shows. Don't question his authority or ask for considerably more money. He'll cut you loose just like that because in his long-held view, a show is always bigger than any single cast member. As the original
Law & Order
proved again and again.
Sunday's episode of
Justice
is built around a young black drug dealer who's suddenly found dead in jail. The kid's grieving mother has a no-nonsense ally in a middle-aged white priest who instantly demands a thorough investigation and later turns over a batch of cell phone videos showing the deceased being roughly arrested by veteran black police officer Kevin Atwater (LaRoyce Hawkins).
A grand jury is quick to indict the cop. He used to work the streets with Antonio Dawson (Jon Seda), a former
Chicago P.D.
regular who's jumped to
Justice
and become a chief investigator.
Stone's boss, Cook County State's Attorney Mark Jefferies (Carl Weathers), is quick to spout cliches such as "We can expect some sort of public reaction." So make no mistake, "You gotta get out in front of this immediately."
Atwater ends up being represented by one of Stone's old friends and former charter
Law & Order
character Paul Robinette (Richard Brooks), who spent three seasons on the show. Jason Beghe, currently deployed as
P.D.
star Henry "Hank" Voight, pops in for a few seconds to snarl, "If Kev killed that sonofabitch, that sonofabitch needed killing."
Also stirred into this mix are the other two
Justice
regulars, Assistant State's Attorney Anna Valdez (Monica Barbaro) and State's Attorney Investigator Laura Nagel (Joelle Carter), who gets the inevitable "tough as nails" tag in NBC publicity materials.
It all ends with a bit of a twist, which most vigilant viewers should see coming. Weathers' Jefferies then proclaims, "In the end, the truth emerged victorious."
The overall victor continues to be Dick Wolf, to whom go the considerable spoils. He still knows how to put together a crisp, concise story, and certainly how to milk a franchise.
Chicago Justice
, which some also see as something of a lightly camouflaged
Law & Order
reboot, gives NBC another steady hand that's also no great shakes. But it'll do, and Wolf very likely has more where it came from.
GRADE:
B-minus
Email comments or questions to:
unclebarky@verizon.net