01/29/18 10:04 AM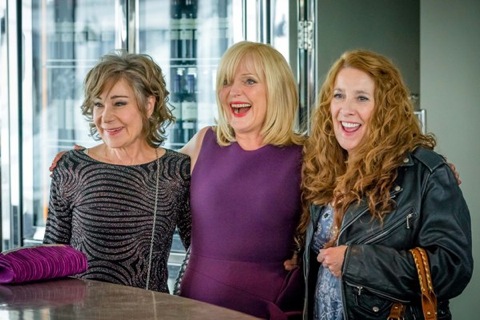 Golden oldies: Zoe Wanamaker, Miranda Richardson and Phyllis Logan face age-old obstacles -- and a mysterious death -- in Girlfriends.
Acorn photo
Premiering:
Begins streaming Monday, Jan. 29th on Acorn TV
Starring:
Miranda Richardson, Zoe Wanamaker, Phyllis Logan, Anthony Head, Philip Cumbus, Daisy Head, Matthew Lewis, Paula Wilcox, Valerie Lilley, Adrian Rawlins, Steve Evets
Produced by:
Kay Mellor
By ED BARK
@unclebarkycom on Twitter
Attention TV shoppers:
Acorn TV's
Girlfriends
in no way is a reboot of what just happened to be the
same-named sitcom
that lasted eight seasons on UPN and then The CW.
The three protagonists of this British production are far closer in age and temperament to
The Golden Girls
. But the comedic moments in this six-part series are secondary to the mystery of how a besotted husband tumbled to his death off a cruise ship balcony. The issue of age discrimination is also paramount, but creator/producer/writer/director Kay Mellor (
Love, Lies & Records
) avoids overtly preaching in the four episodes made available for review.
Girlfriends
, which begins streaming in weekly one-hour doses on
Monday, Jan. 29th
, doesn't always hit its marks -- particularly during the over-reaching opening minutes of Episode 4. But the three lead performances, particularly on the part of Miranda Richardson, are more than enough to carry the day.
Richardson plays Sue, a nose in the air, creature-comforted bridal magazine features editor who's suddenly sacked by her longtime boyfriend and boss, John (Anthony Head). They founded
Adorable
together, but now he sees her as too old and outdated for the job at hand. A meaningless consultant's position is offered. No thanks. Emphatically, no thanks.
Sue, Linda (Phyllis Logan) and Gail (Zoe Wanamaker) used to be close pals but have drifted apart over time and circumstances. But they re-bond at the funeral for Linda's husband Micky (Steve Evets), who at the beginning of Episode 1 is first besotted aboard a cruise ship -- and then shockingly deceased after falling overboard. But how did he sink to such depths? If it's ruled a suicide, then dependent Linda won't be able to collect on their life insurance policy. If it was murder or manslaughter, whodunit? Or maybe Micky just drunkenly tumbled overboard while staggering away from a celebratory anniversary dinner to ostensibly fetch his reading glasses. (Reminding viewers that this indeed is a British production, Linda later laments that she "put on half a stone" during the indulgent cruise.)
A variety of supporting characters are woven through
Girlfriends
. Each of the three principals has grown children in various stages of repair or disrepair. But it's Sue's disaffected gay son, Andrew (Philip Cumbus), who mostly comes to the fore as an attorney who ends up representing both his mother and Linda.
Beyond Sue ("I need a large g &t and a cigarette"), most of the comic relief comes from Gail's tart, 84-year-old mother, Edna (Valerie Lilley), who's prone to wandering away from her nursing home but retains at least partial control of her faculties. Her dress-down of Gail's layabout son Tom (Matthew Lewis) in a later episode provides one of the series' more delectable moments. There's also poignancy when Gail and Edna have a heart-to-heart on the bus ride back from a new and more vigilant rest home of which "mum" wants no part.
Girlfriends
is also about making amends for past transgressions. Sue is particularly guilty on this front, and in large part owes her self-realizations to John's latter-day shoddy treatment of her. He remained married during their long, intimate relationship, and now is intent on trading Sue in for a younger model. Their impending legal battle is a secondary story line to the whys and wherefores of Micky's demise.
Each of the four episodes screened for review ends on a mini-cliffhanger. Under Acorn's current method of distribution, you'll have to wait a week -- and then another week -- for the latest resolution. In the streaming world, that goes with the flow of Hulu while Netflix and Amazon continue to provide instant binge gratification.
Girlfriends
, whose six episodes easily could be devoured over a weekend, cries out for a big gulp alternative. But for now, its tantalizing end-of-episode danglings call for some old school calendar circling.
GRADE:
B+
Email comments or questions to:
unclebarky@verizon.net