A DC superhero of color in The CW's bold, bolt-dispensing Black Lightning
01/15/18 12:04 PM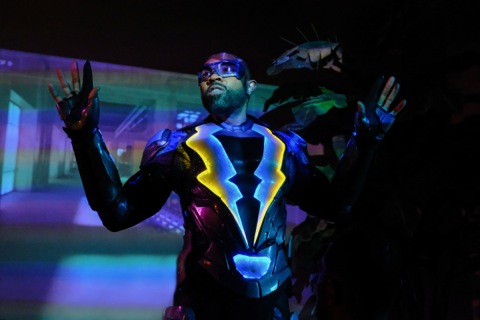 An electrifying Cress Williams stars in Black Lightning. CW photo
Premiering:
Tuesday, Jan. 16th at 8 p.m. (central) on The CW
Starring:
Cress Williams, China Anne McClain, Nafessa Williams, Christine Adams, James Remar, Damon Gupton, Marvin "Krondon" Jones III, Skye P. Williams, Chantal Thuy
Produced by:
Mara Brock Akil, Salim Akil, Greg Berlanti, Sarah Schechter
By ED BARK
@unclebarkycom on Twitter
The official network of DC Comics superheroes is adding a fifth.
What's more,
Black Lightning
strikes a full month before arch rival Marvel can answer with the feature film
Black Panther
. Both action dramas are groundbreaking in their depictions of an African-American man as the title character. In The CW's case, it's Cress Williams in the role of principled high school principal Jefferson Pierce, who nine years ago "retired" without a pension from being Black Lightning after the constant bloody battles he fought ended up costing him his marriage. But hey, how do you just sit back and take it when your two daughters' lives suddenly are threatened by the marauding 100 Gang?
Jefferson also is egged on by longtime friend Peter Gambi (James Remar from
Dexter
), a tailor/mentor who puts it this way: "Evil's running rampant like a plague through this city. Hell, through this world." So get back in costume, will ya? Gambi has even designed a brand new one with a pair of big glowing lightning bolts. Now who wouldn't want to wear
that
while dispensing assortments of kicks, punches and electrical jolts?
It's all pulled off powerfully and artfully by principal executive producer Mara Brock Akil (
Girlfriends, The Game
), who's assisted by DC impresario Greg Berlanti. The CW's four other DC ventures,
Arrow, The Flash, Supergirl
and
Legends of Tomorrow
, likewise have Berlanti's name attached.
But it's Brock Akil's voice resonating throughout, particularly in a slice of daring dialogue from Episode 2. It comes from sinister 100 Gang bossman Tobias Whale (rapper-actor Marvin "Krondon" Jones III) after an underling known as Lala (guest star William Catlett) tells him he really must hate black people.
Whale, an African-American with albinism and red hair (as is Jones III in real life), replies in no uncertain terms that he in fact hates "incompetent, thick-lipped, scratch-where-it-don't-itch Negroes like you. Ya'll keep us acting like newly freed slaves." That's quite a mouthful for a broadcast network drama.
Jefferson's ex-wife Lynn (Christine Adams), whom he still loves, shares custody of their two daughters. The oldest, Anissa (Nafessa Williams), is a "metahuman" like her father, but doesn't yet have a handle on her powers. She teaches part-time at the city of Freeland's Garfield High School, where dad's been principal for the past seven years. Anissa's personal life provides an additional subplot.
Younger sister Jennifer (China Anne McClain) is a Garfield student with a knack for acting out and causing trouble. Her clandestine visit to a dangerous club ends up triggering dad's halting decision to come out of retirement. His eyes glow when he's, in a sense, Hulking out. And there's lately a lot of attendant stuff to Hulk out about, particularly after Jefferson and his daughters are wrongly pulled over by a rather too prototypically abusive white cop in search of a liquor store robber. "Have a good night, sir," he smirks after humiliating them.
Meanwhile, confidante and veteran detective inspector Henderson (Damon Gupton), who's African-American, keeps urging patience and calm amid the growing mayhem. Henderson's daughter Keisha (Kyanna Simone Simpson), a budding hellcat, also happens to be impressionable Jennifer's best friend. So there's a lot brewing here, and
Black Lightning
is adept at building the tension leading to Jefferson's breaking point. "It is time that people know that Black Lightning is back," he declares. And at this point, hell yeah.
Black Lightning
isn't as quippy as some of CW's other DC offerings. The stakes are more real in nature, with Tobias demonically intent on keeping order his way in a predominantly black domain. This is a series of serious intent while also serving as a breakthrough depiction of a superhero who's both colorful and of color.
Series star Cress Williams, now 47, has been waiting a long time for his first starring role after playing a wide variety of supporting parts in dozens of TV series. He delivers the goods in
Black Lightning
as a title character of steely intent whose vulnerabilities are also a major part of his makeup. Are his powers a curse or, as he prefers to see them, a "blessing from God?" However things turn out, it's already quite electrifying.
GRADE:
B+
Email comments or questions to:
unclebarky@verizon.net