05/31/17 01:24 PM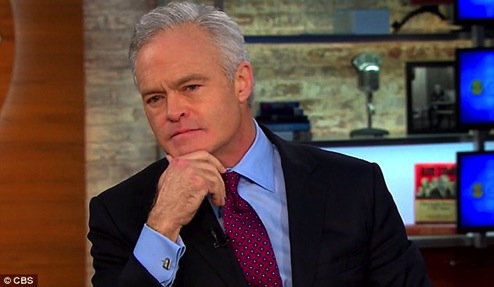 By ED BARK
@unclebarkycom on Twitter
After a six-year run as anchor and managing editor of the
CBS Evening News
, Scott Pelley is walking the plank -- to a full-time position at
60 Minutes
.
The former WFAA-TV/KXAS-TV reporter is not thrilled, despite all the niceties in Wednesday afternoon's CBS publicity release, which makes it official after the news had leaked out earlier.
"I find my heart filled with gratitude for the opportunity to know you, humility in light of your sacrifices, and hope for the future of journalism because of the standards you live by," he says in a statement directed at his
Evening News
colleagues. "CBS has been great to me for nearly 30 years. I'm glad to accept this assignment with continuing gratitude."
CBS notes that the still third-place
Evening News
"grew its audience in each of the first five seasons, the longest run of growth for any network evening news broadcast in the history of the modern ratings system." But the audience stopped growing in the past year after Pelley took over on June 6, 2011, replacing Katie Couric. CBS journeyman Anthony Mason will replace Pelley "in the coming weeks" as the
Evening News
' interim anchor while the network looks for a more permanent replacement.
Pelley joined
60 Minutes
as a correspondent in 2004, and the ever-resilient program currently ranks among prime-time's 10 most popular weekly attractions, according to Nielsen Media Research.
CBS News President David Rhodes, with whom Pelley reportedly had growing differences, said that the "milestone 50th season of
60 Minutes
requires Scott's full contribution, and we look forward to important reporting from him for many years to come."
Pelley spent his last seven years in Dallas at WFAA before being recruited by CBS in 1989. His reporting skills were honed by the station's late news director, Marty Haag.
"Everything that I learned from Marty Haag and (former assignments editor) Bert Shipp at WFAA are lessons I employ at the
Evening News
every day," Pelley told unclebarky.com less than three months after becoming the
Evening News
anchor at age 54. "WFAA was the greatest training ground possible for a young correspondent. The traditions of news under Marty Haag were the highest that you will ever see. And that informed everything we did at WFAA."
Pelley, a Lubbock, TX native who attended Texas Tech University but did not graduate, brought a no-nonsense demeanor to the
Evening News
. He was capable of half-smiles and occasional eye twinkles, but mostly positioned himself as a whole-grained purist compared to ABC's dashing, fluff-prone David Muir and NBC's Lester Holt, who still anchors NBC's junk food news magazine program,
Dateline
.
The captain of the CBS News ship had no use for the opinion-laced journalism on cable's Fox News Channel or MSNBC.
"I grew up in this business during a time when the values of CBS News were spread more widely throughout journalism in America," Pelley said six years ago. "And it is just part of my DNA to drive stories right down the middle and to listen to all opinions. And after you've written the script, to ask yourself, 'Have we been fair to everyone?' It is literally the way I grew up as an individual, and it's the only way I know how to do this."
Pelley remains married to Jane Boone, whom he wed in 1983 while she worked for the competing KXAS-TV.
In a 1997 interview with your friendly content provider, Pelley spoke glowingly of being "married to a magnificent woman. And if it wasn't for that, I would not be able to do this job. I'm on the road a great deal. And frequently, as a family, we have plans that are interrupted by a breaking news event."
Pelley was on the road again, in Syria, when CBS News announced his new full-time assignment. Look for his successor to be peppier and more willing to take the fork in the road than trod the straight and narrow.
Email comments or questions to:
unclebarky@verizon.net