Oh Romeo, WTF? ABC gets dopey with Still Star-Crossed
05/26/17 02:28 PM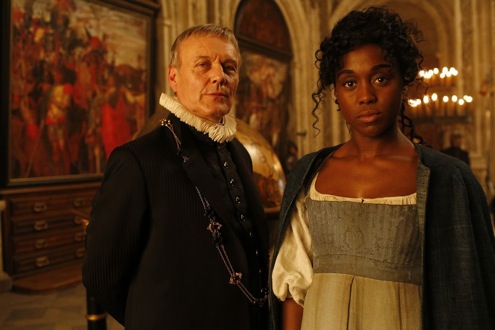 Anthony Steward Head, Lashana Lynch are cast as a pair of Capulets.
ABC photo
Premiering:
Monday, May 29th at 9 p.m. (central)
Starring:
Lashana Lynch, Wade Briggs, Anthony Stewart Head, Ebonee Noel, Medalion Rahimi, Sterling Sulieman, Grant Bowler, Torrance Coombs, Dan Hildebrand
Produced by:
Shonda Rimes, Heather Mitchell, Betsy Beers, Mark Wilding, Michael Goldstein, Michael Offer
By ED BARK
@unclebarkycom on Twitter
Rather than hitting her stride, Shonda Rimes is stumbling around lately in the role of ABC's empress producer in residence.
The architect of
Grey's Anatomy, Scandal
and
How to Get Away with Murder
recently flopped with
The Catch
, which is newly and officially canceled. Now comes
Still Star-Crossed
, a completely silly exercise set in the post-Romeo and Juliet town of Verona.
Although it's been sitting around for a good long while, ABC has made only the premiere episode available for review. Otherwise it's "O
Star-Crossed, Star-Crossed
, wherefore art thou,
Star-Crossed
?" Not that I'd actually want to see another one.
All of this is far closer to The CW's
Reign
than HBO's
Game of Thrones
, with the battles between leftover Montagues and Capulets raging anew after secretly wed Romeo and Juliet (the interracial pairing of guest stars Lucien Laviscount and Clara Rugaard) drink themselves to death without inspiring viewers to care in the least.
The leftover principal characters swirl around in search of both power and peace, speaking in proclamations ranging from "Yes, my son is dead because of the poison you gave that Capulet whore!" to "Wash the stink of the night off you!"
Some might recognize Anthony Stewart Head (formerly of
Buffy the Vampire
), who's aged into the imperious and conniving Lord Silvestro Capulet. Otherwise it's a cast of unknowns, headed by Lashana Lynch as Juliet's cousin, Rosaline Capulet, and Wade Briggs in the role of Romeo's cousin, Benvolio Montague.
You might otherwise say "Monta-who?" or "Where's Francis Ford Capulet?" Members of the respectively warring families flit in and out without making any lasting impressions. Recurring sword fights otherwise fill out the first hour, none of them very bloody or well-executed.
Rimes's serial soap playbook of course includes deep-held secrets, betrayals, coincidental eavesdropping and sexual longings. None of this seems likely to resonate, even if
Star-Crossed
's various duplicities and infidelities are in keeping with the
modus operandi
of ABC's preceding
The Bachelorette
.
Goofing on
The Bachelorette
at least can be a bit of fun. With
Still Star-Crossed
, you're only likely to get tired head -- and in a hurry.
GRADE:
D
Email comments or questions to:
unclebarky@verizon.net