06/29/16 02:12 PM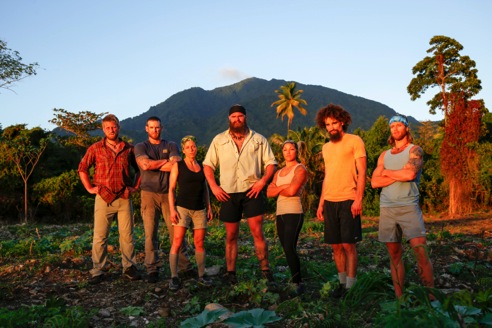 Only one will be crowned "American Tarzan." Discovery photo
Premiering:
Wednesday, July 6th at 9 p.m. (central) on Discovery Channel
Starring:
Seven adventurers vying to become "American Tarzan."
Produced by:
Matt Sharp, Dan Adler
By ED BARK
@unclebarkycom on Twitter
Hollywood and Vines: Has any superhero been the subject of more film and TV productions than the chest-pounding, ape-trained, Jane-mating, loin clothed, jungle-ruling he-man of few words?
Surely not. And here come two more. The latest feature film,
The Legend of Tarzan
, opens on Friday, July 1st. Then comes Discovery Channel's
American Tarzan
, a grueling endurance test that begins its four-episode run on Wednesday, July 6th. Oh, and there's also that
ongoing Geico commercial
, in which Jane is all over the big lug for refusing to ask for directions.
What's at stake in
American Tarzan
? Well, there's no monetary prize. Nor does the winner get a brand new car, a free trip to less taxing surroundings or even a pair of tickets to the movie. A Discovery spokesman confirms that "the main prize is getting the title." Hopefully there's at least a handsome plaque or a championship belt involved. Because judging from the premiere hour made available for review, the five men and two women involved will be subjected to more suffering than Johnny Depp's latter day box office receipts.
Competitors are identified only by their first names on
American Tarzan
, although publicity materials name them in full. They include Tim Reames of Austin, TX, an "unbreakable Marine" who's called "Reames" because there's already another Tim -- "ultra runner" Tim Olson from Boulder, Colo.
Their proving ground is the "lost" Caribbean island of Dominica, which has remained "mostly uninhabited by man," according to an unidentified narrator. In order to get there, competitors must paddle individual kayaks on a lengthy trip to the mouth of the Indian River. There they'll encounter the first of four Biomes -- the Jungle Biome. Either conquer it and emerge at the "Colonial Ruins" finish line or admit defeat and drop out. Such is the fate of one contestant during the premiere hour.
Quickly establishing a rooting interest is "military mom" and now emergency room nurse Kim Liszka of Macungie, PA. After being a single mother for 18 years, "it's my moment to shine" she declares before taking an early lead. In her mind, an imposing obstacle is "beautifully exhausting." And an attack of bees, while disconcerting, is not going to be enough to stop her.
Besides Kim, Tim and "Reames," the other hopefuls are "ninja master" Jeremy Guarino of Buffalo; "speed climber" Derek Knutson of Hayward, WI; "spartan racer" Maria Herrera of San Diego; and "strongman" Brandon Morrison of Seattle.
Brandon used to be something of a string bean, but decided to bulk up with both heavy weights and calorie intake. "I look like I ate the old me," he says of the days when he was half the almost 300-pound man he is now. Furthermore, Brandon wants to prove that strongmen like himself aren't just "lumbering oafs who pick things up once and go eat a pizza and go to bed."
American Tarzan
does a vivid job of depicting pain, exhaustion and determination amid the unforgiving geography and elements. Tim's resourceful, though. His hunger pangs are deterred by a termite snack from a fresh nest of 'em. "Tasty," he says.
This is far more grueling than
The Amazing Race
, and with no rewards for completing one of the obstacle courses other than the satisfaction of a job well done.
American Tarzan
also is mercifully brief and to the point. Four episodes don't seem like too much of a chore for viewers to endure. And none of the competitors comes off as a typical made-for-TV braggart or villain.
The eventual winner may not have the strength to let loose with a prototypical Tarzan yell. But perhaps the Discovery Channel in recompense could book a guest shot on one of the lesser TV talk shows. Given all the hardships involved, something more should come of this than a mere title and a free trip in coach back home.
GRADE:
B-minus
Email comments or questions to:
unclebarky@verizon.net