CMT puts itself on the sitcom map with Billy Ray Cyrus in Still the King
06/12/16 02:40 PM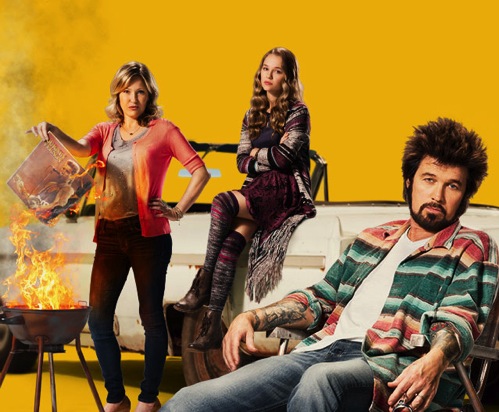 Billy Ray Cyrus fakes it as a preacher in Still the King. CMT photo
Premiering:
Sunday, June 12th at 8 p.m. (central) on CMT
Starring:
Billy Ray Cyrus, Joey Lauren Adams, Madison Iseman, Travis Nicholson, Jon Sewell, Kevin Farley, Leslie David Baker
Produced by:
Billy Ray Cyrus, Shannon Houchins, Potsy Ponciroli, Travis Nicholson, Julia Silverton, Jayson Dinsmore
By ED BARK
@unclebarkycom on Twitter
Succumbing to Billy Ray Cyrus as a drunken Elvis impersonator turned fake preacher doesn't have the degree of difficulty one might expect. In fact,
Still the King
wouldn't even require Miley Cyrus to slum all that much if she ever decides to join her daddy for a guest shot.
CMT is home base for this laugh track-less, single cam sitcom, which has a certain hardscrabble charm for those willing to take their noses out of the air. It rises closer to the level of
My Name Is Earl
than anyone might have a right to expect. Which is another way of saying that its rural landscape and corn pone humor are several cuts above the best
The Dukes of Hazzard
ever dished up.
Cyrus is Vernon Brownmule, who's scratching out a living as "Burnin' Vernon" 20 years after he rocketed to the top with a big ol' hit song. The star's real-life "Achy Breaky Heart" past is known to just about anyone old enough to also remember the Cabbage Patch Kids craze. But courtesy of a mighty long narrative buildup, Vernon sows the seeds of a brief jail term by wrecking a stolen bread truck and also damaging a little church while in the company of some hookers and under the influence of booze and drugs. A very briefly seen Randy Travis, in the guise of a patrol car cop, arrests Vernon after duly noting, "What kind of a sick sonofabitch . . ."
It sort of gets worse for Vernon. Once out of jail, he has 1,000 hours of community service to do for the First Light Church he damaged. Vernon also learns he's the dad of a 15-year-old daughter named Charlotte (Madison Iseman), whose mom, Debbie Lynn Cooke (Joey Lauren Adams), is now demanding $500 a week in support payments.
Debbie's live-in boyfriend, who looks like Burt Reynolds from the
Smokey and the Bandit
years, is otherwise an idiot named Ronnie (Jon Sewell).
"Oh, he don't look rich," the usually shirtless Ronnie says upon first seeing Vernon.
"I told you it's royalty money," Debbie rejoins.
"Oh," says Ronnie. "He's British."
These are the jokes, folks. And the first four episodes made available for review indicate that some of this just might settle in -- and not only for the Golden Corral crowd.
There's more basic "plot." Now pretty much
persona non grata
-- thank you very much -- as an Elvis act, Vernon decides to make ends meet by masquerading as First Light's new preacher. He's assisted in this gambit by a recently freed dumb buddy named Walt (Travis Nicholson), who's otherwise intent on tracking down Sasquatch. The other supporting characters are Vernon's parole officer, Mitch Doily (the late Chris Farley's dead-ringer brother, Kevin), and a gullible church assistant named Laura Beth (Lacey Chabert).
Cyrus' acting won't remind anyone of Al Pacino -- or even Tom Wopat. But he gradually settles in while Adams and Iseman instantly take hold as mother-daughter antagonists who of course will slowly be warming to Vernon's half-assed efforts to do the right thing.
Episode 3 is the best of the first four, with the locales ranging from Tepid's Lukewarm Grill to a biker funeral at a seedy bar where Vernon finally gets a gig with his reluctant daughter in tow.
Those expecting Cyrus to do any Elvis songs will be disappointed in the early going. So far he's only shown briefly in costume, but without any vocalizing.
Still the King
does have a twinge of achy breaky heartbreak, though, when Charlotte rebuffs dad's offer to take her home from school. "I don't take rides from strangers," she tells him.
Cyrus does a decent job of looking hurt in a series that might tug you along if you don't already have your heels firmly dug in. TV critics above all should approach everything with an open mind. In that respect, this one lands somewhere between a pleasant surprise and better-than-expected.
GRADE:
C+
Email comments or questions to:
unclebarky@verizon.net