07/31/14 12:28 PM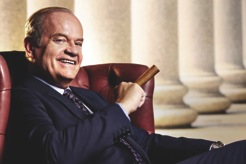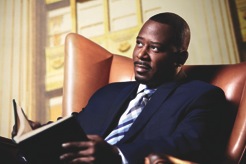 Kelsey Grammar, Martin Lawrence are disparate lawyers in Partners.
FX photos
Premiering:
Monday, Aug. 4th at 8 p.m. (central) with back-to-back episodes on FX
Starring:
Kelsey Grammer, Martin Lawrence, Telma Hopkins, Rory O'Malley, Edi Patterson, McKaley Miller, Daniele Watts
Produced by:
Bob Boyett, Robert Horn
By ED BARK
@unclebarkycom on Twitter
The stars are well-known brand names. Their deliveries are broad but polished with the veneer of two vets who know their way around the old multi-cam, studio audience-juiced format.
Still, FX seems disinterested in promoting its third "10/90 model" comedy, in which meeting a designated "ratings threshold" with the first 10 episodes will green-light 90 more produced in roughly half the four years it takes to fill a standard 22-episode per season broadcast network order. So far it's been one go (for Charlie Sheen's
Anger Management
) and one stop sign (for George Lopez's
Saint George
).
Kelsey Grammer and Martin Lawrence are the front men for
Partners
, an odd couple-ish pairing of lawyers that premieres on Monday, Aug. 4th with back-to-back episodes. Neither is Brand X lunch meat. Nor are they incontinent. But their show wasn't included among FX's 12 interview sessions at July's Television Critics Association "press tour." Nor did
Partners
make the cut during January's winter "tour," when FX held nine sessions on a hotel ballroom stage.
You'd think this was the Ebola virus, with FX worried about contaminating itself by getting too close to a show that outwardly isn't as "smart" as some of its new or returning comedies (such as the really awful
Married
, which got a session).
There's no need to be ashamed, though. The first two episodes of
Partners
turn out to be much better than FX has led TV critics to expect. Not great. But competently executed and just funny enough. Early in Episode 1, for instance, Lawrence's Marcus Jackson has this sharp exchange with his mother, Ruth (played by the ring wise Telma Hopkins).
Momma: "Can I just say one thing?"
Son: "History has proven otherwise."
Hey, c'mon! Get happy!
Marcus and Allen Braddock (Grammer) are both lawyers facing personal crises. Marcus, blaming himself for a divorce after 22 years of marriage, is leaving just about everything to his soon to be ex-wife. Allen has just been fired from his father's law firm. They first meet in court, with the vain Allen slowly persuading Marcus that he's being fleeced for no reason.
By the end of the episode, Allen provides proof that Marcus' wife has been breaking her vows with a minister while also secretly bilking him financially. So they end up being uneasy law partners, of course, in a newly constituted Chicago firm.
Besides Hopkins' Ruth Jackson, supporting characters include Allen's spoiled stepdaughter Lizzie (McKaley Miller), Marcus' daughter Laura (a little-used Daniele Watts in the first two episodes) and incumbent law firm assistants Michael and Veronica (Rory O'Malley, Edi Patterson).
Michael is openly gay and Veronica is openly haughty. Actress Patterson, a native of Texas City, TX and member of the Groundlings comedy troupe, is fully capable of stealing scenes from both Grammer and Lawrence. Which she does in each of these episodes. On paper the following riff may seem noxious. But Patterson's Veronica sells it big-time when she tells her bosses, "I have the ability to coerce any man, regardless of his sexuality. Just last week I ate a hot dog at a food court and four gay men gave me a standing ovation."
The gay jokes fly -- some should be grounded -- in an Episode 2 built around Allen and Marcus exposing a wedding planner who specializes in bilking same-sex couples. The pricey wine turned out to be "One Buck Chuck" and the chicken was organ-
ick
," says one of the aggrieved.
A subplot finds Momma Ruth and Lizzie bonding in predictable but winning fashion.
Partners
has its share of clunkers, but Lawrence and Grammer retain their comedic timing while also pairing up nicely. This series isn't going to win any Emmys or take FX to a new plateau. But rather than looking down on it -- from a promotional standpoint at least -- the network should make the best of what it has. Which in this case is two star players who know what they're doing in a comedy that stays on its rails and rolls along pretty well.
GRADE:
B-minus
Email comments or questions to:
unclebarky@verizon.net