FX's The Strain hopes to be its network's first Sunday night breakthrough
07/06/14 12:45 PM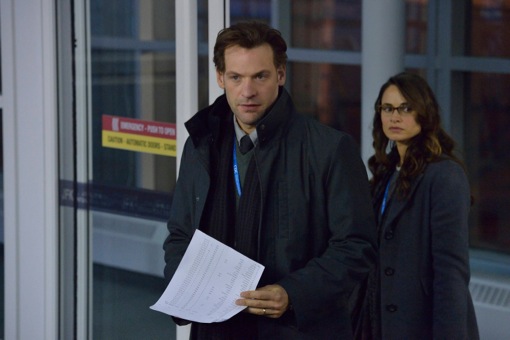 Corey Stoll & Mia Maestro play CDC gumshoes in The Strain. FX photo
Premiering:
Sunday, July 13th at 9 p.m. (central) on FX
Starring:
Corey Stoll, Mia Maestro, David Bradley, Sean Astin, Kevin Durand, Richard Sammel, Jonathan Hyde, Miguel Gomez, Natalie Brown, Ben Hyland, Jack Kesy
Produced by:
Guillermo del Toro, Carlton Cuse, Chuck Hogan, Gary Ungar, Bradley Thompson, David Weddle, Regina Corrado
By ED BARK
@unclebarkycom on Twitter
FX has been in business for two decades now, but
The Strain
is its first attempt to launch a new series on Sunday nights.
That's where cable's Big Boys play or have played. Big boys such as
The Sopranos, Sex and the City, Game of Thrones, Mad Men, Breaking Bad, The Walking Dead, Homeland, Masters of Sex
, etc.
The Strain
has a big-screen look and feel, courtesy of feature film supernatural/horror maestro Guellermo Del Toro. Among his credits are
Hellboy
and its sequel, Pacific Rim, Cronos and
The Devil's Backbone
. Del Toro's principal co-executive producer, Carlton Cuse, chips in with a backdrop that includes
Lost
and the ongoing
Bates Motel
.
The Strain
is adapted from the same-named vampire horror novel written by del Toro and Chuck Hogan, who've also collaborated on two sequels. The FX production strives to be creepy, crawly and viscerally violent, which it most definitely is throughout the first four episodes sent for review. It also takes a stab at being cerebral, occasionally drawing blood in that realm after a rather silly narrative opening from grisly old Lance Henriksen (
Millennium, Harsh Realm, Pumpkin: Blood Feud
and so on).
"Hunger, a poet once said, is the most important thing we know, the first lesson we learn," Henriksen intones with gravel-voiced gravity. "But hunger can be easily quieted down, easily satiated."
However, there's also "an unquenchable thirst that cannot be extinguished. It's very existence is what defines us, what makes us human. That force is love."
Oh please.
But
The Strain
then quickly gets down to business, aboard a Regis Air International flight bound from Berlin to NYC's JFK Airport. We know it's a fictional airline because the pilot announces they'll actually be landing on time. The downside: Flight 753 also will be arriving with almost all of the 210 passengers looking to be mysteriously dead. You can't have everything. But no, it wasn't the in-flight meal.
A rather comically tight, taut air traffic controller named Bishop is first on the scene. But it's not too long before
The Strain
takes flight with its first look at Ephraim Goodweather (Corey Stahl), head of the Centers for Disease Control's Canary Project.
Affixed with a thick, dark toupee, Stoll is almost unrecognizable from the tragic congressman he played to perfection in Season 1 of Netflix's
House of Cards
. But his acting quickly shines through, initially in a marriage counseling session with his estranged wife, Kelly (Natalie Brown). "You're not horrible," she tells him. "You're just barely present."
That's because "Eph" is wedded to his job, which is soon to be ultra-eventful. Rushing to JFK Airport, he first demands his carton of milk and then gets off a snappy line: "You don't like terrorists? Try negotiating with a virus."
Joining Eph is CDC colleague Nora Martinez (the melodically named Mia Maestro), who's had a brief affair with him. Together they inspect the plane and note the pungent scent of ammonia amid all the peaceful-looking, seemingly dead passengers.
Back in the city, elderly pawn shop owner Abraham Setrakian (David Bradley from the
Harry Potter
films) knows more than a little about what's just transpired. But first he must deal very sternly with a punk petty thief. Only then can Abraham say to himself, "He's back. I don't know if I have the strength to do it all over again. This time I cannot fail." His helpmate is a very imposing sword that's already been steeled in battle.
Abraham's arch foe -- then and now again -- is the suitably sinister Thomas Eichorst (Richard Sammel). They first met during Abraham's incarceration in a Nazi death camp. Eichorst has aged little since then -- and there's a reason for that. The two old adversaries have a terrifically acted face-off in Episode 2. And at the beginning of the next hour, you'll see Eichorst for what he really is.
Another bad guy, wealthy Stoneheart Group owner Eldritch Palmer (Jonathan Hyde), is also in bad health but looking for eternal life. He's presumably calling the shots, with Eichorst and others bowing to his wishes. But of course he isn't -- and of course they aren't.
Piecing together clues and gathering increasingly gag-worthy specimens, Stoll's dogged Eph also clashes with superiors who think he's gone more than a little crazy. One of them is a guy who looks an awful lot like Joe Torre. Not him, though.
Meanwhile, Eph's CDC colleague, Jim Kent (Sean Astin), proves himself to be less than trustworthy while some passengers from Flight 753 increasingly become less human through no fault of their own. It's a terrible mess -- as are some of the deaths.
The Strain
gets over its early case of the jitters and settles in to instead inflict them on viewers. By the end of Episode 4, subtitled "It's Not For Everyone," the series is earning its mettle as a truly macabre, chilling and rousing war of attrition in which the winner will either take all or stop hell on earth in its bloody tracks.
"I look out on this island, and I savor what is to come. Purity," sayeth the demonic Eichorst near the close of Episode 1.
A milk-drinking CDC epidemiologist and a blade-wielding old pawn shop proprietor stand in his way. Sounds about right.
GRADE:
A-minus
Email comments or questions to:
unclebarky@verizon.net