04/30/07 01:06 PM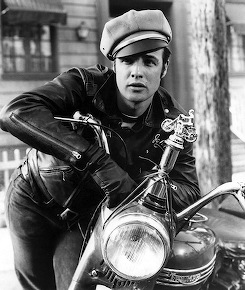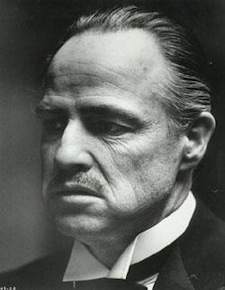 From The Wild One to The Godfather: Two Brandos at their best.
By ED BARK
Both icon and iconoclast, Marlon Brando made his own kind of music and even played the bongos.
An actor's actor, he supposedly hated acting. No matter. "He's the god, you know," says acolyte Johnny Depp. "And he would kill me for saying that."
Turner Classic Movies' two-part, three-hour
Brando
reprises the heights and depths of his legendary life with help from an array of colleagues, childhood friends and family.
Still, it's missing a little something. For one, Francis Ford Coppola, who directed him in his two latter day triumphs,
The Godfather
and
Apocalypse Now
. For another, any perspectives from film critics on what Brando meant to the hallowed art of make believe.
Brando
premieres Tuesday, May 1 at 7 p.m. (central) and concludes at the same hour on the following night. TCM also is filling out those nights with some of his vintage classics (
A Streetcar Named Desire, On the Waterfront, The Wild One, The Men
) and lesser films (
Sayonara, Guys and Dolls, The Missouri Breaks
and
The Teahouse of the August Moon
).
That's a whole lot of Brando going on, and perhaps he'd appreciate the gesture. Not that he'd ever let on if he did.
On-screen, Brando "was theatrical without being theatrical," says actor Martin Landau. In other words he had presence without giving it the old Master Thespian treatment.
"Hey, Stella!!!", his primal scream in 1951's
A Streetcar Named Desire
, has been parodied innumerable times. But it's never funny coming from his mouth. Brando's performance as smoldering, brutish, vulnerable Stanley Kowalski remains a defining screen moment that redefined the acting profession. Its raw power peeled away just about everything.
Al Pacino remembers watching and thinking, "Whoa! What're you doin'? People are lookin' at this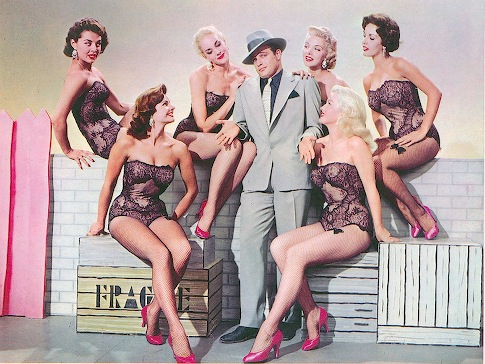 Brando in 1955's Guys and Dolls. Some of his movies weren't so hot.
Brando lasted 80 years, but made just 10 films in his last quarter century before dying of pulmonary fibrosis on July 1, 2004. From 1950 to 1960, in the flower of his youth and masculinity, he made a dozen features that marked him for life as an artist who had set new gold standards. All the while, a deep-set loathing of his alcoholic mother and belittling father left him searching for ways to remain at a distance.
"That's the epicenter. And the living, breathing soul of his art. Non-conformity," says producer George Englund, who was closer to Brando than most.
Composer Quincy Jones says the younger Brando always used to say, "You must go out and jiggle the molecules."
He jiggled and juggled them, becoming an actor/activist -- or vice versa -- who didn't particularly care what anyone thought or wrote. His refusal to accept an Oscar for
The Godfather
, related to a worldwide audience by Sasheen Littlefeather, reportedly heated John Wayne to a full boil backstage. The current-day Littlefeather says Wayne had to be restrained from charging into view onstage and dragging her off.
Jane Fonda, who worked with Brando in 1966's
The Chase
, dresses for
Brando
in an oversized cowboy hat with a miniature American flag sticking out the back. One of her quotes wears better: "This was not a male Meryl Streep. This was somebody who became unbelievably famous and successful, and kind of hated every minute of it."
James Caan, immortalized as Sonny Corleone in
The Godfather
, tells a funny story about how Robert Duvall talked him into mooning the great Brando while they drove past him. It's made funnier by Caan's dead-on impressions of Duvall as instigator and Brando as giggler.
This is an oft-revelatory three-hour film that goes deep without quite making the end zone. It's more than good enough, though, whetting appetites for even some of his lesser films. What did Brando bring to forgettables such as
Candy, Morituri, The Apaloosa, A Countess from Hong Kong
and
The Nightcomers?
Surely he brought at least something beyond the norm. That was always a given.
Grade:
B+