06/29/17 10:36 AM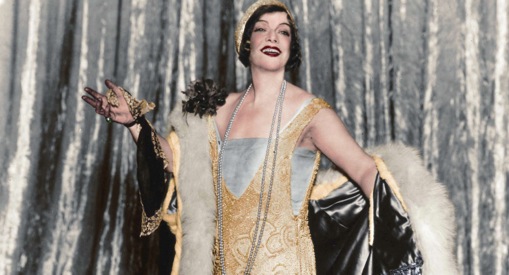 Flappers indeed look better in color. Smithsonian Channel photo
By ED BARK
@unclebarkycom on Twitter
Led by Ted Turner, the colorization of feature films craze peaked in the late 1980s and early 1990s after his company acquired the MGM library and sought to further monetize it.
Critics rightly railed at Turner Entertainment's finger-painting of
film noir
classics such as
The Maltese Falcon
and
Casablanca
. Their black-and-white presentations were part and parcel of the look and feel of those Humphrey Bogart career-makers. But for the most part, no one cared about the slew of B-movies that Turner also touched up, including the likes of
Once Upon a Honeymoon, Poultry Pirates
and
Smile, Darn Ya, Smile!
Turner also envisioned colorizing the Holy Grail of black-and-white films,
Citizen Kane
. But he scrapped those plans in 1989 due to technical difficulties and widespread opposition, including director/star Orson Welles' purported dying wish, "Don't let Ted Turner deface my movie with his crayons."
But is colorization an issue when it comes to brightening the looks of vintage TV shows or historical footage? From this perspective, the CBS paint jobs on several
I Love Lucy
episodes for Christmas season airings made them pop off the screen without hurting anything. The Smithsonian Channel's five-part
America In Color
, which lights up the 1920s through the 1960s, is likewise a case of no harm done in terms of desecration or detraction.
Touted as "one of the most ambitious colorizing projects ever undertaken" in publicity materials,
America In Color
premieres
Sunday, July 2nd at 7 p.m. (central)
on Smithsonian. And the pair of one-hour episodes made available for review are often a wonder to behold, even if veteran documentary narrator Liev Schreiber drops the words "rare" or "very rare" a bit more often than necessary.
Episode One begins on Sept. 16, 1920 with colorized footage documenting the aftermath of a terrorist attack near New York City's J. P. Morgan Bank. A horse-drawn wagon with a timer-set detonation device exploded during the lunch hour, killing 38 and seriously wounding 143. The perpetrators, believed to be anarchists, were never apprehended.
After this big jolt of a beginning,
America In Color
quickly segues to Warren G. Harding's "Return to Normalcy" presidency without staying too long in any one place. The history of the entire decade is cursory, of course. But the images of those times are greatly enhanced by the mostly impeccable workmanship. This is colorization of a high order, even if the white robes of the then thriving Ku Klux Klan need no further touches.
It's sickening but also instructive to witness a costumed army of 40,000 Klansmen and women parading down the main streets of Washington, D.C. And even more emotionally devastating to see the only footage that exists of the Greenwood neighborhood of Tulsa, OK after a Klan-led mob burnt it to the ground and left 300 dead. Their crime? They were black and prosperous for those times, with many owning their own businesses.
America In Color
also re-presents sports icons Babe Ruth and Jack Dempsey, as well as pathfinding pilot Charles Lindbergh, and to a lesser degree, mobster Al Capone. The '20s additionally saw the construction of Manhattan's famous Empire State Building, mocked as the Empty State Building when the Great Depression hit. By the end of the decade, The Roaring Twenties had ushered in "the greatest boom to bust in history," says Schreiber.
Episode Two, which whisks through the 1930s, is notable for its colorized looks at Franklin Delano and Eleanor Roosevelt, the decade's First Family throughout some of the most trying times in American history. Howard Hughes, Amelia Earhart, and gangsters John Dillinger and Machine Gun Kelly also are reborn in living color. As is the Macy's Thanksgiving Day parade as part of "a nation's fight for survival -- as you've never seen it before."
Many Americans, and not just the younger ones, are wholly unfamiliar with much of this history.
America In Color
is by no means the full story. But its overall artistry breathes new life into these two incredibly eventful decades, with three more yet to come. The '20s and '30s were colorful enough. But there's no harm done in making them even more vivid.
GRADE:
B
Email comments or questions to:
unclebarky@verizon.net