GLOW gives Netflix a ring of fire
06/22/17 03:04 PM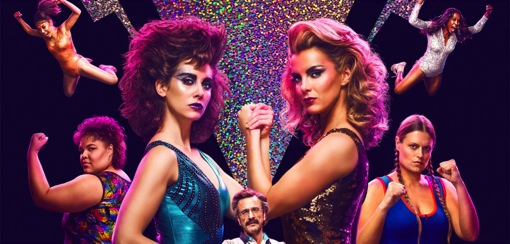 Alison Brie (left), Betty Gilpin are center ring in GLOW. Netflix photo
Premiering; All 10 Season One episode begin streaming Friday, June 23rd on Netflix
Starring:
Alison Brie, Betty Gilpin, Marc Maron, Sydelle Noel, Britney Young, Jackie Tohn, Gayle Rankin, Chris Lowell, Britney Young, Britt Baron, Rebekka Johnson, Kate Nash, Sunita Mani, Kia Stevens, Alex Rich
Produced by:
Liz Flahive, Carly Mensch, Jenji Kohan, Tara Hermann
By ED BARK
@unclebarkycom on Twitter
Back in the 1980s it was best to put one's brain in a headlock before succumbing to
Gorgeous Ladies of Wrestling
on whatever local TV station carried it.
There's no need for that with Netflix's
GLOW
, a serio-comic origins story that has both ample smarts and plentiful thuds (from those on the receiving ends of choreographed body slams).
The 10-episode first season, all of which was made available for review, is available for full-contact streaming on Friday, June 23rd. Binge-watching is aided by episodes that mostly run for 30 minutes or a bit longer rather than weighing in at an hour apiece.
All of the principal characters are affixed with fictional names both in and out of the ring. These include grapplers-in-training Liberty Belle, Zoya the Destroya, Sheila the She-Wolf, The Beatdown Biddies, Fortune Cookie and Welfare Queen in place of "real-life" past GLOW wrestlers such as Brunhilda, Babe the Farmer's Daughter, Cheyenne Cher, Colonel Ninotchka, The Heavy Metal Sisters, Big Bad Mama, Jailbait and Zelda the Brain.
Glow creator David B. McLane also gets a makeover, emerging as sexploitation film director Sam Sylvia. And although the Netflix saga is primarily a showcase for women, it can be argued that Marc Maron comes close to stealing the show as a sardonic, coke-sniffing taskmaster. Charitably speaking, "he's more sexist than racist, in my experience," says the husband of Cherry Bang (Sydelle Noel), who knows Sam from a variety of angles.
The stars of the show otherwise are a severely struggling actress named Ruth Wilder (Alison Brie) and her best friend, Debbie Eagan (Betty Gilpin), a busty blonde beauty who gained a modicum of fame as an off-and-on co-star of the soapy
Paradise Cove
before motherhood intervened. By the end of Episode One, though, Debbie is at Ruth's throat after learning of a friendship-shattering trespass. Let's just say that they eventually are made for each other in the ring as the star-spangled Liberty Belle and her Russian nemesis, Zoya the Destroya.
GLOW
builds from the ground up, with Sam holding auditions in hopes of discovering raw talent and "characters" to build on. His young financier, Sebastian "Bash" Howard (Curtis Lowell), is a big believer in crowd-inciting stereotypes such as Welfare Queen, who's played by a plus-sized African-American woman named Tamee (Kia Stevens). Sam swears by apocalyptic "stories" set in a desolate future in which the women wrestlers fight for the right to couple with one of the planet's few remaining men. You can guess who wins.
Brie, best known for playing Annie Edison on NBC's
Community
, is both vulnerable and laugh-out-loud funny as Ruth. Her send ups of Zoya the Destroya are recurrently comedy gold, with Episode 5's spur-of-the-moment introduction of the character unexpectedly saving the day and keeping a TV sponsorship by Patio Town in play.
But Ruth also faces some serious personal dilemmas, never more so than in Episode 8.
GLOW
also can be unduly cringe-worthy, particularly during a feigned miscarriage sequence in Episode 2 that involves a plastic squeeze bottle of ketchup. It just doesn't work at all -- on any level.
The ring acrobatics of
GLOW
are sorely without any "believable" punch until Episode 7, when an unauthorized training session works wonders on the aerial moves of Liberty Belle. Small but thoroughly loutish crowds, even by wrestling standards, eat all of this up a little too easily it seems.
Liz Flahive, whose credits include
Nurse Jackie
and
Homeland
, is the driving force behind Netflix's
GLOW
as its sole creator and co-executive producer. But the better known Jenji Kohan (
Orange Is the New Black, Weeds
) is also an influential co-executive producer. And she's long been about "empowerment" of women, whether they're behind bars or dealing drugs.
GLOW
likewise spotlights women pushing their needs and agendas to the forefront in the face of various male resistors, some of them simpatico to a point. Maron's Sam Sylvia is the resistor-in-chief, but not to the point of rejecting good ideas that just might pay off.
All of this is bundled into an entertaining, amusing and at times poignant first season that also has some wretched excesses and predictable turns. But there are more than a few little unexpected delights, ranging from Ruth's impression of Audrey Hepburn winning an Oscar for
Roman Holiday
to Sam's learning that a just released real-life movie has upstaged his plans to direct a surefire crowning masterpiece titled
Mothers and Lovers
.
GLOW
then tops itself at the end of Episode 9, when Perry Como's singsongy "Magic Moments" closes out some decidedly bad behavior by Sam. It's oh so beautifully discordant.
Assuming there's a Season Two, Como's "Round and Round" might be perfectly attuned to
GLOW
's principal stomping ground. It includes the lyric, "Find a ring and put it round, round, round. And with ties so strong that two hearts are bound."
Liberty Belle and Zoya the Destroya just might be able to groove to that.
GRADE:
B+
Email comments or questions to:
unclebarky@verizon.net