04/30/08 10:45 AM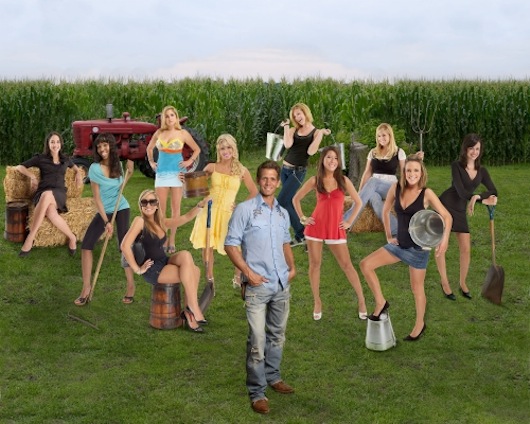 Farmer Matt's suitors include Dallas-bred Brooke, cradling big pail.
Premiering:
Wednesday, April 30th at 8 p.m. (central) on The CW
Starring:
Missouri farmer Matt and 10 citified milk-diggers, including nanny Brooke from Dallas
Produced by:
Adam Cohen, Cara Tapper, Joanna Vernetti
By ED BARK
Here's the poop: Hard-bodied hayseed hankers for a busty city chick in coop.
That's the long and short of The CW's
Farmer Wants a Wife
, which could be called
The Bachelor Meets Green Acres
if it were that good. Which means it's pretty bad.
Premiering Wednesday opposite
American Idol
, this new reality dollop is a tribute to both bad scheduling and worse execution.
Strapping Farmer Matt, first seen bare-chested on a tractor, turns out to be all biceps, no charisma. Not that his 10 city suitors aren't immediately ready for assorted rolls in the hay.
"I'm realizing that this person does not have a shirt on," says Christa, 22, of New York. "Immediately I am turned on."
"I wanted to jump on that tractor," adds Kanisha, 25, of Ontario, CA.
Farmer Matt, 29, presides over a nice-sized spread in rural Portage Des Sioux, Missouri. Although handsome and built like a Chippendale's dancer, he just can't seem to corral a wife. Nearby eligible women are either marrying their high school sweethearts or blowing town in search of something better, Farmer Matt laments.
Meanwhile, in America's sinister urban locales, women supposedly are being jilted left and right by the no-good opposite sex.
"Men are shady," says Ashley, 27, of Chicago. So she's looking for a man who'll treat her right and also look good astride a tractor.
Another would-be butter churner is Brooke, 22, of Dallas, a Texas Christian University grad who since has migrated to Huntington Beach, CA. CW press materials say she's a marketing representative, but on the show Brooke says she's a nanny.
Brooke quickly positions herself as a virginal perfect match for Matt. Living on a farm would be hard work, she admits. "But if he is the man that I love, I would do it."
Meanwhile, chunky Josie, 25, of Westwood, CA, takes on the task of being the show's showy vixen. It no doubt helps that she's a full-blown Republican who's not shying about saying so.
"I am a winner and I think like a winner -- like George Bush says," Josie declares. Farmer Matt sees her as "full of controversy mixed with a little bit of insanity."
Later comes a bit of a catfight between Josie and Kanisha after the latter gesticulates with her hands.
"That's low-class, and that's ghetto," Josie sniffs.
It's all according to the script, of course, even though this is supposed to be unscripted. Nearly every step of the way -- even when Stephanie, 23, of Boston steps in a cow patty --
Farmer Wants a Wife
seems false, forced and clunkily choreographed.
Still, there's only so much the producers can do with a cardboard-cutout leading man. Farmer Matt has the charisma of skim milk, whether on a backyard "date" with lucky Christa ("I've had an absolute pleasure with you tonight," he tells her) or detailing the rules of a chicken-chasing competition that ends in a "coop off" between two women battling for opening night immunity.
The show's version of a "Rose ceremony" lays the biggest egg -- literally. Suitors stand by individual nests occupied by chickens. The unluckiest of all will be without an egg under the chicken's behind. It has all the suspense of a Michigan presidential primary without any candidates.
Farmer Wants a Wife
, yet another U.S. import adapted from a "smash hit" in Europe, will be plowing little CW's north 40 into June if all goes as planned. But they'd better get these budding Eva Gabors into tag team pig sty wrestling matches as quickly as possible. Time's a wastin', and Farmer Matt looks to be very capable of boring the pants off everyone -- shirt or no shirt.
Grade:
D