03/27/15 04:38 PM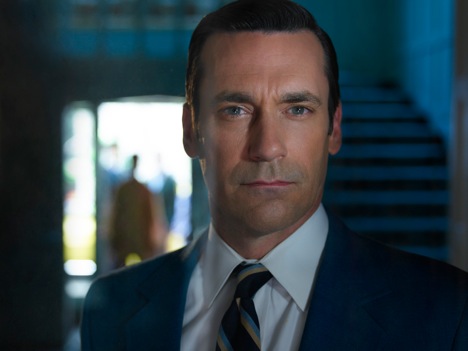 Life on the rocks: Jon Hamm as adman Don Draper. AMC photo
By ED BARK
@unclebarkycom on Twitter
The series that started it all for AMC begins its final seven-episode arc with Peggy Lee's plaintive rendition of "Is That All There Is?"
After viewing Season 7B's premiere hour (
Sunday, April 5th at 9 p.m. central
), many fans might find themselves asking much the same. In the annals of
Mad Men
season restarts, the "Severance" episode may be the most underwhelming of them all. Nothing about this series ever plunges to the depths of terrible. But as galvanizing hours of television go, this isn't
Mad Men
with a bang. It's more like beginning a closing 100 meter dash somewhere in between a slow trot and a false start. But surely things will pick up.
The usual restrictions communicated to TV critics otherwise go against going into much detail. Creator/executive producer Matthew Weiner is the most famously secretive of his breed, but at last knows how to have a little fun with this.
"This is the last premiere of
Mad Men
you will receive ever," he says in a brief letter to reviewers. "It is also the last infuriating letter from me asking you not to spoil the episode . . . I know that has made your job harder, but we deeply appreciate the respect you've shown for the unique and sometimes frustrating restriction on your reviews."
As usual, Weiner is asking critics not to reveal the year in which
Mad Men
resumes. Season 7A ended in July 1969, with its closing hour tied to Neil Armstrong's historic July 21st moon walk.
Weiner also wants no particulars on a certain adman's dismissal and the brief scene involving a previous character. Any details on the "romantic life" of central character Don Draper (Jon Hamm) are also deemed to be classified material.
Mad Men
premiered on July 17, 2007, putting AMC on the map as a provider of quality TV dramas and leading the network on the paths toward
Breaking Bad
, its
Better Call Saul
prequel and
The Walking Dead
. The latter series remains immensely popular, drawing two to three times the audience for
Mad Men
and particularly excelling among advertiser-prized 18-to-49-year-olds.
But Don Draper and his band of hard-smoking, hard-drinking, womanizing cronies have been analyzed to near-death and enshrined in the popular culture alongside Tony Soprano and his crew. Later seasons of
Mad Men
have stepped up the roles and responsibilities of the
Mad
women, principally Peggy Olson (Elisabeth Moss) and Joan Harris (Christina Hendricks). But one scene in particular in the Season 7B opener illustrates in no uncertain terms that Peggy and particularly Joan are still viewed as sex toys by some of their male counterparts.
Don, whose divorce from Megan Draper (Jessica Pare) is pending but certainly firm, is up to his old ways in many respects. He's also haunted by might-have-beens and tempted by what's likely the illusion of permanency. His activities are by and large the focal point of "Severance." But a supporting adman character, Ken Cosgrove (Aaron Staton), gets an unusual and arguably undue amount of air time. Frankly, I wasn't all that interested.
Another
Mad Man
principal has a new look that's not at all becoming. And Don's ex-wife, Betty (January Jones), again is missing entirely, as are his three children by her. (Jones has already moved on to Fox's
The Last Man On Earth
, which airs in the half-hour preceding
Mad Men
.)
Weiner has shown his skills many times over as
Mad Men
's one-and-only Rembrandt. So he very likely can be counted on to pump things up in the remaining six hours following the show's rather flat Easter Sunday return.
By the way, the episode also concludes with Lee's "Is That All There Is?" Perhaps it's not a great idea to raise that question at both the beginning
and
the end. "The Long and Winding Road," perhaps? First recorded in early 1969, it's eligible and ever more appropriate as Don Draper and company meander(?) toward wherever they all wind up.
GRADE:
B (for now)
Email comments or questions to:
unclebarky@verizon.net