Tome improvement: NBC's A.D. The Bible Continues
03/26/15 12:52 PM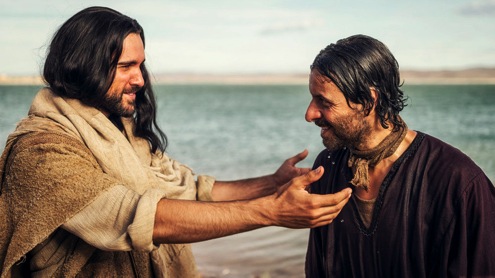 Jesus and Peter get reacquainted after the Crucifixion. NBC photo
Premiering:
Sunday, April 5th at 8 p.m. (central) on NBC
Starring:
Adam Levy, Vincent Reagan, Chipo Chung, Richard Coyle, Babou Ceesay, Juan Pablo Di Pace, Kevin Doyle, Joanne Whalley, Greta Scacchi and many more throughout 12 episodes
Produced by:
Roma Downey, Mark Burnett
By ED BARK
@unclebarkycom on Twitter
It's an article of faith among many that the Bible simply can't be improved on.
The same can't be said for History channel's
The Bible
miniseries, which hit it big in the ratings but took a lashing from TV critics. Two years later, the 12-episode
A.D. The Bible Continues
is in the hands of NBC. Based on the first two episodes, it's better-acted and handsomer looking while still affixed with a largely no-name cast.
Reality series potentate Mark Burnett (
Survivor, Shark Tank, The Apprentice
) and his actress wife, Roma Downey (
Touched By An Angel
), return as executive producers. But holdover roles from
The Bible
are being played by an entirely new ensemble of thespians. That includes Jesus' mother, Mary, with Downey being replaced by Greta Scacchi.
The initial two hours of
A.D.
revisit the Crucifixion (in less gruesome detail) and the Resurrection, both of which were dramatized in
The Bible's
concluding two hours. Jesus has the same glowing white teeth and handsome countenance, but this time in the person of Juan Pablo Di Pace instead of Diogo Morgado.
There's a new Pontius Pilate, too, and he's effectively played by Vincent Reagan.
"Killing him won't be the end of him," Pilate's wife, Claudia (Joanne Whalley), warns. "It is usually is, my darling," he replies.
The scheming high priest Caiaphas (Richard Coyle) is also back in the thick of things. Pilate's not a big fan. "Stay in the water like the eel you are," he sneers while Caiaphas tries to take a relaxing bath in Episode 2.
A.D.
for the most part has a fairly solid script, although Pilate tends to go 20th century at times with lines like, "Urgent appears to be your default state of mind." This zinger is also aimed at Caiaphas, but both men are intent on quashing any remnants of the Christian faith after Jesus is crucified and then disappears from his tomb.
Both Mary and Mary Magdalene (Chipo Chung) have some strong emotional moments in the first two hours. And the thrice-denying Peter (now played by Adam Levy) shows signs of being a multi-dimensional character.
TV critics of the Dead Sea Scrolls vintage -- verily I'm among them -- will recall reviewing an earlier NBC
A.D.
miniseries with a big-name cast that included James Mason, Ava Gardner, John Houseman, Susan Sarandon, Colleen Dewhurst, Ian McShane, Ben Vereen, Anthony Andrews, Richard Roundtree and Jennifer O'Neill. That was three decades ago, in March-April of 1985.
NBC's new
A.D.
is bereft of star power and might well cost less than the catering bill for the 1985 production. Still, it has a money-on-the-screen look compared to
The Bible
. And if it somehow averages more than 11 million viewers -- which the History channel table-setter did -- then look for biblical epics to multiply like loaves and fishes on NBC and rival networks. Samson and Delilah anyone?
One last thing: Burnett and Downey say they were inspired to produce
The Bible
after re-watching Cecil B. DeMille's grandiose 1956 production of
The Ten Commandments
. What goes around comes around. On opening night,
A.D.
will be airing directly against ABC's annual Easter season re-showing of
The Ten Commandments
. And so it is written. And so it shall come to pass.
GRADE:
B-minus
Email comments or questions to:
unclebarky@verizon.net