10/27/16 02:15 PM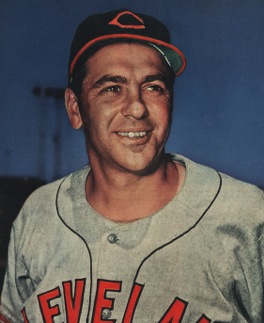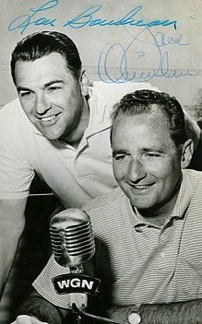 Lou Boudreau as Cleveland Indians Hall of Famer and in the Chicago Cubs' radio booth with broadcasting partner Jack Quinlan.
By ED BARK
@unclebarkycom on Twitter
The Chicago Cubs, sainted baseball team of my youth, return to their home city Friday night for the first World Series game in Wrigley Field in 71 years.
That also would be the first time they've done this in my lifetime of 68 years. So yeah, this is a World Series for the ages, or for the aged if you're of a certain age.
The Cleveland Indians haven't been flush with success either. They're looking to win their first World Series since 1948. I was eight months, one week old when they first took the field on Oct. 6th against the Boston Braves. So no, I don't remember a thing about it. But the Indians played in the first World Series I do recollect, in 1954 against the victorious New York Giants and incomparable center fielder Willie Mays. Lasting recollection: My willful Aunt Mary strode into our living room while we were watching the game and clicked off the TV set. "You can't visit with that damned thing on," she groused. Somewhat later, I forgave her.
A common thread runs through the 1948 Indians and the Cubs of my youth. It's Lou Boudreau, and the parallels are pretty eerie.
As the then "boy manager" of the Indians (he first got the job in 1941 at age 25!), Boudreau additionally played shortstop full-time. And in the year they won it all, he also was the American League's MVP and star of the first ever one-game playoff to get into the World Series between the Indians and Boston Red Sox. He put the Indians ahead 1-0 with a solo home run, hit another homer later in the game and ended up going 4-for-4 in an 8-3 Cleveland victory.
The 1948 Indians remain very rich in history. Besides Boudreau, the team had five other future Hall of Famers -- Bob Feller, Bob Lemon, Satchel Paige, Larry Doby and Joe Gordon. Two other members of that team -- Ken Keltner and Dale Mitchell -- also are indelibly steeped in baseball lore.
As a third baseman in 1941, Keltner made two great plays at third base in a game that also ended Joe DiMaggio's still unrivaled 56-game hitting streak. As a pinch hitter for the Brooklyn Dodgers, Dale Mitchell struck out to end Game 5 of the 1956 World Series. Catcher Yogi Berra was soon seen leaping into Don Larsen's arms in celebration of the only pitcher to ever throw a perfect game in the World Series.
Eddie Robinson, the last surviving member of the 1948 world champion Indians, went on to become one of the Texas Rangers' earliest general managers. At age 95, the Paris, TX native lives in Fort Worth and was
interviewed earlier this week by CBS11 reporter Joel Thomas
.
Boudreau retired as a player after the 1952 season. He soon became linked to the Cubs, joining my favorite radio announcer as a kid, Jack Quinlan, in 1958 as the "color man" on Cubs' broadcasts. He knew the game as well as anyone, but initially had trouble getting the words out, particularly when filling in for Quinlan for an inning or two.
I still remember the time Boudreau's play-by-play went like this: "There's a line drive down the left field line. It's fair but foul. No, it's a fair ball!"
Boudreau also specialized in dashing a kid's dreams of a rare Cubs victory during most of those seasons. On more than one occasion in a close game, he'd say something like this: "There's a high fly ball to left field. Billy Williams getting under it and . . . it's over his head for a home run!" Apparently he had trouble gauging distances from some of those high press box locations on the road.
Boudreau and Quinlan were at their best when having to do a panty hose commercial. That didn't last long because they were in hysterics while trying to read the copy. As a kid listening on his little radio, this was comedy gold.
Then in 1960, this actually happened. Boudreau and Cubs manager Charlie "Jolly Cholly" Grimm (who also managed the Cubs' losing 1945 World Series team) were "traded" early in the season. Grimm went to the radio booth to join Quinlan while Boudreau replaced him on the field. The Cubs stunk again, and Boudreau returned to the radio team in 1961.
Quinlan died in a car wreck during the 1965 spring training season. Vince Lloyd became Boudreau's new partner. Together they suffered through a 1969 season that went very sour down the stretch when the Cubs collapsed and blew a big lead over the New York Mets. That Cubs team had five future Hall of Famers. Ernie Banks, Ferguson Jenkins, Billy Williams and Ron Santo were all big baseball heroes to me. Manager Leo Durocher also went into the Hall of Fame. Never liked him much.
Boudreau was with the Cubs' radio team until 1987, enduring almost three decades of World Series-less futility. During that time, his youngest daughter Sharyn married major league baseball's last 30-game winner, Denny McLain. She divorced him during one of his multiple stays in prison, but they ended up remarrying and are still together. Boudreau, who died in 2001 at age 84, introduced many of his interview subjects as a "fine player and gentleman." He understandably didn't like to talk about McLain, who ended up being anything but.
Wrigley Field will be wild Friday night on Fox. It's a shame that Banks and Santo won't be around to witness it. But Williams and Jenkins remain surviving members of that ill-fated but famously talented 1969 Cubs team, and surely will be invited back to bask in standing ovations. Maybe Boudreau will get a mention as well. He's my connective tissue between two teams with so much history -- and so few championships.
Email comments or questions to:
unclebarky@verizon.net