Laurie's back and Hulu's got him in Chance
10/19/16 11:04 AM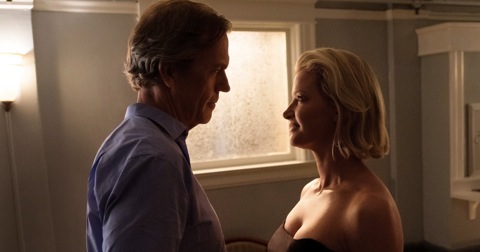 Hugh Laurie and Gretchen Mol pair up in Chance. Hulu photo
Premiering:
Streaming weekly episodes, beginning Wed., Oct. 19th on Hulu
Starring:
Hugh Laurie, Gretchen Mol, Ethan Suplee, Lisa Gay Hamilton, Diane Farr, Paul Adelstein, Stefania LaVie Owen, Clarke Peters
Produced by:
Kem Nunn, Alexandra Cunningham, Hugh Laurie
By ED BARK
@unclebarkycom on Twitter
Having played a surly doc on Fox's long-running
House
and recently a villainous billionaire businessman in AMC's acclaimed
The Night Manager
, estimable Hugh Laurie is back in M.D. mode for Hulu's
Chance
. As always, attention must be paid, because this guy generally chooses wisely.
Hulu, unlike Netflix and Amazon Prime, still streams its original series at the old-school rate of one episode per week. It's already ordered two seasons and 20 episodes of
Chance
, which initially is glacier-paced and pretty dreary before rousing itself. Hulu made five episodes available for review. And although a variety of other cases are drizzled in, this is very much a single topic serial drama about corruption, obsession, violent retribution and identity crises.
Laurie plays Eldon Chance, a monotonic San Francisco neuro psychiatrist who spends a lot of time dictating the particulars of his findings. The character is drawn from a novel by Kem Nunn, who previously collaborated with David Milch on both
Deadwood
and
John From Cincinnati
. The latter series was one big cosmic flop for HBO.
Chance
is on firmer ground, although various mind games form its core.
The series begins with Chance matter-of-factly summarizing three cases that end up being quickly discarded before the central figure of Jaclyn Blackstone (Gretchen Mol) is introduced. She's a comely blonde of 39 who channels the dual role of the more free-wheeling Jackie to escape, mentally at least, from her physically abusive husband, Raymond (Paul Adelstein), who's also a homicide detective.
Chance, who's going through a divorce, very much wants to help her. But he has his own traumatic past, so must tread carefully. A chance meeting with a war-damaged furniture restorer named D serves to slowly -- very slowly -- put the erstwhile good doctor on a darker path. D is played menacingly by Ethan Suplee, who's a revelation in this role after initially gaining fame as dense sibling Randy Hickey in the NBC comedy series
My Name is Earl
. D has definite Dexter Morgan tendencies when it comes to punishing wrongdoers. And he relishes both the prospect and the actual doings of the deeds.
Laurie, who very much sounds like
Rod Serling
during his character's narrative passages, plays a polar opposite of officious Gregory House. It's a role that a twitching
David Janssen
could have low-keyed his way through. But while retaining his at times almost infuriating calm, Chance finds himself warming to the vigilante justice motif of D, who's hardly a live wire himself until it literally comes to crunch time. "There are no victims. Only volunteers," D says early in Episode 2.
Recurring brushes with both Jaclyn/Jackie and the brutal Raymond help to propel
Chance
, but not to the point where it fully takes flight over these first five episodes. It's also hard to imagine two seasons' worth of this same storyline, if in fact that's the overall game plan.
Episode 5 ends with D's cliffhanger reference to some form of "collateral damage" before another mishap brings down the weekly curtain. Jaclyn/Jackie has also gotten more cryptic, raising further questions about her role in all of this.
It might be enough to pull viewers along, particularly those who pledge allegiance to Laurie. Fair warning, though.
Chance
can also be too much of a slog with side roads that have little or nothing to do with the central storyline. So far it's involving to a degree but never enthralling to the max. "Whatever this is, it won't end how you think," Jaclyn/Jackie tells Chance near the close of Episode 4. Whatever this is -- it's watchable. But if you think your heart might race, it might be best to think again.
GRADE:
B-minus
Email comments or questions to:
unclebarky@verizon.net