04/25/17 12:39 PM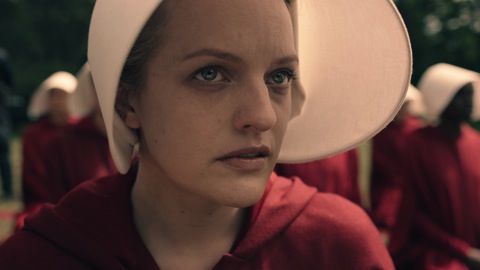 Elisabeth Moss strives to remain rebellious in The Handmaid's Tale.
Hulu photo
Premiering:
The first three of Season One's 10 episodes begin streaming Wednesday, April 26th on Hulu, with the remaining seven released weekly
Starring:
Elisabeth Moss, Joseph Fiennes, Samira Wiley, Yvonne Strahovski, Ann Dowd, Max Minghella, Madeline Brewer, Ever Carradine, Alexis Bledel, Amanda Brugel, O. T. Fagbenle, Jordana Blake, Kristen Gutoskie
Produced by:
Bruce Miller, Fran Sears, Warren Littlefield, Daniel Wilson, Sheila Hockin, Frank Siracusa, John Weber, Reed Morano
By ED BARK
@unclebarkycom on Twitter
It's become all too easy, and oftentimes preachy, to filter many a new or prominent returning TV series through the prism of Donald Trump's divisive presidency.
There's little choice, though, with
The Handmaid's Tale
, which already has been embraced by "The Resistance" as a chillingly cautionary look at what could happen to women if the still nascent Republican administration is allowed to have its way. In short, they'd be subjugated, tortured, forced to be surrogate wives and required to dress in lookalike cover-ups suitable for a convent. Black-clad male goons with automatic weapons keep everyone in line.
Margaret Atwood first wrote the same-named novel in 1985, and it was adapted into a messy 1990 feature film with an imposing cast that included Natasha Richardson, Faye Dunaway, Robert Duvall and Elizabeth McGovern. Hulu's 10-episode Season One of
Handmaid's Tale
, with the first three hours streaming on Wednesday, April 26th, looks to be clearly superior so far. Still, if a male TV critic dare say this, it can be heavy-handed at times while also being overly tethered to somber narration from the renamed Offred (series star Elisabeth Moss), who used to be June.
In the series' opening scene, June, her husband, Luke (O. T. Fagbenle) and their little daughter, Hannah (Jordana Blake) are on the receiving end of a car chase. At first it seems as though their pursuers are the police. Instead they're the military arm of brutal Christian fundamentalists who have taken power in headlong pursuit of a "return to traditional values."
Captured and separated from Hannah after her husband is murdered, June is soon seen as Offred, which literally means Of-Fred. That would be a commander named Fred Waterford (Joseph Fiennes), whose joyless wife, Serena Joy (Yvonne Strahovski), is among the many women who can't conceive due to infertility caused by environmental contamination. It's Offred's principal job to bear the couple's child as a part of a decidedly rigid, rote "ceremony" in which a clothed Fred enters her while Serena straddles the top of Offred's head.
The various handmaids otherwise grocery shop for their oppressors while frequently speaking biblically. "Blessed be the fruit," "Praise be," "Under His Eye" and "May the Lord open" have become ingrained in the vernacular. But Offred can still think as she pleases. And her narration bespeaks a determination to free herself, find her daughter and smote the evil oppressors. "I don't need oranges," she says. "I need to scream. I need to grab the nearest machine gun."
Informants are rampant, though. And insolence is decidedly not tolerated. So a newcomer named Janine (Madeline Brewer) wasn't very smart to sass an uncompromisingly vicious Handmaids instructor known as Aunt Lydia (Ann Dowd, fresh from another domineering role in HBO's
The Leftovers
). No, that wasn't very smart at all.
Aunt Lydia, who brandishes a high voltage shocking stick, also is repulsed by any "gender traitors" in their midst.
"That satan was an offense to God. She was a disgusting beast!" Aunt Lydia bellows in Episode Three. Therefore, use of the word "gay" is strictly forbidden and subject to corporal punishment.
June's best friend in the free world was Moira (Samira Wiley of Netflix's
Orange Is the New Black
), who's now also a handmaid. She's mostly seen in flashbacks, though, due to a somewhat puzzling and abrupt development down the stretch of Episode One.
Another handmaid, Ofglen (Alexis Bledel), is Offred's designated companion during trips to the market. This ends up being very problematic for both of them.
Not all of the men in
Handmaid's Tale
are abject beasts -- at least not outwardly so. Commander Fred appears to have a gentle, refined side to him while his young driver, Nick (Max Minghella), just might be sympathetic to Offred's plight.
Moss' character is at the center of it all, whether in flashbacks or at the mercy of her captors. Her performance is both touching and fierce, with basic sanity at stake in a world where one false move can close the door on everything.
Episode One ends with Offred underscoring her defiance while Lesley Gore's 1963 anthem, "You Don't Own Me," accompanies both the final scene and the closing credits.
Handmaid's Tale
comes off as that sort of rallying cry in perceived times of need for many. Atwood never envisioned a Donald Trump presidency back in 1985, when the congenially conservative Ronald Reagan held the office. Now her novel resonates, even if its latest adaptation sometimes could stand to take a chill pill or two.
GRADE:
B+
Email comments or questions to:
unclebarky@verizon.net