NBC's Great News is even better news for ageless Andrea Martin
04/21/17 03:16 PM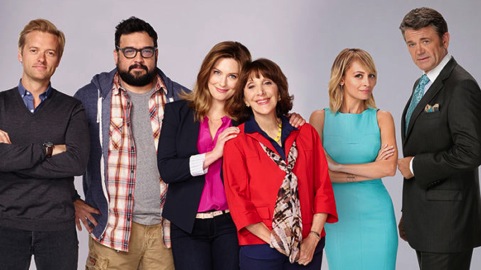 The best news about Great News is Andrea Martin (3rd from right).
NBC photo
Premiering:
Tuesday, April 25th at 8 p.m. (central) with back-to-back episodes on NBC
Starring:
Briga Heelan, Andrea Martin, John Michael Higgins, Adam Campbell, Nicole Richie, Horatio Sanz, Tracy Wigfield, Sheaun McKinney
Produced by:
Tracey Wigfield, Tina Fey, Robert Carlock, Jack Burditt, David Miner
By ED BARK
@unclebarkycom on Twitter
Many of the usual suspects are present and accounted for in this latest sitcom about a dysfunctional TV news room.
Namely:
***
The aging, pompous news anchor who remains a legend in his own mind.
***
An eye candy female co-anchor with the depth of a kiddie pool.
***
A capable but frustrated woman staffer who's had her fill of "fluff."
***
A brusque boss who thinks she's fluff-worthy -- and little else.
***
A spotlighted, off-camera goofball.
But here's the big, pivotal difference with NBC's
Great News
. It's the first of its genre to feature a 60-year-old intern who's also the mom of the aspiring lead character. And for a role that makes or breaks this show, creator/executive producer Tracey Wigfield and co-executive producer Tina Fey had the eminent good sense to cast the great Andrea Martin, who's given more screen time than perhaps she's ever had.
As Carol Wendelson, Martin is a distinctly hands-on mom, but no mommie dearest. She's in constant but loving contact with her only daughter, Katie (fresh-faced Briga Heelan), a flustered producer for MMN cable's
The Breakdown
. The two of them clash over mom's incessant nurturing of her "Pumpkin," but never to the point where it's banshee versus ingrate.
Martin steals their scenes together in the early going, but Heelan increasingly holds her own over the course of
Great News
's 10-episode first season. NBC didn't hold back, making the entire output available for review. I didn't plan to go the distance. But one episode led to another and another -- and eventually the whole thing. And by the end, I wanted more. Not because
Great News
is an instant classic. But because it managed to seem so effortlessly entertaining -- which of course takes considerable effort.
Episodes 3 ("Chuck Pierce is Blind") and 7 ("The Red Door") prove to be laugh-out-loud funny, with Martin and John Michael Higgins (as the blowhard anchor Chuck) clicking brilliantly together as babysitter and baby. Chuck turns out to need a mothering presence far more than Katie does.
The biggest news flash of
Great News
otherwise is the performance of Nicole Richie as ditzy co-anchor Portia Scott-Griffith. "What's a 'Walter Conk-rite?' " she asks in Episode 2 after Chuck invokes both the name and his famed "And that's the way it is" sign-off.
Perhaps too many years as Paris Hilton's best pal have made Richie a natural as an airhead. But at least some acting is required, and Richie delivers, whether teasing a story on going "undercover as an ugly person" or noting that "my mentor, Roger Ailes" suggested that she show a lot more leg on-camera.
This Tuesday's opening half-hour was in the can long before Ailes' principal protege, Bill O'Reilly, got bounced from Fox News Channel for likewise being an alleged serial sexual harasser. But Chuck is old enough to be O'Reilly, which makes it a little cringe-worthy when Carol asks during her first day on the job, "Is he hands-y with the girls? I don't mind." Carol otherwise is married to a nondescript guy named Dave. As with the over-the-fence neighbor in
Home Improvement
, he's never seen fully -- at least throughout Season 1.
The other members of
Great News'
ensemble are unctuous young British executive producer Greg Walsh (Adam Campbell); whacked out video editor Justin (Horatio Sanz); and oddball meteorologist Beth (series creator Wigfield). Their principal ratings adversary is the occasionally glimpsed
Chip & Chet Report
, whose anchors are accomplished on-air small-talkers.
There are a few cameo appearances sprinkled in, but not nearly of the caliber of Fey's
30 Rock
. Vicki Lawrence and Robin Leach are in multiple episodes while former
Saturday Night Live
players Ana Gasteyer and Rachel Dratch briefly do a sendup of
Today
's Hoda and Kathie Lee in Episode 5.
But the big news of
Great News
is Martin, who in real life is 10 years older than her stated age on the show. More to the point, she's an ageless wonder, and knows what to do with the best showcase of her talents since
SCTV
. Heelan, still a relative newcomer, manages to stay in step with the old pro in a surprisingly solid sitcom that for the most part keeps its balance amid one absurdity after another.
GRADE:
B+
Email comments or questions to:
unclebarky@verizon.net