What the deuce? BBC America's Dirk Gently's Holistic Detective Agency careens into view
10/21/16 11:13 AM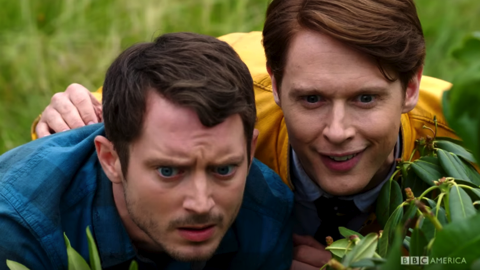 Elijah Wood and Samuel Barnett propel the crazed Dirk Gently's Holistic Detective Agency, adapted from the Douglas Adams novels.
BBC America photo
Premiering:
Saturday, Oct. 22nd at 8 p.m. (central) on BBC America
Starring:
Elijah Wood, Samuel Barnett, Hannah Marks, Jade Eshete, Fiona Dourif, Mpho Koaho, Aaron Douglas, Richard Schiff, Neil Brown Jr., Miguel Sandoval, Dustin Milligan
Produced by:
Max Landis, Robert Cooper
By ED BARK
@unclebarkycom on Twitter
Trying to comprehend the intendedly absurd goings-on in
Dirk Gently's Holistic Detective Agency
may be completely beside the point.
Those who have devoured the swervy, same-named Douglas Adams books could very well find themselves immensely entertained. Those who haven't -- guilty as charged -- at least can admire the energy, cheekiness and slick production values without caring all that much how everything comes out. BBC America is offering eight Season One episodes of this twisted tale, which has been described by the author himself as "a thumping good detective-ghost horror-whodunit-time travel-romantic-musical-comedy-epic." Not necessarily in that order.
Three episodes were made available for review of a series that begins with a straight-ahead horrific crime scene in a posh Seattle hotel suite. Stumbling upon it is put-upon bellhop Todd Brotzman (Elijah Wood), who desperately needs his next paycheck in advance to start putting a dent in his mounting debts. Instead he's fired for being in the wrong place at the wrong time.
Wood, whose last TV series, FX's
Wilfred
), found him in the strange company of a dude dressed as a dog, has perfected the art of looking utterly exasperated. He's called on to do this often when the eccentric and effete Dirk Gently (Samuel Barnett) breaks into his apartment and pronounces himself a "holistic detective" who gets "intrinsically connected" to cases without having any firm ideas on how to solve them. "I'm a leaf in the stream of creation," he tells Todd in Episode 2.
Despite his protestations -- "I'm not your Watson, asshole!" -- Todd gets roped into puzzling out the murder of millionaire Patrick Spring, who was among the hotel suite corpses. The duo is also looking for Spring's kidnapped daughter, Lydia, who -- wouldn't you know it? -- has somehow adapted the identity of a dog while in the captivity of a very high-strung guy named Gordon Rimmer (Aaron Douglas).
Todd otherwise is a recovering "Pararibulitiis" sufferer whose sister, Amanda (Hannah Marks), still has the hallucinatory disease. This is a somewhat mild affliction compared to what Bartine Curlish (Fiona Dourif) is going through. Dirt-and-blood-encrusted with badly stained teeth as well, Bartine is a self-described "holistic assassin" who can't be hurt and has "never killed the wrong person. I
have
killed a lot of people, though." A terrified computer hacker named Ken (Mpho Koaho) ends up being her very reluctant partner during a careening search for Gently, who's on Bartine's hit list.
The series also has a pair of semi-comical investigative teams headed by veteran character actors Richard Schiff (
The West Wing
) and Miguel Sandoval (
Medium
). A marauding, knuckle-dragging group known as The Rowdy 3, which actually is a foursome, adds extra layers of mayhem as vampires who exist on the "electrical energy of the human mind" in lieu of blood. And so on.
Barnett is quippy and somewhat endearing as the crazily intuitive Gently, whose mysterious past is slowly peeled away. When Todd again protests his presence -- "Dirk, this is my apartment" -- the lad replies, "Oh, is that why you're here?" This exchange occurs in Episode 3, which also has am impressively fantastical visual sequence involving the still very afflicted Amanda.
We'll leave you with a quote from BBC America president Sarah Barnett, who says in publicity materials: "Fans of Doctor Who, Monty Python, Sherlock and Barton Fink will find things to love in this sharply original yet reverent gigantic puzzle, at the heart of which are funny, messed-up people you really care about. And there's a kitten/shark. Perfect for BBCA."
If you're so inclined, go for it.
GRADE:
B-minus (mostly for its shear energy and exuberance)
Email comments or questions to:
unclebarky@verizon.net