Epix weighs in twice with its first scripted series of note -- Graves and Berlin Station
10/13/16 11:26 AM
By ED BARK
@unclebarkycom on Twitter
Epix very much wants to be a player in a standing room only league of rival networks and streamers that already have made their marks with standout scripted programming.
It's taken quite a while. But now come Epix's first two original series of note --
Graves
and
Berlin Station
. Preceded by a concerted promotional campaign, they arrive Sunday night at the close of a free preview weekend.
Graves
is the showier of the two, with Nick Nolte front and center as a former president seeking to atone for being the "worst ever."
Berlin Station
has a better grip on itself, though, as a skulk-around spy drama set in contemporary times. Both have 10-episode first seasons. Let's take a closer look.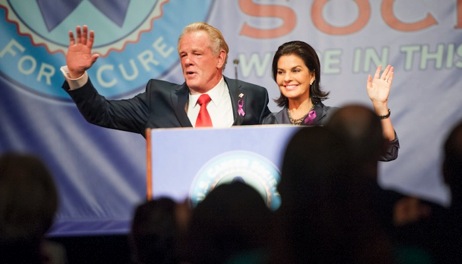 Nick Nolte and Sela Ward try to keep up presidential appearances.
Epix photo
Premiering:
Sunday, Oct. 16th at 9 p.m. (central) on Epix
Starring:
Nick Nolte, Sela Ward, Skylar Astin, Helene Yorke, Chris Lowe, Callie Hernandez, Nia Vadalos, Ernie Hudson, Roger Bart, Angelica Maria
Produced by:
Joshua Michael Stern, Greg Shapiro, Keith Eisner, Eric Weinberg
Nick Nolte is tattered, battered but still standing -- both as an actor and as former Republican President Richard Graves. His character left the Oval Office 25 years ago, and Google hasn't been kind to him. "Who was the worst President in history?" he types. The consensus answer is him.
Throughout the three episodes made available for review, Nolte's voice sounds as though he's just gargled with glass shards. Moreover, his overall physical appearance resembles a totaled car. But at age 75, Nolte's still a vigorous on-screen presence, cursing his way toward redemption by publicly admitting that the Graves administration did a lot more harm than good.
This fully dawns on him after a night's worth of pot-smoking with comely Samantha (Callie Hernandez), a heavily tattooed young waitress turned muse. He preps for this epiphany by disgustedly trashing his own presidential museum on the occasion of its 25th anniversary. It's prelude to Graves awakening in a golf course sand trap. "I just crash-landed in the middle of my life. I'm born again, sweetheart!" he announces to his wife, Margaret (Sela Ward). "And it's total peace!"
Graves
is billed as a "dramedy," but its comedic beats to often are out of rhythm. This is particularly the case with Grave's awkward new assistant, a kid named Isaiah Miller (Skylar Astin). HBO's
Veep
knows how to play its underlings to the hilt.
Graves
can be painful in comparison.
The ex-president's "compound" is in Santa Fe, where the former First Lady gamely puts up with him. (Susan Sarandon originally was cast in the role, but withdrew.)
The Graves also have two children, neither terribly happy with their lives. Daughter Olivia (Helene Yorke) was married to a Rockefeller until he jilted her. She's retaliated by blow-torching profanities onto some of their high-priced living room fixtures. Son Jeremy (Chris Lowell) is returning from Afghanistan to reluctantly live with his parents. He and his father haven't gotten along in years.
Cameos abound, with Rudy Giuliani and Bill Richardson first seen playing themselves none too convincingly during Graves' dedication of a veterans facility before a notably small crowd. Jillian Michaels, Joan Lunden, Jake Tapper, Michael Steele and the inevitable Wolf Blitzer also can be glimpsed during the course of the first three episodes.
Graves is hardly revered as Ronald Reagan-esque, but was seriously wounded after a would-be assassin pumped three bullets into him. The resemblances to Donald Trump are a bit more pronounced. Graves' hair is orange-ish and a current strict deportation policy -- for which he's newly remorseful -- had its origins during his conservative presidency. In Episode 3, Graves revels in being "unshackled." It was filmed well before Trump recently proclaimed the same, but now can be seen as somehow prescient. Graves also thunders near the close of Sunday's premiere, "I will be your biggest advocate, your beacon of hope, your goddamn President." Where have we heard that kind of self-aggrandizement before?
Graves
assuredly will turn off some viewers with its title character's U-turns from previous conservative positions on military spending and illegal immigration. The series clearly has an "agenda," but isn't all that artful in putting it forth. Nolte's performance is energetic without being particularly memorable. It's mostly nice to see he's still vertical and with a little something left in the tank after many years of rough living. Occasionally,
Graves
also is fairly steady on its feet. But only occasionally.
GRADE:
C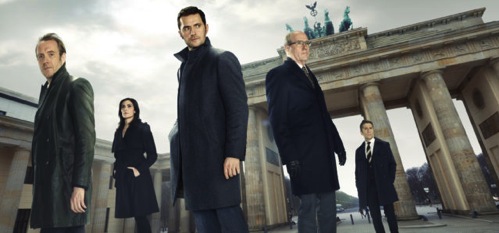 There are no free agents in CIA drama Berlin Station. Epix photo
Premiering:
Sunday, Oct. 16th at 8 p.m. (central)on Epix
Starring:
Richard Armitage, Rhys Ifans, Richard Jenkins, Michelle Forbes, Leland Orser, Tamyln Tomita, Caroline Goodall, Bernhard Schultz, Mina Tander, Sabin Tambrea
Produced by:
Olen Steinhauer, Bradford Winters, Eric Roth, Steve Golin, Kerry Kohansky-Roberts, Keith Redmon, Luke Rivett, Michael Roskam
There's lately too much of this going around -- not spy dramas per se, but the apparent killing of a principal character in the opening segment before a rewind to earlier events.
This time it's "Two Months Earlier" in Panama, where CIA officer Daniel Miller (Richard Armitage) is traipsing through the jungle before finding something valuable. He's soon reassigned to Berlin with a mission to track down a dangerous leaker of CIA secrets known as "Thomas Shaw."
Everything that ensues in the two
Berlin Station
episodes sent for review isn't always completely understandable in terms of following the bouncing storyline. But the basic task is clear enough. Shaw must be identified and then stopped by any means necessary.
The cast is first-rate, with Oscar nominee and Emmy Winner Richard Jenkins (
The Visitor, Olive Kitteridge
) in his usual fine form as station chief Steven Frost. Increasingly feeling undermined, he's encouraged to retire by his wife, Kelly (Caroline Goodall) and encouraged in other ways during liaisons with his secretary, Sandra Abe (Tamlyn Tomita).
Also more or less working for Frost are ambitious internal branch chief Valerie Edwards (Michelle Forbes), officious deputy chief Robert Kirsch (Leland Orser) and veteran case officer Hector DeJean (Rhys Ifans), who turns out to be -- well, never mind.
ISIS (or ISIL as used in
Berlin Station
) also factors into these webs of intrigue. So there's a lot at stake, and not a lot of laughs.
Filmed in Berlin and the Canary Islands,
Berlin Station
has both an authentic look and feel. As with most cloak-and-dagger dramas, there's a lot of following around while the mind games escalate and the sound track remains stuck in the key of ominous.
Berlin Station
so far looks like a series worth riding out, with Jenkins, Armitage, Ifans and Forbes all making strong contributions to the cause.
GRADE:
B
Email comments or questions to:
unclebarky@verizon.net