People of Earth gives TBS some space
10/27/16 10:45 AM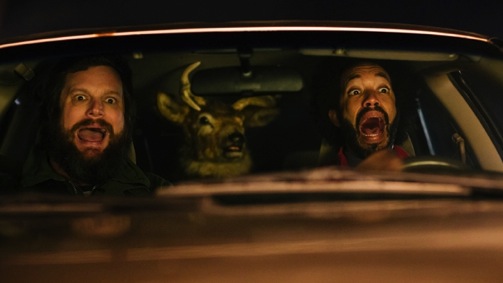 People of Earth also has a deer in the headlights. TBS photo
Premiering:
Monday, Oct. 31st at 8 p.m. (central) on TBS with back-to-back episodes
Starring:
Wyatt Cenac, Ana Gasteyer, Oscar Nunez, Michael Cassidy, Brian Huskey, Luka Johes, Alice Wetterlund, Nancy Lenehan, Tracee Chimo, Da'Vine Joy Randolph, Bjorn Gustafsson, Ken Hall
Produced by:
Conan O'Brien, Greg Daniels, David Jenkins, Larry Sullivan, Dan Halsted, Jeff Ross, David Kissinger
By ED BARK
@unclebarkycom on Twitter
My Favorite Martian. Mork & Mindy. ALF. 3rd Rock From the Sun
. And
Saturday Night Live's
"The Coneheads."
Aliens from above have a long history of being played for laughs. TBS'
People of Earth
takes this baton and wryly trots with it. There's no laugh track and the humor tends to be on the down low. But by the end of the first four episodes made available for review,
People of Earth
has built a small-town universe with just enough quirks and intrigue to keep its premise in play. It has both heart and a sense of the absurd, making it increasingly "accessible" with the proviso that you're just not going to get a laugh riot.
The central character, Ozzie Graham (former
Daily Show
writer/correspondent Wyatt Cenac), is a soft-spoken big-city journalist who's sent to little Beacon, NY for what's supposed to be a one and done story on wackos who think they've been abducted by aliens. He quickly learns that "experiencers" is the proper terminology, and that he'd better not say "abductors" ever again.
A small Catholic Church serves as the meeting place for this exclusive Star Crossed support group, with Gina Morrison (Ana Gasteyer) conducting the sessions as a former professional psychiatrist who now toils at the Crockery Hutch. All the experiencers have a common recollection. They were told "You are special" before being set free. A milquetoast middle-ager named Richard Shenk (
Children's Hospital
alum Brian Huskey) arguably is the most unhinged of the bunch. Episode 3 provides him with an optimum chance to prove that. Luka Jones is very marginally more stable as toll booth worker Gerry Johnson, who bids to become Ozzie's new best friend.
Ozzie has his own demons. Did he really hit a deer in the middle of a remote highway en route to Beacon? Or is something else at work? It doesn't help his psyche when a talking deer head recurrently pops up to creep him out.
People of Earth
also spends some time aboard a spacecraft. This is where a "conventional" looking alien with bug eyes and a bulbous head (Ken Hall as Jeff the Grey) tries to control the events down below with Don the White (Bjorn Gustafsson), a Nordic-looking extraterrestrial with long blonde hair. But they might as well be two humans kvetching at each other, which makes it all the more amusing, considering they're not.
Meanwhile, Ozzie's irksome big-city boss, Jonathan Walsh (Michael Cassidy), has both matinee idol looks and an appetite for more "fantastic click bait" about Beacon's "experiencers." He has other reasons as well, but let's just leave it there because you'll learn soon enough.
The show's principal executive producers, Conan O'Brien and Greg Daniels, seem to have found just the right earthling in Cenac. His reactions to the bizarre goings-on around him tend to be deadpan without being comatose. A certain presidential candidate would deem him "low energy," but
People of Earth
wouldn't be well-suited to a high-pitched Don Knotts-ian approach. No worries, though. Cenac is quite a bit more animated than deadpan comedy king
Steven Wright
.
It all fittingly begins on Halloween night with back-to-back half-hours. And if you settle in with them,
People of Earth
just might abduct you. Er, pull you in as a faithful new "experiencer."
GRADE:
B
Email comments or questions to:
unclebarky@verizon.net