LeBlanc's back with CBS' likeable Man With A Plan
10/20/16 11:26 AM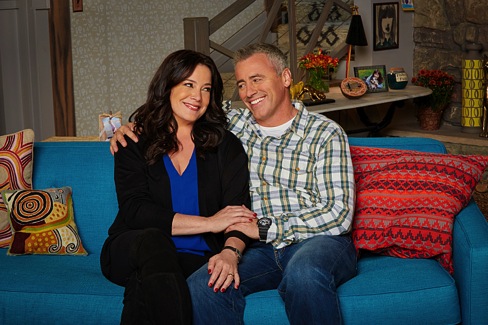 Matt LeBlanc and Liza Snyder turn on the charm in Man With A Plan.
CBS photo
Premiering:
Monday, Oct. 24th at 7:30 p.m. (central) on CBS
Starring:
Matt LeBlanc, Liza Snyder, Kevin Nealon, Grace Kaufman, Matthew McCann, Hala Finley, Diana Maria Riva, Matt Cook
Produced by:
Jeff Filgo, Jackie Filgo, Matt LeBlanc, Michael Rotenberg, Troy Zien
By ED BARK
@unclebarkycom on Twitter
There's nothing new under the conventional sitcom sun in CBS'
Man With A Plan
.
This doesn't unduly matter if the cast clicks and the writing is decent enough to hold up its end. Make that two plusses for this amiable, amusing outing fronted by everybody's favorite
Friend
, Matt LeBlanc. OK, not everybody's, but you can definitely make a case.
LeBlanc has grayed and gotten chunky since one of NBC's all-time biggest comedy hits left the network in 2004. All that means is he's human. And in
Man With A Plan
, LeBlanc's character, contractor Adam Burns, gets to play opposite the very appealing Liza Snyder as his wife, Andi.
Snyder doesn't fit the off-putting prototype of a thin, beauteous spouse paired with a beefy, better-known star. Instead she's plumpish and "accessible," a refreshingly real-looking woman who instantly meshes with LeBlanc and makes
Man With A Plan
a much easier sell than it might have been.
Andi is returning to the workplace, as a hospital lab technician, after years of stay-at-home mom-dom. Adam, who's in business for himself, is left to make the transition from "Daddy Fun Times" to the guy who takes their three kids to school, picks them up and keeps things in working order until Andi returns home.
It's a shopworn premise to be sure, but the delivery system overcomes much of that. LeBlanc fine-tunes his doofus Joey persona and smoothly rolls with it at home, at school and in the workplace he shares with older brother Don (a serviceable Kevin Nealon). Snyder nurtures one and all, but is no pushover. Her character is a winning proposition, even if some of her propositions have to do with rewarding Adam with sex whenever he's a good boy. The hubby as panting dog isn't going anywhere, particularly on set-in-its-ways CBS, the only Big Four broadcast network still firmly betrothed to laugh tracks and live studio audiences.
Monday's premiere episode sets the hook before the following week's storyline is built around a misunderstanding of who's going with Adam to enjoy prime seats at a Pittsburgh Steelers game. Both episodes also feature sparring between Adam and Mrs. Rodriguez (Diana Maria Riva), a strong-willed school administrator. A nebbish stay-at-home dad named Lowell (Matt Cook) also is occasionally stirred into this mix.
LeBlanc flopped with NBC's
Friends
spinoff
Joey
before regrouping as a broadly drawn version of himself in Showtime's critically praised
Episodes
. At age 49, he seems to have a fairly firm grip on what works for him.
Man With A Plan
suits this guy, and his co-star makes it an even better fit. Viewers could do far worse, and some have by watching Kevin James ham his way through CBS' appreciably inferior
Kevin Can Wait
, which recently received a full-season commitment. LeBlanc also is angling for one last long sitcom ride, and
Man With A Plan
seems like a decent bet to give it to him.
GRADE:
B-minus
Email comments or questions to:
unclebarky@verizon.net