Docs in smocks fight these battles in CBS' "Bunker Hill"-set Pure Genius
10/26/16 08:30 AM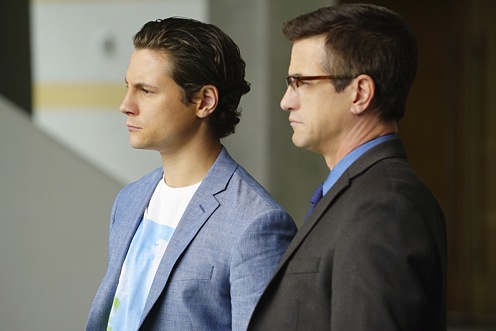 An idealistic billionaire and an ace surgeon put their heads together at a state-of-the-art medical emporium in Pure Genius. CBS photo
Premiering:
Thursday, Oct. 27th at 9 p.m. (central) on CBS
Starring:
Dermot Mulroney, Augustus Prew, Odette Annable, Reshma Shetty, Aaron Jennings, Ward Horton, Brenda Song
Produced by:
Jason Katims, Michelle Lee
By ED BARK
@unclebarkycom on Twitter
The prognosis for a solid, quality drama series is at least cautiously optimistic when Jason Katims is at the controls.
His recent executive producer credits include
Friday Night Lights
and
Parenthood
, both for NBC.
Pure Genius
is for CBS, and it's also Katims' first medical drama. Compared to the network's frenetic and ongoing
Code Black
, it's also a bit of a chill pill. The patients are rolled out at a much slower pace, and there's ample time to ruminate on how to fix them at cutting edge, damn-the-costs Bunker Hill hospital.
Billionaire James Bell (Augustus Prew), who's also very smart, built the place to puzzle out solutions to an array of life or death crises. All of the experimental treatments are free, which saves a lot of paperwork.
Bell, who has a so far incurable degenerative disease of his own, wants a maverick surgeon named Walter Wallace (Dermot Mulroney) as his new chief of staff. Wallace, who's both resistant and refreshingly low-key, is first seen being dismissed by a hospital board of directors for performing an unauthorized procedure that didn't pan out. But this is exactly the kind of forward-thinking sawbones that Bell wants. "Welcome to the revolution," he says while Wallace mulls his options throughout most of Thursday's premiere episode, the only one made available for review.
Bunker Hill's super-dedicated staff includes a doctor with the longest surname in TV history. She's Talaikha Channarayapatra (Reshma Shetty), described in CBS publicity materials as "an idealistic, maddeningly literal neurosurgeon." To say nothing of her mind-bending Twitter handle.
Dr. Zoe Brockett (Odette Annable) is also in the house as a "fearlessly frank physician" who makes Bell's heart go pitter pat. Not that he can bring himself to tell her this -- not just yet anyway.
The rest of the racially diverse staff is made up of Dr. Malik Verlaine (Aaron Jennings), a former "gangbanger;" Ivy Leaguer Dr. Scott Strauss (Ward Horton); and "3-D printer programming whiz" Brenda Song (Angie Cheng).
Pure Genius
has a suitably impressive high-tech look to it, and the two major cases on opening night are both pretty involving. A pregnant woman with a cancerous tumor that's choking her heart faces the grim prospect of two lives lost. A teenage girl who's been in a coma for six months is still a pet project of Bell's. But is it time to pull the plug rather than continuing to tell her parents that all will be well someday?
The cancer/pregnancy storyline unfortunately takes a rather predictable turn in terms of the woman's suspiciously hard-praying husband. But the dynamics between the willful Bell and his staff are well-played throughout. And of course, Dr. Wallace is wooed in the end, just before Bell has a touching encounter with his possible future self.
The arrivals of
Pure Genius
and the sitcom
The Great Indoors
(ugh) signal the end of this season's abbreviated
Thursday Night Football
package on CBS. Some potential viewers will simply migrate to the still somewhat obscure NFL Network for the next three Thursdays before the far more accessible NBC partners up for a five-week
TNF
run that begins on Nov. 17th.
Both new CBS series will get hit hard when the Peacock happily adds Thursdays to its NFL portfolio. But
Pure Genius
may prove compelling enough to lock down its own nice-sized fan base by that time. Here's to its long-term ratings health as a medical series that, unlike
Code Black
, has an overall calming effect.
GRADE:
B-minus
Email comments or questions to:
unclebarky@verizon.net