ABC's in your face American Housewife has too much fatty material
10/11/16 09:15 AM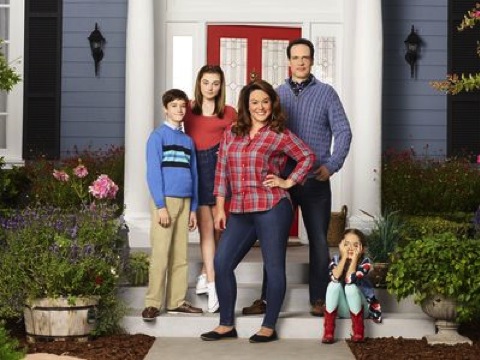 More mom, dad and the kids in American Housewife. ABC photo
Premiering:
Tuesday, Oct. 11th at 7:30 p.m. (central) on ABC
Starring:
Katy Mixon, Diedrich Bader, Meg Donnelly, Daniel DiMaggio, Julia Butters, Carly Hughes, Ali Wong
Produced by:
Sarah Dunn, Aaron Kaplan, Rick Wiener, Kenny Schwartz
By ED BARK
@unclebarkycom on Twitter
ABC's second coming of
Roseanne
-- and its 10th "nuclear family" comedy this season -- deploys heavy-handed humor dispensed by a fat wife and mother of three.
The word "fat" may be politically incorrect, but is permissible in this review because
American Housewife
uses it with such abandon in Tuesday's premiere episode.
Katie Otto (Katy Mixon) begins by fretting that her neighbor, "Fat Pam," is moving out because she's had it with "the skinnies." That would make Katie "the second fattest housewife in Westport," she narrates. "Damn you, Fat Pam."
Katie actually is more chunky than fat. But for the purposes of this series, she might as well be the Goodyear blimp. Every physically fit adult female denizen of Westport is her enemy, except for Katie's two unaccountably trim best friends, Angela and Doris (Carly Hughes, Ali Wong). Spotting three moms outside the school where she's dropping off her younger daughter, Katie rages, "Flat stomachs, tight, high asses, thighs that don't touch and those stupid, green drinks!" It gets old in a hurry.
Katie's resilient husband, Jeff (Diedrich Bader from
The Drew Carey Show
), is first seen "at rest in his natural habitat," which happens to be on a toilet seat with his pants down. Unlike John Goodman's Dan Conner in
Roseanne
, he's not a hefty match for his constantly carping wife. But in many ways (besides
Roseanne
being far funnier), that's one of the few differences between these two sitcoms.
American Housewife
even premieres on the same night and time -- Tuesday, 7:30 p.m. (central) -- that
Roseanne
did back in October, 1988.
As did
Roseanne
,
American Housewife
also has replaced one of the kids cast in the pilot episode. Johnny Sequoyah plays teen daughter Taylor in Tuesday's opener. But in next week's second episode, also made available for review, she's been replaced by Meg Donnelly. On
Roseanne
, which became a major success for ABC, the role of son DJ was taken from poor little Sal Barone after the pilot and given to Michael Fishman. (Sal never acted again, but is now a married standup comic with a kid. So good for him.)
American Housewife
also borrows from
Family Ties
by making the middle son a facsimile of Michael J. Fox's very Republican and capitalistic Michael P. Keaton. Oliver (Daniel DiMaggio), named Harrison when ABC announced its pickup of
American Housewife
, has a sole goal of becoming rich. He's a devoted member of his school's stock market club and gets quite upset when mom takes away his money jar after he's fingered for donating expired cat food to a food drive.
"I worked hard to save that money," Oliver protests. "This is straight up communism."
The other kid is Anna-Kat (Julia Butters), who in Episode 2 wails, "Mama, Oliver hit me in the nuts." No, the humor is not subtle.
Katie, who favors plaid, flannel shirts in the mode of Roseanne Conner, brays her way through the first episode in ways that too often make her off-putting rather than a down-to-earthy role model for plus-sized women. Westport, Conn. is portrayed as a citadel of rich, pampered, condescending skinny-dom, with Katie sourly hammering away at anyone who dares to even wear a Fitbit.
She's also determined to replace the unseen "Fat Pam" with someone of equal proportions. A woman built like the Michelin Man more than qualifies until Katie discovers that her impending new neighbor also has an aversion to wealthy blacks and anyone who's gay. This is resolved in the end with anything but a light touch.
Leslie Bibb, briefly seen as the fitness-conscious and thereby despised Viv, will be a recurring character as the Otto family's new neighbor. There's also a bicycle rider dubbed "Nude Norman" (Jeremy Howard), who wears fruity pink sweaters -- literally. The first episode adds two references to a "tampon wind chime."
Mixon brings some presence to her starring role while the battle-tested Bader ably and dutifully plays ABC's latest roll-with-the punches, quieter hubby. Each of the first two episodes end on gooey notes, with Katie re-embracing the weight she proudly stands behind and then the joys of being a stay-at-home mom.
Comedies with women figuratively wearing the home front pants are plentiful on ABC. And there are several very good or promising ones, including
The Middle, The Goldbergs
and this fall's new
Speechless
.
American Housewife
so far is too busy taking offense to be much fun to watch. "I will not have that in this house!" Katie bellows when daughter Taylor dares to brandish a green-colored health drink. The kid is only trying to take care of herself. This comedy still has much to do on that front.
GRADE:
C
Email comments or questions to:
unclebarky@verizon.net