Reviewing Amazon Prime's Goliath after viewing all eight episodes
10/17/16 02:51 PM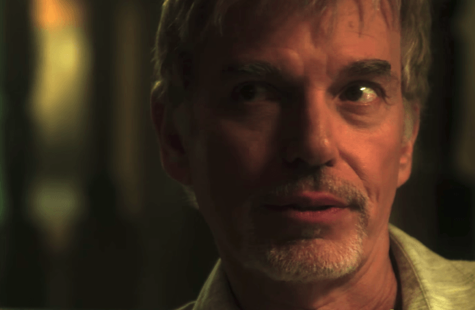 Billy Bob Thornton gets his stink eye on in Goliath. Amazon photo
Premiering:
Currently streaming all eight episode on Amazon Prime
Starring:
Billy Bob Thornton, William Hurt, Nina Arianda, Maria Bello, Molly Parker, Olivia Thirlby, Tania Raymonde, Damon Gupton, Dwight Yoakum, Harold Perrineau, Sarah Wynter, Diana Hopper, Britain Dalton, Ever Carradine, Julie Brister
Produced by:
David E. Kelley, Jonathan Shapiro, David Semel, Ross Fineman, Lawrence Trilling
By ED BARK
@unclebarkycom on Twitter
Given all the loose-ended, bizarro world TV dramas currently in play, it turns out to be a distinct pleasure to review a limited series with a linear storyline and a definitive ending.
Amazon Prime's eight-episode
Goliath
, which began streaming last week, provides a bonafide, stand alone payoff with no need for a long wait between seasons to find out what the hell just happened. It provides another plum TV role for Billy Bob Thornton after he excelled as amoral Lorne Malvo in Season One of FX's
Fargo
. This also marks creator/producer David E. Kelley's first venture outside the conventional TV box.
The introspective guy behind
Boston Legal, Ally McBeal
and
Picket Fences
has had a rough go of late with
The Crazy Ones
for CBS,
Monday Mornings
for TNT,
Harry's Law
for NBC and
Wonder Woman
, which never made it past the pilot stage after being developed for NBC.
Kelley, whose first big TV break came when Steven Bochco hired him to collaborate on
L.A. Law
, is most at home in the legal arena.
Goliath
affords him the chance to get behind a full-blown morality play in which a bedraggled, heavy-drinking former big-time lawyer gets to square off against his old, extremely powerful firm. Thornton, eminently comfortable on a bar stool, stars as Billy McBride, whose personal demons are the bottle and onetime partner Donald Cooperman (William Hurt).
Cooperman since has become a veritable Captain Kurtz with a dark heart, a burn-scarred face and a decidedly imperial way of running the coldly efficient Cooperman/McBride law offices from on high in his inviolate, darkened office. He uses a hand-held clicker to do some of his talking. And everyone knows who's boss. "Make sure the dog stays down," he tells lieutenant Callie Senate (Molly Parker). "He's rabid."
The reference is to Billy, whose dumpy law office is within the confines of the well-worn Ocean Lodge Hotel, conveniently located within an easy stagger of the Chez Jay bar. Why worry unduly about this dog-eared piss ant? Because Billy is representing a client, Rachel Kennedy (Ever Carradine), whose brother supposedly committed suicide two years ago by exploding a boat owned by one of Cooperman/McBride's most lucrative clients, Borns Technology. Its primary business is the manufacture of lethal weaponry, supposedly to fight terrorists.
Goliath
does a solid, although at times imperfect job of connecting dots and pushing Billy closer to finding out the real truth in the face of constant roadblocks. The show-stopper of his patchwork team is Patty Solis-Papagian (Nina Arianda), a super-tart fellow lawyer who rubs Billy in numerous wrong ways but shares his fondness for profanity. Expletives fly throughout
Goliath
, but there's nary any nudity, save for Hurt's shadowy, full frontal display at the end of Episode 4. It's his character's way of introducing himself to a young and impressionable woman attorney who likewise craves power at any cost.
Other important supporting characters include prostitute Brittany Gold (Tania Raymonde); Billy's teen daughter, Denise (Diana Hopper); his ex-wife Michelle (Maria Bello); Borns Technology strong-armer Wendell Corey (Dwight Yoakum) and Judge Keller (Harold Perrineau from
Lost
). As something of a throw-in,
Goliath
adds the morbidly obese Marva Jefferson (Julie Brister) as an assistant paralegal who's tasked with Billy's grunt work. Kelley has a track record of including plus-sized women in his casts, most notably Camryn Manheim to very good effect in
The Practice
. But Julie Brister turns out to be mainly ornamental, as if Kelley was merely filling in a blank without much intent beyond that.
Thornton, of course, gets plenty to do as a barfly and member of the bar who declares, "I drink just the right amount." His performance is never less than entertaining and occasionally poignant. His mode of transportation is as beaten down as he is -- a faded red Ford Mustang convertible whose appearance isn't helped by what's meant to be an intimidating deposit in the early going. His only steadfast best friend is a stray dog.
Goliath
builds to a predictable courtroom confrontation, but it wouldn't be satisfying without this inevitability. It's a crackling good yarn of semi-good versus abject evil, with Kelley seemingly very aware that many viewers might be parched at this point for some straight-ahead dramatics that don't rely on time travel, dreamscapes, otherworldly monsters and season-to-season string-alongs.
Thornton certainly could return as the same character facing entirely new obstacles. But judging from the new
Bad Santa 2
trailer, he should have left that one rest in peace. There's no urgent need for another
Goliath
either, because these eight episodes stand well enough on their own. Many a viewer is likely to enjoy the ride, which is brief enough to binge over a weekend without any lingering feelings you've been over-fed but not fulfilled.
GRADE:
B+
Email comments or questions to:
unclebarky@verizon.net