Falling Water continues on the USA network's newly darker path
10/12/16 11:28 AM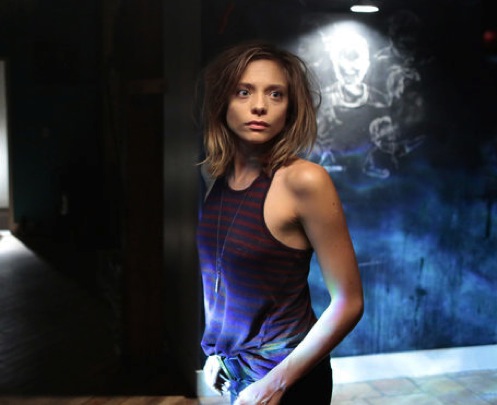 Sweet dreams? No such luck for Tess in Falling Water. USA photo
Premiering:
Thursday, Oct. 13th at 9 p.m. (central) on USA
Starring:
Lizzie Brochere, David Ajala, Will Yun Lee, Zak Orth, Kai Lennox, Anna Wood
Produced by:
Gale Anne Hurd, Blake Masters
By ED BARK
@unclebarkycom on Twitter
Don't be misled by the ill-fitting title, because USA's
Falling Water
has nothing to do with either a very elementary weather forecast or a cooling, summertime slip 'n' slide park.
There are a few images of overflowing H20, mostly in Thursday night's premiere episode on the revamped and now considerably darker network of
Mr. Robot
. But this is a series about dreams gone bad and solemn questions such as "Do you ever think your dreams are trying to tell you something?" And if they are, "What happens when a person allows their dreams to influence their own reality?"
USA made the first four episodes available for review, and here's another question: What if nothing ends up coming together? Although there are some signs of that,
Falling Water
also can be maddeningly inexplicable and perhaps not worth a long-term investment. So far, my interest has ebbed and flowed.
Three central characters dream constantly, beginning with a "trend-spotter" named Tess (Lizzie Brochere). She's first seen in full scream, delivering a baby. Or did she? Consider her haunted, dazed and confused.
Meanwhile, investment banking firm security head Burton (David Ajala) is showering with a beautiful woman who otherwise is dubbed "The Woman In Red" (Anna Wood). But is she literally the girl of his dreams -- and nothing more?
The third wheel is NYPD detective Taka (Will Yun Lee), whose mother is catatonic despite his best efforts to comfort and rouse her. But in his dreams, he also sees her as a younger and mysterious woman. Taka also stumbles upon the mass suicide -- or is it? -- of a dozen cult members whose bodies are neatly arranged in a circle. Scrawled on the wall is "TOPEKA," spelled backwards. Is that the key to all of this?
As
Falling Water
progresses, the dreams begin to intertwine -- mostly at a posh restaurant called Marcello's. Some strange and violent things happen there -- but maybe not.
"There's a layer beneath what's going on here I can't explain," Taka finally deduces in Episode 3. Make that two of us.
There's also a little boy popping into all three dreamscapes. Might he be Tess's son? She sure dreams about him a lot, via experiments being conducted by a bearded dude named Bill Boerg (Zak Orth). He and his associate are very strict about the do's and don'ts. But the pay is very good, so rebel Tess succumbs.
The performances are solid and the production values also make the grade under the direction of show-runners Gale Anne Hurd (who spent a season on
The Walking Dead
) and Blake Masters (
Brotherhood
).
It's all quite fascinating and even entrancing at first. And the elongated Episode One ends with the specter of some sort of chained monster roaring from down below. What the hell is that all about?
Piecing together what's real and what isn't may or may not be an exercise in futility.
Falling Water
looks to be a chancy bet that something eventually will come out the other end. After watching four episodes, I really couldn't tell you.
GRADE:
B-minus
Email comments or questions to:
unclebarky@verizon.net