Less than hi-tech: The CW's time traveling Frequency has a ham radio vibe
10/04/16 11:30 AM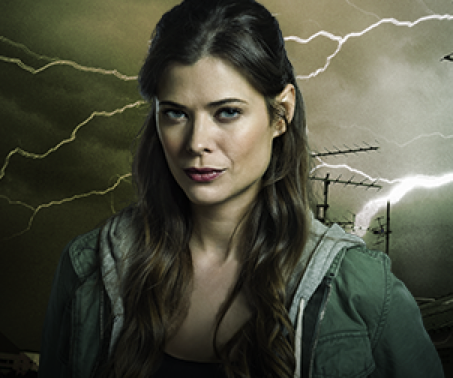 Peyton List endures time trauma in Frequency. CW photo
Premiering:
Wednesday, Oct. 5th at 8 p.m. (central) on The CW
Starring:
Peyton List, Riley Smith, Devin Kelley, Mekhi Phifer, Daniel Bonjour, Lenny Jacobson
Produced by:
Jeremy Carver, Toby Emmerich, John Rickard, Dan Lin, Jennifer Gwartz
By ED BARK
@unclebarkycom on Twitter
Absent a comic book superhero, a vivaciously unfulfilled semi-comic heroine or anything close to a high-gloss veneer,
Frequency
is uncommonly gritty for a latter day CW series.
Not that it doesn't have a supernatural element or a pop tune fallback position. Your basic millennial-aged CW target viewer can only take so much change in a year that's already cruelly dangled the carrot of Bernie "Free Tuition" Sanders before The System yanked it away.
Frequency
stars Peyton List as NYPD detective Raimy Sullivan. Twenty years ago, her father, Frank (Riley Smith), left the family behind, went super-deep undercover and apparently got himself killed in a setup that was supposed to be a sting. But hardly any TV drama character of note really dies anymore. And so, on Raimy's 28th birthday, a fortuitous lightning strike reactivates the old ham radio that dad and daughter used to mess around with in the garage. The guy at the other end turns out to be Frank, circa 1996. Imagine her surprise and still festering resentment after they both become convinced that this is really happening.
NBC's
Timeless
, which premiered Monday and got off to a solid ratings start, is notably more whimsical and primary-colored than
Frequency
-- in addition to having a much broader scope. But
Frequency
may be the more "believable" of the two. And sports fans like myself are duly impressed that the series also gets its history of the 1996 World Series right, including the New York Yankees' near-miracle comeback in Game 4 on the Atlanta Braves' home field.
Both time-traveling series share the axiom that the past cannot be altered without also changing the present. So there are twists at both ends before adult Raimy gets back on the ham radio and hears someone new at the other end.
The cast also includes jauntily named Daniel Bonjour as Raimy's live-in boyfriend, Daniel, and Mekhi Phifer as Frank's former partner, Satch, who's now Raimy's cop shop "mentor." The show's standard issue beefy, bearded, less than brainy civilian buddy is named Gordo (Lenny Jacobson) and looks like one.
Frequency
does a pretty solid job of juggling its balls and creating new intrigues. By the end of the premiere episode, another perplexing murder mystery is in play while Raimy wonders what hit her. But anything can be undone with another re-vamp of the past. So let's keep that ham radio in good repair, because this is a series where hearing is believing.
GRADE:
B-minus
Email comments or questions to:
unclebarky@verizon.net