HBO's Divorce is a near-perfect union of Sarah Jessica Parker/Thomas Haden Church
10/05/16 01:21 PM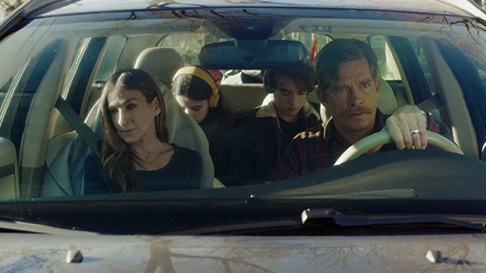 There's no mileage left on the marriage in Divorce. HBO photo
Premiering:
Sunday, Oct. 9th at 9 p.m. (central) on HBO
Starring:
Sarah Jessica Parker, Thomas Haden Church, Molly Shannon, Talia Balsam, Tracy Letts, Sterling Jerins, Charlie Kilgore
Produced by:
Sharon Horgan, Sarah Jessica Parker, Paul Simms, Aaron Kaplan, Allison Benson
By ED BARK
@unclebarkycom on Twitter
Shorthand for HBO's
Divorce
could be
War of the Roses
in weekly doses. But there's no need to wilt at the thought.
Sharp scripts and terrific lead performances from Sarah Jessica Parker and Thomas Haden Church take this dramedy beyond the mere contention we expect from the title. Through the first six episodes made available for review,
Divorce
builds and broods its way into shape. Its characters are both off-putting and relatable. But a viewer must be willing to make an investment in them at the same time that Frances and Robert DuFresne are divesting themselves of one another. There'll also be some amusements along the way, particularly when Church is huffing, puffing and kvetching in his dual roles as an anal, over-spending home flipper and cuckolded, hugely indignant husband and father.
The DuFresne's dying-on-the-vine marriage is crystallized in Sunday's opening scene. Frances is primping in front of a bathroom mirror and grunting out disinterested responses to whatever Robert tells her. They're heading to the 50th birthday party of her pal, Diane (Molly Shannon), a neurotic drunk whose prosperous husband Nick (Tracy Letts) has heaped on the creature comforts and increasingly, the condescension. Diane reels out of control and seriously embarrasses herself while also putting her husband in the hospital.
Returning to their New York homestead, Frances decides to also knock Robert for a loop. "I want to save my life while I still care about it," she tells him. "I don't love you anymore. I want a divorce."
She's also been hiding an affair, though. Which allows Robert to gain the aggrieved upper hand when he finds out about it. By the end of Episode One, the battle lines seemingly have been etched in quick-drying concrete. "I'm going to make you miserable," he vows. "And more to the point, I'm going to make your children hate you." By this time, a desperately contrite Frances already has realized that her clandestine lover is little more than a jerk.
Sounds like fun, eh? But be patient.
The DuFresnes have two kids, teen son Tom (Charlie Kilgore) and pre-teen daughter Lila (Sterling Jerins). Both initially come off as insular brats with little use for either parental unit. Neither stays entirely in that groove; nor do they stray too far from it.
Parker is returning to HBO for the first time since her star-making
Sex and the City
ended in 2004. Her new character couldn't be much different -- fashion-wise and otherwise, -- from flirty, gossipy, club-hopping Carrie Bradshaw. Frances favors long skirts and formless tops, although she still loves to dish with both Diane and her other best friend, Dallas (Talia Balsam), a psychotherapist who could use some psychotherapy. This otherwise is a thoroughly adult turn for Parker, who inhabits it with the sure-footedness of someone who's bided her time waiting for just the right role and also is one of
Divorce
's co-executive producers.
Church, whose previously best known role was in the critically praised 2004 film
Sideways
, likewise excels as the easily vexed Robert, whose recurring stomach problems go hand in hand with a whiny, run-at-the-mouth persona. Much of what he says wouldn't be that funny or notable in print. But Church's delivery system is in excellent working order, making virtually his every utterance some sort of prize-winner. He's especially adept at pent-up rage, some of it comical. "You're Jesse James! And I get to be Sandra Bullock!" he thunders in the early going.
Divorce
's sixth episode is a gem that mostly occurs on Christmas Eve. Without getting sappy, it affords Robert a chance to outwardly act nobly after a tradition-keeping holiday road trip to Frances' parents' home. The family dynamics are very well-played here, with guest star Robert Forster his usually assertive self, both as an actor and as Frances' dad, Donald.
This is a series that could have gone very wrong and gotten quite dreary. Instead,
Divorce
walks its marital minefields with occasional skips in its steps. Its characters and situations are alternately aggravating, humorous and, to a lesser extent, poignant. Parker and Church are fully in charge throughout as a perfectly imperfect duo. Yes, they're both that good -- in a series that demands just that.
GRADE:
A-minus
Email comments or questions to:
unclebarky@verizon.net