Spike TV's The Mist means more money in the bank for horror's King midas
06/20/17 10:37 AM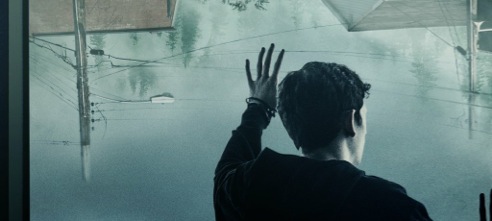 The forecast is foreboding with a 100% chance of death in The Mist.
Spike TV photo
Premiering:
Thursday, June 22nd at 9 p.m. (central) on Spike TV
Starring:
Morgan Spector, Alyssa Sutherland, Gus Birney, Okezie Morro, Danica Curcio, Frances Conroy, Luke Cosgrove, Darren Pettie
Produced by:
Christian Torpe, Andrew Wilder, Vlad Wolynetz, Harvey Weinstein, Bob Weinstein, David C. Glasser, Amanda Segal
By ED BARK
@unclebarkycom on Twitter
Perhaps a small community could be terrorized someday by Stephen King's gigantic piles of cash. I'd pay to see that.
The inveterate horror-meister's inexhaustible library gets another whirl with Spike TV's
The Mist
, adapted from a 1980 novella that also became a 2007 feature film directed by Frank Darabont of
The Walking Dead
fame.
Spike's 10-episode version marks the network's return to scripted series after a 2015 fling with
Tut
. And based on just the pilot episode (no others were made available for review), it doesn't look too bad for re-starters. The acting is no great shakes but the special effects and overall atmosphere are overriding plusses.
Otherworldly forces again are at work, this time in the woods near picturesque little Bridgeville, Maine, which was Bridgton in both the novella and the movie. Homeless veteran Bryan Hunt (Okezie Morro), desperate for companionship, awakens to see a friendly German Shepherd named Rufus beside him. But things take a decided turn for the worse when the canine is spooked by something and runs off.
Back on the mainland, high school teacher Eve Copeland (Alyssa Sutherland from
Vikings
) is stunned to learn she's been put on administrative leave after parents object to the content of her sex education class. Eve otherwise is super-protective of 16-year-old daughter Alex (Gus Birney), who favors her more pliant dad, Kevin (Morgan Spector). He secretly over-rules his wife and allows Alex to go off to a post-football game party as long as she promises not to drink and is escorted by her openly gay and picked-on friend, Russell Posner (Adrian Garf). This doesn't go well for anyone.
Meanwhile, the traumatized Bryan staggers his way into town, warns the cops about "somethin' in the mist" and is jailed for his troubles. Police chief Connor Heisel (Darren Pettie), father of handsome star quarterback Jay Heisel (Luke Cosgrove), doesn't particularly cotton to either minorities (Bryan) or gays (Russell). But The Mist indeed is coming -- and it's a great equalizer with its companion mix of lethal, flesh-eating bugs. On a one-to-10 scale of gruesome, this chiller pretty much plays in the same league as
Walking Dead
.
Also included is accomplished TV vet Frances Conroy (
Six Feet Under
) as the Copelands' environmentalist neighbor, Natalie Raven. She and her husband spend much of their time gardening and bike-riding until Bridgeville finds itself suddenly toxic. By the end of the first hour, the entire town is densely fogged and highly perilous. Spike doesn't mess around.
All of this "re-envisioning" of King's novella by series creator and Denmark's own Christian Torpe (
Stille Hjerte/Silent Heart
) will require numerous swerves and departures from what was originally written 37 years ago. Not that King will or should care. Big-screen versions of his
It
and
The Dark Tower
are coming soon in addition to more than a dozen other adaptations currently in the works.
All of which makes
The Mist
just another moneymaker on a non-stop assembly line. Some are better than others, and this one seems as though it has a chance to make good.
GRADE:
B-minus
Email comments or questions to:
unclebarky@verizon.net