New English language El Rey network takes a soccer/spy shot with Matador
07/06/14 03:52 PM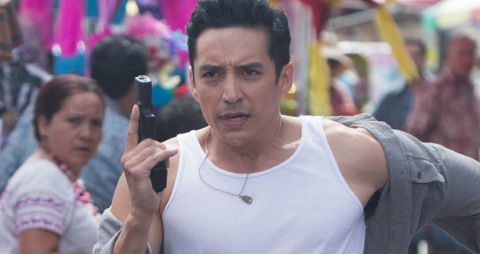 Tony Bravo (Gabriel Luna) is often on the run in Matador. El Rey photo
Premiering:
Tuesday, July 15th at 8 p.m. (central) on the El Rey Network
Starring:
Gabriel Luna, Alfred Molina, Nicky Whelan, Neil Hopkins, Tanc Sade, Yvette Monreal, Elizabeth Pena, Julio Oscar Mechoso, Jonny Cruz
Produced by:
Roberto Orci, Dan Dworkin, Jay Beattie, Alex Kurtzman
By ED BARK
@unclebarkycom on Twitter
Might as well keep that soccer vibe going, although few may be shouting "Gooooooal!!! over
Matador
, a new action spy series on the fledgling English language El Rey Network.
Its star is an undercover CIA operative who's better known as Tony "Matador" Bravo since joining the L.A. Riot professional soccer club. Whether it's available to you depends on your TV provider. The Austin-based El Rey, launched in December of last year by filmmaker Robert Rodriguez, currently is on the menus of Time Warner, Comcast, DirecTV and Dish.
Gabriel Luna plays Tony, who's initially a DEA agent until recruited by a "little known branch" of the CIA headed by the beauteous Annie Mason (Nicky Whelan). This change of pace comes after a drug bust gone bad leaves one guy with a chef's meat cleaver in his head before Tony chases down Germany's worst wurst maker.
The bad guy gets a gross , mouth-to-face surprise after Tony catches up with him. Then, after dinner with his parents, Tony is surprised by Annie and her CIA partner, Noah Peacott (Neil Hopkins). If he'll agree to a "one-time op," then the CIA will pay Tony back by paroling his half-brother Ricky (Jonny Cruz) from prison. Well, all right.
Part of the deal is for Tony to try out for the Riot soccer team, owned by billionaire Andres Galan (Alfred Molina taking the money and running). First he'll have to undergo rigorous training from an ace woman player. Then Tony ends up squaring off against a man/beast Riot player known as "The Enforcer," who blows snot in his face. Damn, this secret agent stuff can be rough. But Tony further earns his spurs by landing The Enforcer on the injury list in a video that ends up going viral.
It's a little hard to deduce how this all fits into Tony's assignment. Let's just say that things eventually boil down to a big party thrown by Riot owner Galan and attended by both Tony and Annie. The plot doesn't have to make any sense after she shows up in a gold dress that very becomingly fits her like a glove.
Thirteen episodes of
Matador
have been ordered for Season 1. So Tony's not going anywhere. Instead he'll continue to play for the Riot while also somehow entwining himself into the secret op of the week. Squint very, very hard and you might see a scant resemblance to
I Spy
, the 1960s NBC series in which Robert Culp and Bill Cosby went undercover as a globe-trotting tennis player and his trainer. Nets then, nets now.
Matador
is fairly jaunty and breezy in the only episode sent for review. But it also throws in some serious-minded violence as part of the mix. Those who have access to the El Rey Network might want to give it a shot. Those without shouldn't mope about it.
GRADE:
C
Email comments or questions to:
unclebarky@verizon.net