Poehler opposites in NBC's inviting Welcome to Sweden
07/03/14 10:05 AM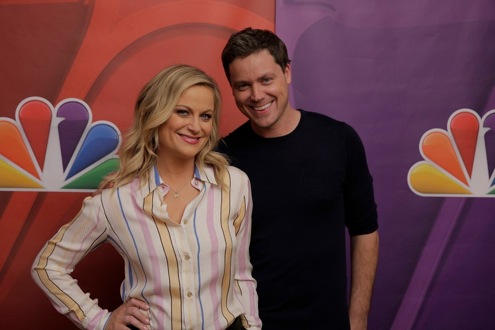 Welcome to Sweden co-exec producers Amy Poehler & brother Greg.
NBC photo
Premiering:
Thursday, July 10th at 8 p.m. (central) on NBC
Starring:
Greg Poehler, Josephine Bornebusch, Lena Olin, Claes Mansson, Christopher Wagelin, Per Svensson
Produced by:
Greg Poehler, Amy Poehler, Pontus Edgren, Carrie Stein, Frederik Arefalk, Felix Herngren
By ED BARK
@unclebarkycom on Twitter
Talk Swedish to me, baby.
NBC's new summertime comedy plus,
Welcome to Sweden
, does so at length in most of its 10 episodes. The network sent all of them for review, and I kept watching until the supply was exhausted. The Swedish language turns out to be intoxicating, with English subtitles provided so that the gentle amusements won't be lost in translation.
Valkommen
!
Greg Poehler, who in real life has lived in Sweden since 2006, joins his sister, Amy Poehler, as the show's executive producer. A former lawyer, Poehler became a standup comic two years ago and is married to Sweden native Charlotta Poehler.
For the purposes of
Welcome to Sweden
, Poehler is a dissatisfied, New York-based accountant to the stars named Bruce Evans. Weary of their constant demands, he relocates to Stockholm with new girlfriend Emma Wiik (Josephine Bornebusch). She's a blonde beauty and he's pretty much a nebbish. But that's standard operating procedure in American sitcoms, except that it's usually been a tubby guy landing the looker in series such as
King of Queens, According to Jim
and -- way back when --
The Honeymooners
.
Amy Poehler plays herself -- and a still possessive client of Bruce's -- in Episodes 1, 3, 7, 9 and 10. Will Ferrell and Gene Simmons also drop in as Will Ferrell and Gene Simmons (Episodes 2 and 4 respectively) while
Parks and Recreation
co-star Aubrey Plaza is in multiple episodes as a neurotic, self-entitled stalker of Bruce. Abba member Bjorn Ulvaeus largely steals Episode 7, with a skeptical Bruce as his sounding board.
Welcome to Sweden
also accommodates Patrick Duffy and Illeana Douglas as Bruce's off-putting parents. Seen briefly at the end of Episode 5, they come visiting in Episode 6. This doesn't go very well, of course, and neither does this particular episode, which feels forced and derivative.
The series usually is at its best when in the midst of Emma's family. The still luminous Lena Olin is terrific as Emma's bilingual mother, Viveka. Swedish otherwise is the language of choice for Emma's tall, tradition-bound father, Birger (Claes Mansson). Her dense brother, Gustaf (Christopher Wagelin), and Uncle Bengt (Per Svensson) round out the featured homeland contingent. The latter owns a video store that does next to no business but makes him an encyclopedia of American actors and their roles.
Bruce can be a little too dense in that regard, even looking puzzled when Bengt references Robert De Niro's signature "You talking to me?" line from
Taxi Driver
. Emma, on the other hand, is appreciably more mature and worldly. She also has landed a banking job that brings the couple to Stockholm, where Bruce remains adrift, unemployed and often clueless. Both have acclimated themselves to a traditional sitcom greeting, though. Namely, "Honey, I'm home."
During their varied one-on-one discourses, Emma and her mother still talk in the native tongue. These are splendid scenes through and through. Plus you'll get to improve your reading comprehension.
Malaprops also are used to good effect. As when lumbering brother Gustaf says, "It's like Tom Cruise's bar in
Cockpit
."
"
Cocktail
," says Bruce, somehow knowing this while not knowing who directed
Taxi Driver
. "Yes, please," goes Gustaf.
Welcome to Sweden
is more charming and amusing than laugh-out-loud funny. But its charms are considerable and the overall premise is bracingly unique. NBC spent tons of time and money in the past season on heavily promoted, high profile sitcoms starring Michael J. Fox and Sean Hayes. Both turned out to be epic failures.
If
Welcome to Sweden
doesn't work, its failure won't be epic. But during what used to be the throwaway summer season, this is a shining example of a comedy series that has a lot going for it in a smaller way.
GRADE:
B+
Email comments or questions to:
unclebarky@verizon.net